Choosing the trustworthy overseas tour operator out of your A-list ensures lots of benefits: first, you will travel at a pretty competitive price as your tour operator works closely with local suppliers and has access to special deals; second, they know the region that you are going to visit like the back of their hands. But the real question is: how to choose the right one? If you are stuck at this stage like many, follow my advice - they will guide you through who is trustworthy while who is not.
Find out the credibility
Normally, the "About Us" section on the tour operator's website offers a self-introduction. How long have they been in business? The older they are, the more time they have had to perfect tour products and upgrade service. What are they specialized in? Are they in membership with any world-authoritative tourism organizations, such as IATA (International Air Transport Association) and ASTA (American Society of Travel Agents)? Answers to these basic questions are the first step to get to know about them at the initial level of trust. If you are looking for more meaningful reference, visit other sections like Awards and Media to check what honor they have earned as well as who is recommending them. Every business is proud to show off recognition, especially those from authorities in the tourism industry. One of the awards that greatly speak the reliability of the tour operator is the prestigious Certificate of Excellence from TripAdvisor, which rewards only 10% of the top-performing travel business. Having connections with travel bloggers is a strong hint that they are trusted by the insiders. They even appear in reliable news sources or well-known travel media? Good, this is the one worth digging more.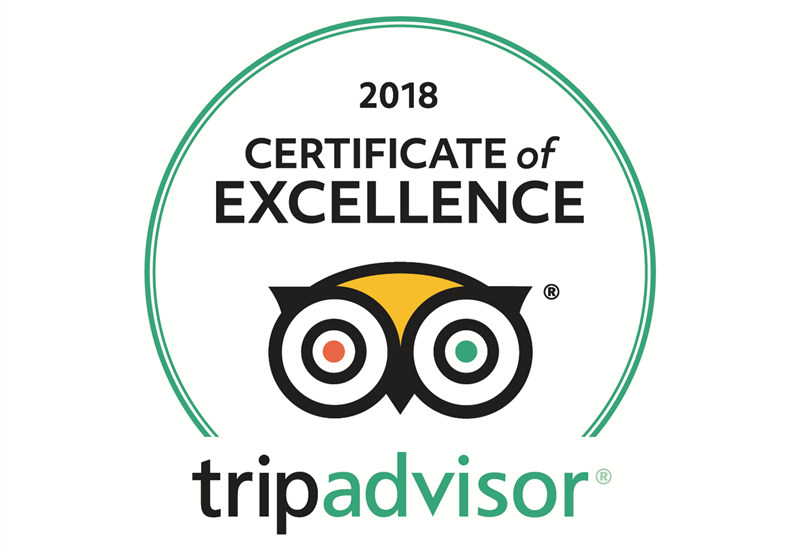 With a high percentage of positive reviews, Odynovo (formerly Odyssey) has been winning the TripAdvisor Certificate of Excellence for the seventh year since 2012.
What and where customers say about them
A previous guest is more likely to share the ups and downs of a trip and give you a better feel for the personality of the tour operator. Ask to speak to someone who has been on the tour recently or browse the testimonials on the website. Word gets around quickly - visit some of the best resources for which operators are good, such as TripAdvisor, the world's most influential travel review site, where Odynovo (formerly Odyssey) guests left thousands of customer feedback in different destination pages. Facebook Ratings and Reviews is another feedback tool that clearly shows how real travelers loved their experiences with the tour operator. The higher ratings the business gets of the 5-star rating system, the more trustworthy they are. Don't forget that Google is your friend: type in "reviews of" along with the tour operator's name, go over the results - on travel forums and personal blogs, chances are you will discover the conversation between those who are in the same boat and who are already been there.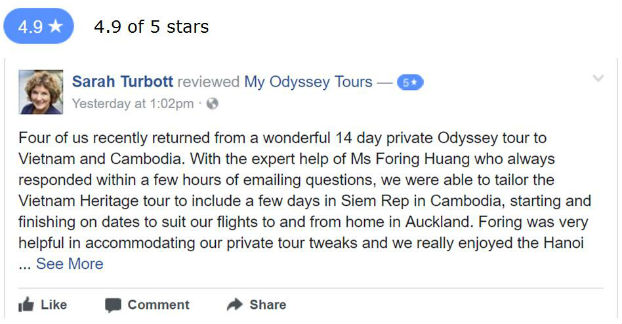 Facebook reviews is a great tool to maintain transparency and demonstrate trust from customers. Odynovo (formerly Odyssey) currently has 2,000+ Facebook reviews. For the latest reviews, please visit our Facebook page.
How is your contact handled
First impression matters. How was your first inquiry email or the initial call going? Are your questions answered promptly and thoroughly? Are they actually helpful during the communication? Follow up on all interactions. When working with an overseas tour operator, a reply within 24 hours in working days is acceptable due to the time difference. The more responsive they are, the less worries you will have. If the tour operator fails to respond within a promised time or offer advice, build your rapport with someone else. Of course, a professional shall go above and beyond. Observe the tone and manner: if it is always patient, friendly, personal and polite, then the tour service is very likely to be the same. Moreover, the ability of understanding or accommodating your need is a key factor in choosing a trustworthy tour operator. When you request a minority photography tour, you don't want to be arranged to visit city areas. Pick those who fully meet your expectations, and never trust a dishonest one even if they act apologetic.
Do they have 24/7 logistical support
Being impressed with the consultancy service is not enough. Make sure if the standard of service remains the same throughout the trip by collecting as more information on the logistical support as possible. As suggested before, reviews sites is a good channel to learn. Will you be in good hands from start to finish? Is there a customer care center to ask for help or give feedback at any time? These questions are very crucial to direct you to the right person and right place whenever you need assistance. Take Odynovo' customer service for example, the travel consultant and customer care manager follow all the way through guests' tour after they are in their destination and when they get back home. Guests are also welcomed to write to our president Michael Zhou, who is involved in the day to day operation, for any questions or concerns.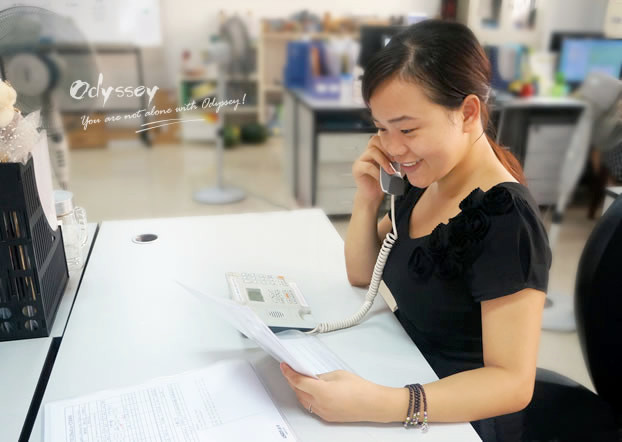 Along with the travel consultant, Odynovo Customer Care staff Shirley makes regular contact with guests to ensure their tour is going without a hitch.
How often do they update, like, anything
No one wants to deal with a silent zombie. We love the human touch and would like to know how you are doing. That goes the same for a traveler, therefore nowadays, overseas tour operators use multiple channels to approach and connect travelers. Check how often they post on their website, social media (Facebook, Google+, Pinterest, Instagram, etc.) or send out newsletters. The high frequency not only says that they remain active, but they stay in touch with people, notably when there is a website blog that publishes fresh contents on a regular basis. For instance, I, Product Manager at Odynovo, have my own column on our website's Blog section, in which I share hands-on travel advice and over 10 years of industry insights.
If the tour operator updates their tour products or phases out unpopular ones during a reasonable period of time, they really pay attention to the new experience for guests and customer feedback. The Winston Churchill quote says it all: to be perfect is to change often.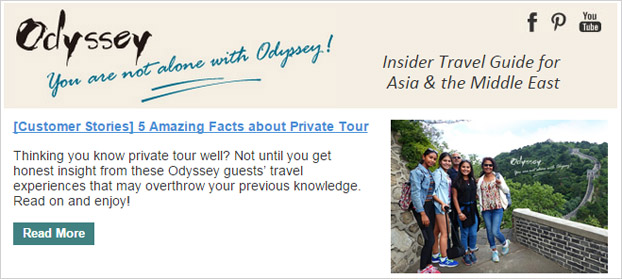 A small glimpse of Odynovo (formerly Odyssey) semimonthly newsletter that delivers fresh & quality travel content to subscribers.
Do they make the cost/payment clear
Now you are at the last step: make a payment. A 30% deposit is often required to be placed first, and the balance paid a month prior to your trip. Wait - are you sure you understand the inclusion and exclusion? Cheap doesn't mean the best. Scrutinize the terms and conditions of the tour package to make sure there is no hidden cost before transferring your hard earned dollars. Meanwhile, do they give clear instructions about payment method: online payment or wire transfer (bank transfer)? What are the service fees for an overseas transaction, etc. In case an emergency occurs, read over the cancellation policy to know how to secure your money. Paypal, credit card and wire transfer are the most common payment methods for an overseas transaction.
Note that the account you're transferring money to may not look the same as the tour operator's. The reason is simple: the brand of a tour operator is often owned and operated by a travel company, just like Odynovo runs under the operation of Tang Dynasty Tours Co., Ltd. (License Number L-GX-GJ00080). When encountering confusion, ask about their relation to make sure the money goes to the right entity. Again, you may search for guest reviews that mention payment to see how their experience went with the company.
Congrats! You have finished the tutorial as to choosing the trustworthy tour operator. We're trusted by more than 15,000 travelers every year for highly-praised private service - that should be enough reason to place your trust in too. For any tour request or extra questions, reach us at . I am very much sure that you will enjoy a pleasant private experience with this long-established and professional team.
What Our Clients Say
"Great Customized Service", "Trip of A Lifetime", "Exceed All Expectations"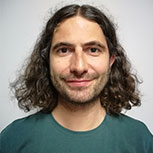 CONTACT A TRAVEL EXPERT
1-to-1 Service | Reply within 24hrs | Expert's Advice
STAY IN TOUCH WITH US
Subscribe to our newsletter so we can provide you with insider travel information, exclusive offers, and discounts.