One of the oldest civilizations and home to the world's largest population, China offers a multitude of adventures like no other. While it's almost impossible to include all the unique experiences in one single post, here I hand-pick 8 things to do only in China. Some you may have experienced or heard of, but some you might not.
1. Get a taste of local life at Temple of Heaven Park
Temple of Heaven Park, where Chinese ancient emperors used to pray for good harvests and atonement, is one of the most visited sights in Beijing. For some, the beautiful temples and pagoda are what they're here for, for others, it's a wonderful chance to get a taste of local life. Actually, the activities taking place on the extensive grounds of the park are equally attractive as the temple itself. Visit in the early morning and you'll see people playing chess, practicing tai chi, dancing, singing, etc. You can even join them who would be happy to teach you how to do it. In spite of so much going on, you'll still feel a sense of peace and tranquillity and get an insight into the local way of life.
2. Try the bullet train from Beijing to Xi'an
After touring Beijing, most travelers in China will take a 1.5-hour flight to the ancient city of Xi'an for a glimpse of the Army of Terracotta Warriors. Why not try something different this time? The bullet train opened in 2012 may offer a unique way to travel to Xi'an. With a speed of up to 300 km/h, the 1454-km journey takes only 5 hours. Though it still takes a longer time than the flight, it's cheaper and most importantly more scenic and worth the extra hours.
All you need to do is hop on the train like the Chinese do, get a window seat, and soak up splendid views from rolling hills and mountains to bright yellow and green fields stretching as far as your eyes can see. With such impressive speed and spectacular scenery, your trip to Xi'an on the bullet train is definitely a must-have experience.


3. Cycle on the Ancient City Wall of Xi'an
Many visitors head to Xi'an for the iconic Terracotta Warriors, but the City Wall of Xi'an is also worth a visit. Stretching 14 km long, this 600-year-old wall is one of the best-preserved city walls in China. While you can tour the wall by walking around for half a day, it would be more fun to explore on a bike, which allows you to see much of this ancient capital of China within two hours.
Bikes can be rented at the gates of the wall, which only takes a couple of dollars. There're tandem bikes available as well, which is perfect for families with kids. Though a bit bumpy, the ride is not strenuous. You can make several stops during the ride, at different gates and watchtowers for pictures, or just to watch how the local residents go about their daily life. From the wall, you can also get a bird's eye view of the moat and the City Wall Park and making a stark contrast between the centuries-old pagodas and the modern skyscrapers across the city. If you cycle on hot days, make sure you bring something to drink.
4. Go on a scenic hike to Longji Rice Terraces
The scenery here at the rice terraces amazes travelers from the world over. And to take in the views, it requires a hike, whether it's a shorter half an hour walk from the village of Pingan or a more strenuous 4-5 hours hike from the village of Dazhai.
If you fancy hiking off the beaten track, the hike starting from Dazhai where the Yao minority inhabits is ideal as it's a lot less touristy, the ambiance more mesmerizing, and the local life more authentic. Come in spring, you'll have the chance to observe the farmers planting their rice crops. Expect to see the golden fields in October and snow-white fields in December. If you want to interact with the local people, an overnight stay in the locals' home may enable you to get to know the Zhuang or Yao minorities when you may be treated with tea, wine, singing, dancing, etc.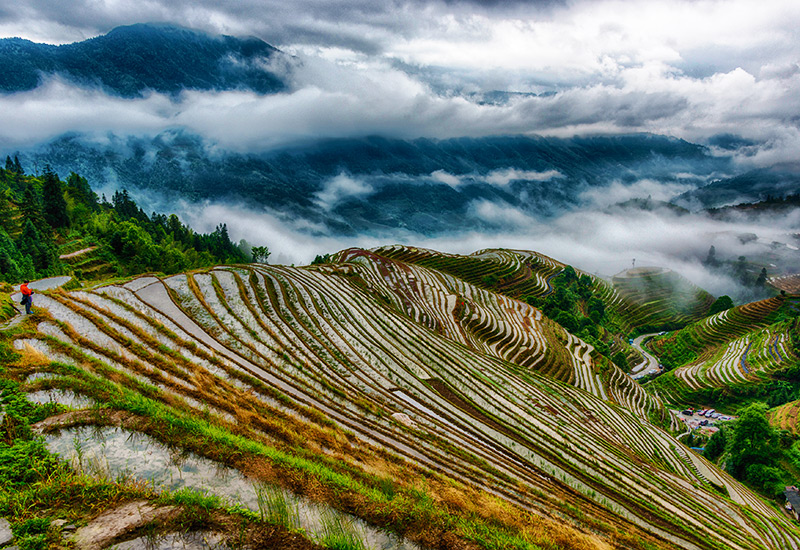 Longji Rice Terraces in spring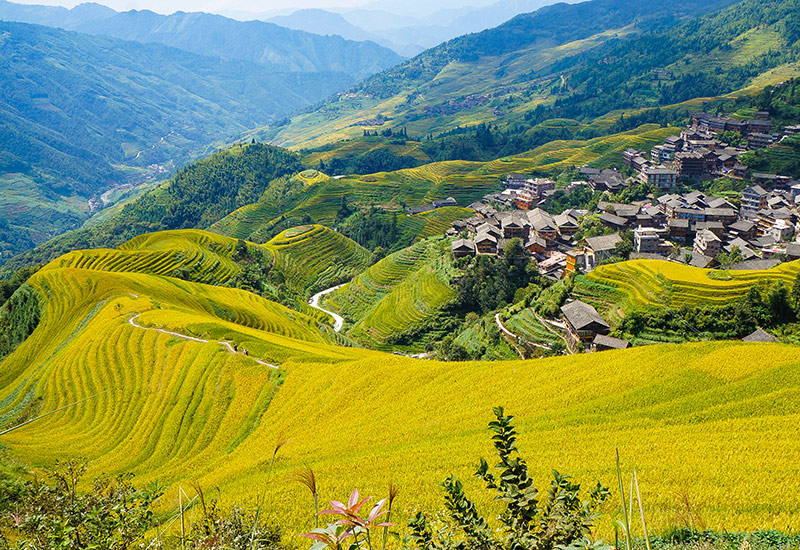 Longji Rice Terraces in fall


5. Take the Yangtze River Cruise
Though not as well-known as much-see attractions like the Great Wall and the Terracotta Warriors, the Yangtze River is highly recommended for first-time visitors to China. A three or four nights' cruise on this mighty river is an excellent chance to take a break from temples and museums to digest what you have seen or simply to relax and soak up the scenery.
The scenic cruise starts from Chongqing and ends in Yichang or the other way around. During the cruise, you can take excursions to explore lovely Buddhist grottoes, try the Chongqing hotpot and other spicy dishes or learn some of the tenets of Taoism at the ghost city of Fengdu. You'll be rewarded with the most scenic views at the Three Gorges of Qutang, Wu, and Xiling, where you'll be amazed by huge sheets of rock, jagged peaks and so on. And finally, prepare to marvel at the Three Gorges Dam, the world's longest dam (2,335 meters) as well as the largest hydroelectric power station.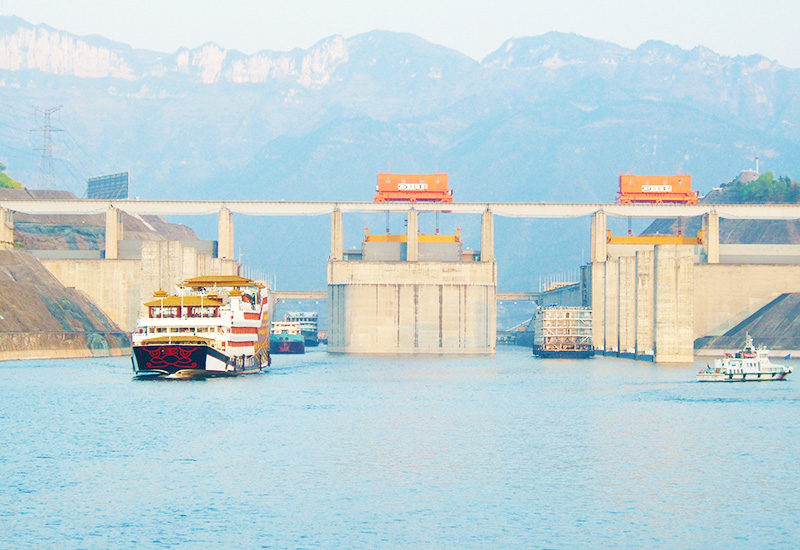 The impressive Three Gorges Dam


6. Be a Giant Panda Volunteer
Most travelers to China would pay a short visit to giant pandas in Chengdu. Such cute creatures! Who would miss such an opportunity? For visitors who are really keen on giant pandas and want to have closer contact with them, I highly recommend taking part in the Giant Panda Volunteer Program which is provided by the three giant panda bases of Chengdu and can last from half a day to 2-3 weeks. The exact duration and activities can be customized based on the needs and interests of the participant.
Volunteers will have the chance to work with keepers and researchers to take care of these lovely animals, which includes watching films documenting giant pandas, cleaning and weighing fresh bamboo, feeding them and cleaning their enclosures, etc. Through all these activities, you may get a deeper understanding of China's most beloved animal. A few days' care for the giant pandas will certainly make it one of your most special and memorable experiences in the Middle Kingdom. You can learn more about the program from How to Be a Giant Panda Volunteer.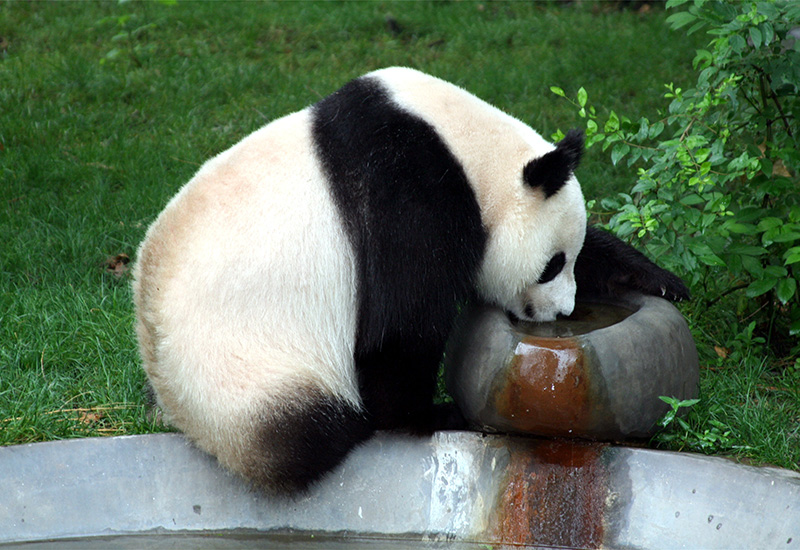 A giant panda drinking water in the Chengdu Research Base of Giant Panda Breeding


7. Stroll along the East Nanjing Road
Linking the Bund and People's Square, the pedestrian-only East Nanjing Road is a great place to feel the vibe of Shanghai. It's the city's best-known shopping street with a perfect mix of shopping malls, department stores, boutiques, and food stalls lining up where you can shop till you drop. Of course, you don't have to buy anything here, simply taking a leisure stroll can be exceedingly relaxing and rewarding because a walk through the street is a walk through the history of this cosmopolitan city. It is here that China's first department store opened and art deco styling, new products, automobiles, and new ideas were ushered in nearly a century ago. And that is one of the most important reasons why Shanghai became the country's most fashionable city. Take a night stroll if possible for it would be more impressive when everything gets lit up.


8. Celebrate the Spring Festival in one of China's cities
There's no better time to experience the festivity of the most populous nation in the world than the Chinese New Year, which usually takes place at the end of January or the beginning of February. Temple fairs, feasts, colorful traditional costumes, extravagant firework displays, and everything you can expect to see and do.
Celebrations may vary from place to place, but one thing people from all over China do is set off fireworks. On New Year's Eve when the clock strikes 12, you'll hear fireworks exploding and rockets shooting far and wide as if you were in the middle of a war movie by Steven Spielberg. Buy some fireworks and set them off yourself if you're adventurous. Just in case you want to be part of the festival, you can check out more on the 7 Best Places to Celebrate Spring Festival in China.
Some tips:
1) Make sure you book travel well in advance (2-4 months ahead) because prices go up during the Spring Festival and tickets sell out quickly.
2) Prepare to meet large crowds of people at famous tourist attractions (that's what a Chinese holiday is like)
3) Consider having a New Year's Eve dinner with locals to make your visit more special if you're offered the chance.
If you're interested in any of the experiences above or would like to add your own ones, we'll be more than pleased to tailor-make a China journey around your tastes and interests.
What Our Clients Say
"Great Customized Service", "Trip of A Lifetime", "Exceed All Expectations"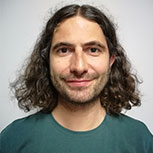 CONTACT A TRAVEL EXPERT
1-to-1 Service | Reply within 24hrs | Expert's Advice
SUBSCRIBE TO WIN A FREE TOUR
Subscribe to our newsletter for a chance to win a free 7-day Peru tour! And more insider travel news, exclusive offers, and inspiration will be sent straight to your inbox.