Sorting out what to pack for today's China travel isn't easy, so we are here to help! Check out the ultimate packing list below, you could travel easier without having to carry along tons of suitcases.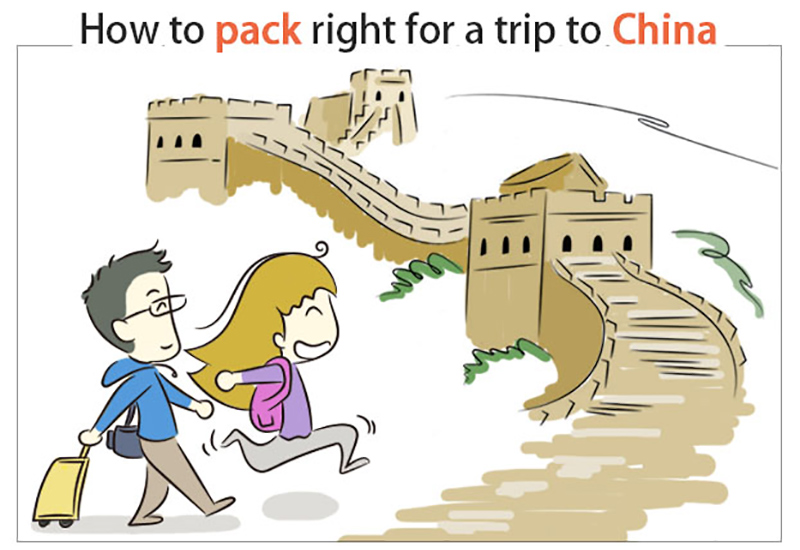 How to pack right for a trip to China


Essential things to pack
The luggage allowance of taking a Chinese domestic flight is usually 40kg for first class, 30kg for business class, 20kg for economy class, and 10kg for infants with booked seats. Therefore, to avoid extra charge for overloaded bags, you need to pack wise.
1. Important documents & papers Essential documents & papers


The reason is very obvious. By important documents I mean:
- Travel documents: Original passport with the visa issued (if needed) and photocopies of it. Don't put all your eggs in one basket - pack them in separate bags in case you lost any of them. I would also suggest storing the scan where you can access it online.
- Transportation tickets: Original Air/cruise/train tickets or copies if booked online.
- Confirmation letter of tour booking: Print the letter out and bring it with you for it contains all your tour information, including daily itinerary and contact of people who will involve in the tour operation.
- Money: Wallet, credit card, and a small sum of cash, but never put them in the checked baggage! Popular currency can be easily exchanged into Chinese currency in the international airport.
- Unlocked phone: You can use your phone to stay connected as a prepaid SIM card with the data plan is easily available in China.
Don't Visit China Without Tailoring Your Trip
Tailor Now
2. Hygiene and beauty products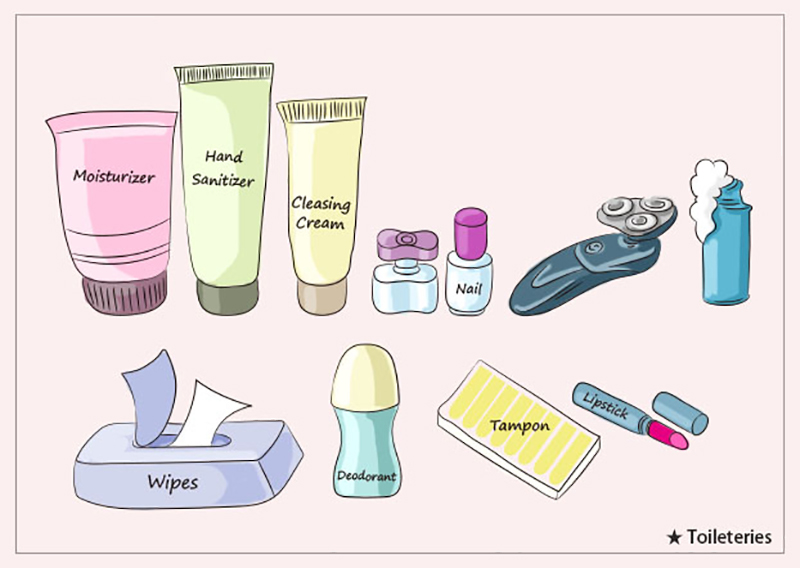 Toiletries


Note that the same brand products you find in China may not be as effective as the ones used at home. If you are conscious of familiar experience, bring your own toiletries and make-up kits. Besides, a few extra items worth stressing are:
- Hand sanitizer & wipes: Many public toilets in China won't offer toilet paper/soap/towels. Tissues are sold everywhere, so no need to overload your luggage. - Moisturizer: To cope with the very dry weather of western and northern China, moisturizer can be a lifesaver.
- Deodorant: Oftentimes there are fewer than two brands of deodorants in supermarkets.
- Feminine Products: Prepare your own tampons as sanitary pads are more popular in Asia.


3. Clothes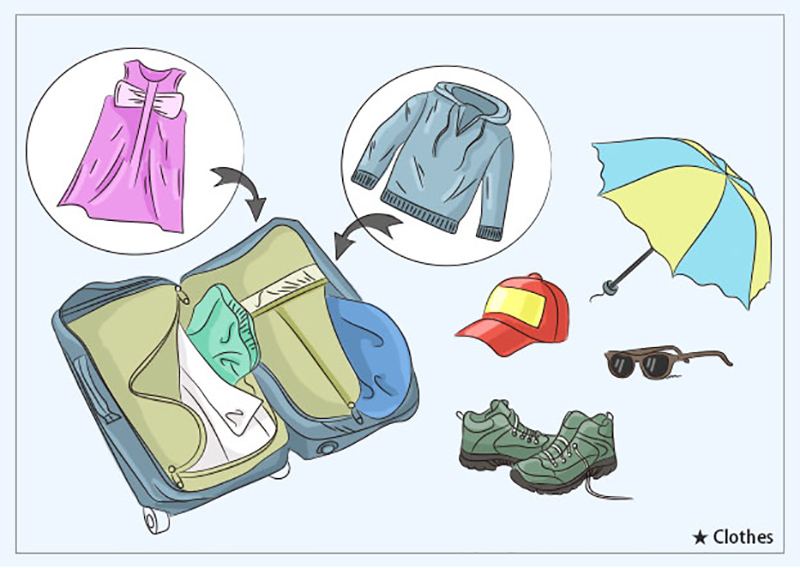 Clothes


The dress code for the Chinese is smart casual. That being said, you should pack as suggested:
- Travel type attire: Bring something dry quickly, such as hiking type shirts and pants. Though summer in the south is hot and humid, a light jacket would come in handy in aggressively air-conditioned environments. Winter in the north can be very cold and dry, warm clothes are essential. Revealing clothes are usually considered inappropriate for Chinese females, but people are quite ok with foreign visitors who dress "less conservatively". Meanwhile, wear comfortable shoes for long walks (China is huge, you know). Keep in mind that sizes are much smaller in China - you may find it hard to get attires of the right size for westerners.
- A respectable outfit: For places like upscale restaurants, nightclubs or for important events, e.g. wedding ceremony.
- Umbrella/hats/sunblock/sunglasses: Make sure these items are readily available in the summer. (Not only China, but this is also a prerequisite for traveling the globe.)


4. Medications & Vitamins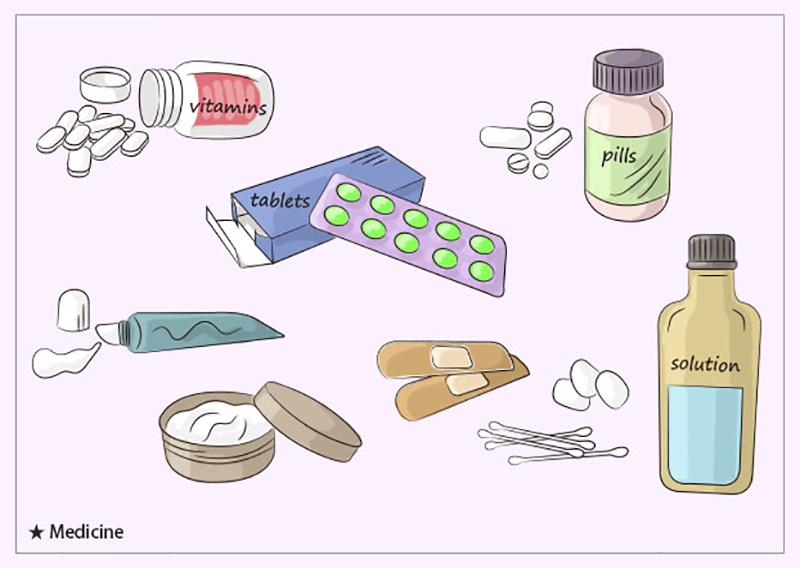 Medicine


Pepto-Bismol and antibiotic cream are usually helpful just in case you get travelers' diarrhea. Consult your healthcare provider for the use of your daily pills and vitamins, and bring your medical record as well as sufficient medications with spare portions.


Not must-have but always helpful items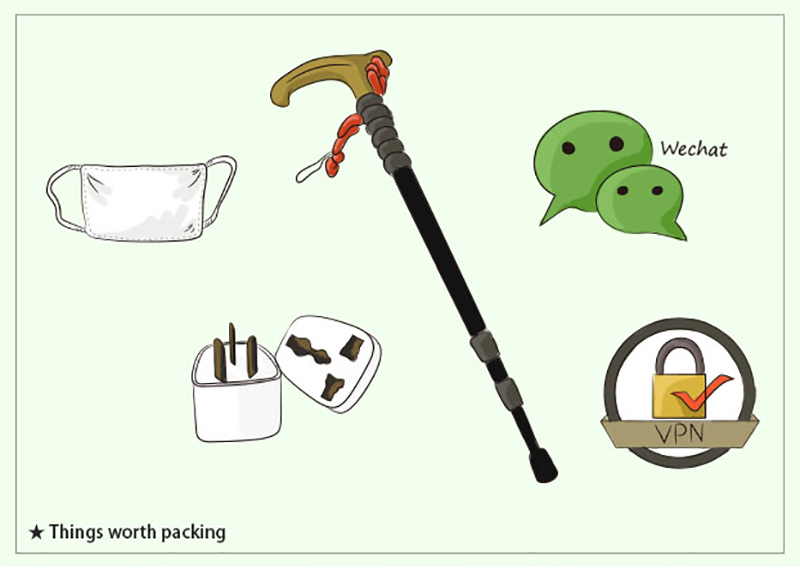 Things worth packing


- Power converter: The electricity of mainland China and Hong Kong runs on 220V and 50Hz, while that of Taiwan supplied at between 110 and 120V. Three-pronged angled and two flat style plugs are commonplace. Your hotel may (or may not) offer a converter for free but I would suggest having your own for convenience.
- Face mask: Sometimes the air quality in developed cities tends to be less interesting on winter days. Get yourself prepared.
- Trekking pole: Only when your tour involves strenuous mountain hiking or the off-the-beaten-path sections of the Great Walls, such as Jiankou, Jinshanling, Gubeikou, etc.
- Virtual Private Network (VPN): Many western websites (Facebook and Google included) are banned in mainland China due to censorship. To break the wall you need to install a workable VPN in advance of your trip.
- WeChat account sign-up: Widely used in China, Wechat (Weixin) is a popular instant messaging application that lets you send text, multi-media messages and even have live chat with an active internet connection. Get a free account with your phone number (to receive a confirmation code) to connect with your travel consultant/tour guide/friends, it's much much efficient than texts and emails.


Packing list for kids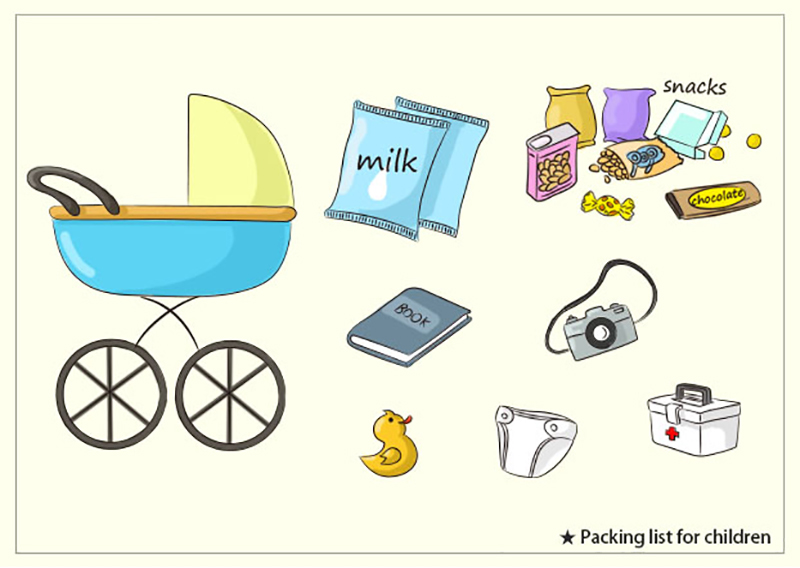 Packing list for children


Traveling with children is great - only when everything is packed right! It is common sense that kids can be more vulnerable to a new environment than adults. Therefore you should go over all the items and make sure they are there whenever you need them.
- Diapers: Bring sufficiently. Technically, you can find nothing other than Pampers in many supermarkets, unless you search in an upscale shop which is usually not available outside developed cities. - Baby carriers: It'd be safe to keep your children immobilized to deal with the chaotic traffic.
- Baby formula & food: Stick to what your children have back home to avoid upsetting their tummies. For teens, you can always find rice, dumplings or noodles in restaurants no matter what destination you are visiting. One more thing: DO NOT drink tap water, ever.
- A car seat: Only when you are on a private tour or travel by car for long distances. Seat belts are not installed in the back seats of most taxis.
- Toys/storybooks/snacks: Bear in mind that what appeals to grow-ups may be boring to kids, to ensure they enjoy the trip too. Besides cliché tricks, I find it extremely helpful giving them a simple digital camera to photograph what they are interested in. To make them engage, you can also do some homework and design games before the trip start.
- Medicine: In addition to day to day medications, the basic med-kit would include electrolyte solution, anti-colic pills, anti-inflammatory, and anti-itch drugs, DEET, etc.. Consult your pediatrician to know what vaccines your children need for peculiar situations.


Final thoughts…
The mantra is "always pack light and pack right". The challenging pre-trip job can be easily done with this checklist for adult travelers and those who travel to China with children. If you are seeking more value and comfort, a private tour would meet your needs. Write to for a personalized itinerary and have a wonderful stay with us in China!
What Our Clients Say
"Great Customized Service", "Trip of A Lifetime", "Exceed All Expectations"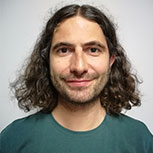 CONTACT A TRAVEL EXPERT
1-to-1 Service | Reply within 24hrs | Expert's Advice
STAY IN TOUCH WITH US
Subscribe to our newsletter so we can provide you with insider travel information, exclusive offers, and discounts.