Discover Vietnam and Cambodia Differently
Despite that I'd been to Cambodia and Vietnam many times in the past few years, my enthusiasm for the trip continued to grow at the prospect of going to dig a little deeper, discover and experience something new and unique in the two countries. Now I'm eager to share them with you and very confident that they will entertain you as well if you seek a more authentic and enjoyable travel experience.
Like other travelers, my colleague Sinba and I went through visa, air ticket, and hotel booking, then time to go. We first flew to Guangzhou from Guilin and then catch our onward flight to Siem Reap, the connection was good timing and not much wasted.
Cambodia is the primary destination we lead tours to in Southeast Asia. Personally, it was one of my most desired destinations as well. The country has so much to offer, not just Angkor Wat. Siem Reap is a small town surrounded by lush jungles, no tall buildings over 10 levels and the "expensive" Toyota RX-300 are everywhere. People come here for the enigmatic Angkor Wat. We certainly wouldn't miss it. Just as before we were amazed by these gigantic stone structures, and the carvings in the shade looked fresh as if they were made the night before. The huff and puff climb to the 3rd level of the Angkor Wat was well worth it, for the best-preserved carving of Apsara in the whole temple and the lush view came from four directions. However, I have to say the 'Beng Mealea' trip that I did the next day was even more awe-inspiring than the visit to Angkor Wat.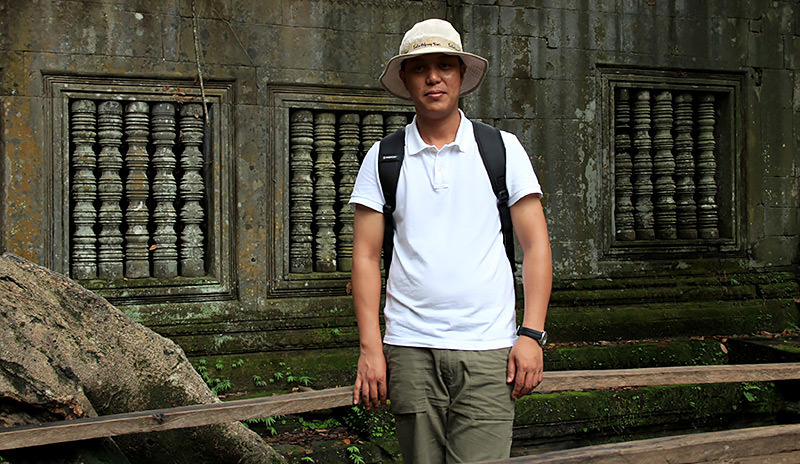 Kevin Yang at Beng Mealea, Cambodia


After 2 hours drive through rice fields, and villages, watching the cows hanging out in the fields and kids chasing one another among the bushes, we stopped, got out and looked at… nothing but a ruined temple complex. I have visited a number of temples and they can slightly start to lose my interest, but this one was so different because we were the very few travelers on the plot! Wrapped by jungles, the temple is like a Mecca forgotten by time and people. No one could tell when it was built exactly, and this adds a bit of mystery to this ruined complex. Broken bricks and collapsed stones have lost their glory and mosses have taken up every single pit - it was quite a challenge to visit this place a few years ago. Luckily, a simple wooden walkway had been built to make it more accessible. Stepped into the complex, I could immediately smell the history of Angkorian-era Hinduism culture. The broken windows and fragmentary sculptures all spoke their own stories. I felt like a real explorer and would climb over the walls if it were on a fine day.
Then, roughly 10 minutes later, we were taken to the original riverbed where locals cut the stones to construct their palace hundreds of years ago, which just struck my endless imaginations. On the way back to the hotel, we were excited to discover delicious food on a roadside stall. It was Bamboo Rice, two for 1 dollar, yummy coconut juice bamboo rice, the best rice I had on the entire trip!
One of the unique experiences in Cambodia was a visit to the poor villages of Siem Reap, where our company sponsored a good project to help local villagers have clean, drinkable water. The IOT Wells Project has been carried out since 2011. Till now over 30 pump wells have been completed with donations from our previous clients and our staffers. We "inspected" the one donated by our President Michael Zhou. The whole family and their neighbors all came out and kept saying "thank you" to us. It's a small thing for us, but big for them, we're sure to carry on doing it in the years to come!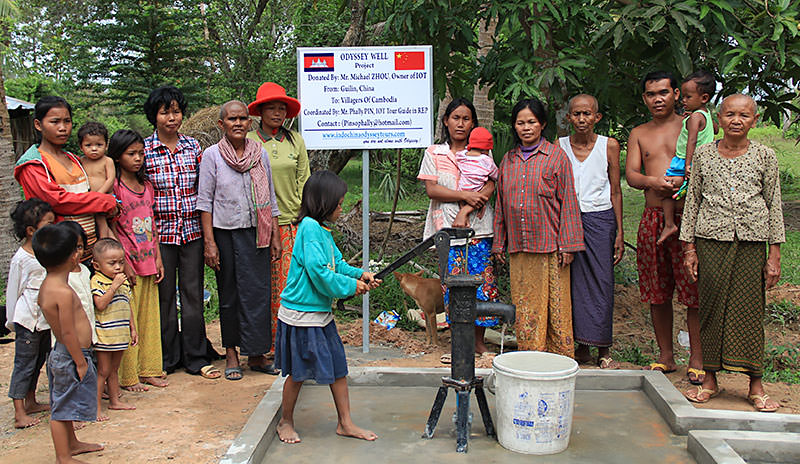 Wells Project of Indochina Odyssey Tours at the villages of Siem Reap, Cambodia


Our second stop is the bustling Saigon in the Mekong Delta. I'd like to call it "Saigon" rather than "Ho Chi Minh City" with a strong political flavor. It is the most flourishing metropolis in Vietnam. Motorcycle. Motorcycle. Motorcycle. Numerous motorcycles burned up the road. "If you obey the traffic rules, you will never be able to cross the road". But it is right in this context that we had a stimulating travel experience - we were brave enough to take a motorbike tour in the spider-net-like streets. What an experience. Thrilling, but I would not recommend this to the elderly and kids.
We headed south and went deeper into the Mekong Delta, which plays host to one interesting experience - the boat ride to experience local life. In My Tho, we had a stopover to have a cup of local coffee and even heard local girls singing in one orchard. We would stay there longer to try our luck if we were told earlier that the Saigon Beauties mostly came from My Tho. However, there is nothing like visiting the floating markets in the Mekong Delta. Local farmers rowed their boats to the Cai Rang Floating Market from 04:00 or 05:00 a.m. Every boat has a long upright pole at its bow on which samples of the goods for sale are hung. In this way, sellers do not have to peddle because their goods can be seen from a distance. Smart Vietnamese!
There are plenty of similar new opportunities and hidden treasures in Cambodia and Vietnam, these are just a few of them, but if this has whetted your appetite, go and see for yourself!
What Our Clients Say
"Great Customized Service", "Trip of A Lifetime", "Exceed All Expectations"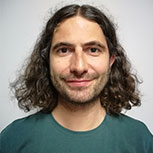 CONTACT A TRAVEL EXPERT
1-to-1 Service | Reply within 24hrs | Expert's Advice
STAY IN TOUCH WITH US
Subscribe to our newsletter so we can provide you with insider travel information, exclusive offers, and discounts.