Traveller's Story: My Exotic Food Adventures
During several trips to Asia, Odynovo (formerly Odyssey Tours) regular customer Elliott Brender discovered a plethora of new and exciting dishes and snacks. Here he shares his exotic food adventures in China, Vietnam and Cambodia.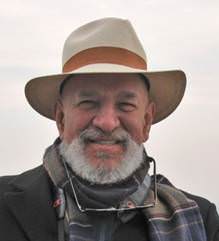 Who am I? My name is Elliott Brender. I am a retired general and colorectal surgeon. I am a Clinical Professor of Surgery at the University of California, Irvine (UCI) School of Medicine.
In 2008 I began doing volunteer surgical missions to Cambodia and returning from my trips through either Hong Kong or Shanghai. This is where I got involved with China Odyssey Tours.
I have traveled 3 times now with China Odyssey Tours. The first time was after a volunteer mission. Instead of returning through Hong Kong I decided to go through Shanghai and make a side trip to Guilin.
I have been asked how I select my restaurants. With the help of the television food programs, such as Anthony Bourdain's "No Reservations" and Andrew Zimmern's "Bizarre Foods". I check the Michelin Star Ratings, and I use the internet.
Ever since I was a teenager I became interested in foods, foods of all kinds. I grew up in a Jewish-Italian neighborhood in Queens, NY. There were many Italian restaurants in the neighborhood. I tried calamari (squid) and scungilli (octopus). I used chili flakes to enhance the flavor of the dish. We ate Chinese food every Sunday night. Shrimp and lobster sauce was a family regular. I experienced and liked hot Chinese mustard.
In high school, we studied Spanish so our class took a trip into the City (that is what we call Manhattan) and I had my first experience with Mexican food. Carne asada enhanced with tabasco, refried beans, rice, and tortillas. At the 1964 World's Fair, I went to the African pavilion and had cold peanut soup and lobster cooked with honeydew melon. Fantastic.
I went to college in the Bronx but got into Manhattan frequently. I discovered Indian food and shrimp vindaloo. I was drafted and sent to Vietnam. Vietnamese, Thai, and Southeast Asian cuisines were quickly added to my experience. I loved the food and I loved the spice. Thai food especially but Vietnamese can be quite hot as well. I went to Hong Kong in 1972 and I discovered real Chinese food. I learned there are 8 different varieties of Chinese food. I loved Sichuan because of the spice but Yunnan was quite spicy as well.
1997 was my first trip to China. The Great Dam was starting to be built and it was a see or lose forever the Great Gorges. We flew to Beijing, then Xian, then Chongqing where we boarded a riverboat down the gorges to Wuhan. Prior to boarding our boat, we ate at a Holiday Inn and I had the honor of being invited to a hot pot with the crew and the Chinese guides. Everyone else ran off to the French restaurant. I poked my nose in on the crew who were eating in a separate dining room. I asked "what are you guys eating?" hoping for an invitation which was politely offered. That turned into a fantastic evening. There was a big yin yang symbol and half the pot had boiling clear water; the other half had boiling red water, obviously spicy. I spoke no Chinese, the crew spoke no English, but the Chinese guides did. We spent the evening talking back and forth through interpreters and trying different meats and vegetables in the two sauces. The spiciest was soaking vegetables in the red water. They apparently absorbed the spicy fluids. The weirdest food I ate, the lining of blood vessels which cooked up like a chip. They were amazed by my spice tolerance and that I didn't react. We had a great time.
First stop - Shanghai, and soup dumplings, one of their local specialties. Din Tai Fung. Now with branches worldwide, they make excellent soup dumplings. I love Chinese dumplings.
Shanghai - Din Tai Fang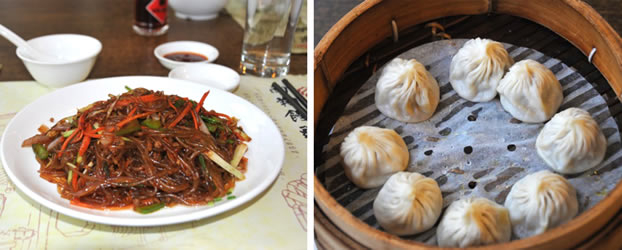 Left: Spicy Pork Noodles Right: Soup Dumplings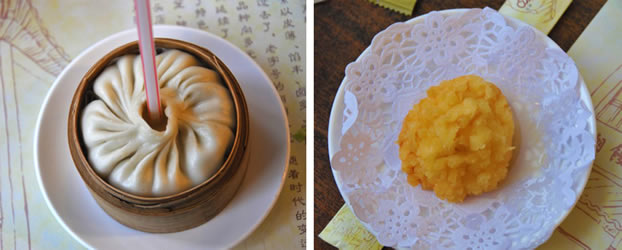 Left: Giant Soup Dumpling Right: Fried Dumpling


For dinner, I selected Lost Heaven on the Bund as they had Yunnan food which I hadn't tried and I knew was spicy.
I selected Lost Heaven on the Bund through a Best of Shanghai search. It came up multiple times on multiple sites.
Shanghai - Lost Heaven on the Bund (Yunnan Food)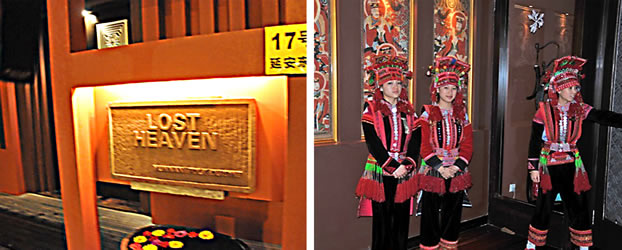 Left: Entrance Right: Reception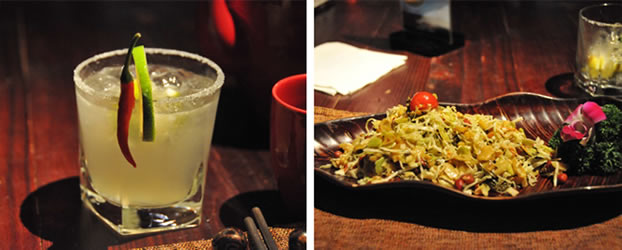 Left: Thai Zeed Right: Tea Leaf Salad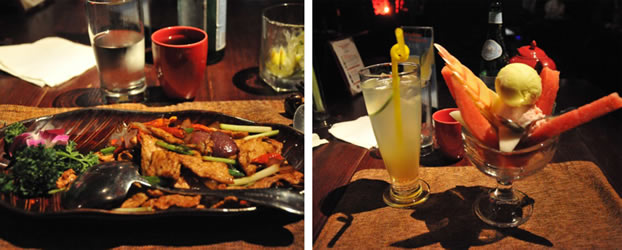 Left: Spicy Pork and Vegetables Right: Dessert


Jade on 36 was supposed to be a molecular restaurant when I booked my dinner but when I arrived I found they had a new chef and were no longer doing molecular cooking. I looked at their menu and decided to stay anyway. Although it was not what I anticipated, it was excellent in every way and I was duly impressed. Serendipity!
Shanghai - Jade on 36 (in the Shangri-La Hotel, Pudong)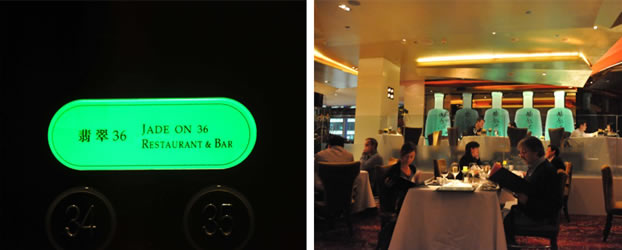 Left: Jade on 36 Right: Interior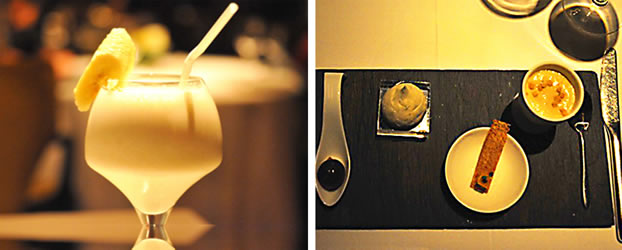 Left: Brandy Alexander Right: Molecular Appetizers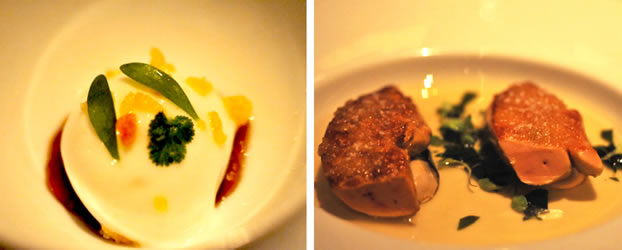 Left: Soft Egg Cooked at 65 Degree with some Lemon Jelly and Homemade Sauce Lobster
Right: Foie Gras


The next year we took a
family trip to China
, a first for my wife. This go-round we went to exotic restaurants for unusual cuisine.
Peking Duck
, if you haven't had it you must try it. If you've tried it, you'll want it while in Beijing. This one was Odynovo guide recommended.
Beijing - Da Dong Roast Duck Restaurant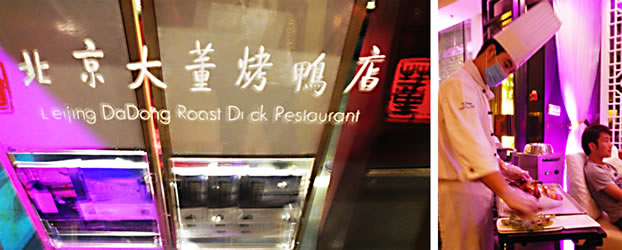 Left: Da Dong Roast Duck Restaurant Right: the Chef Carvesa Peking Duck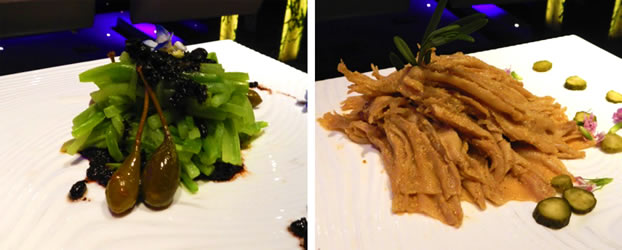 Left: Chinese Bitter Melon Right: Duck Feet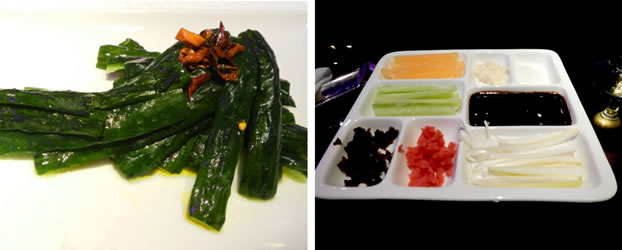 Left: Pickle Right: Condiment's for the Duck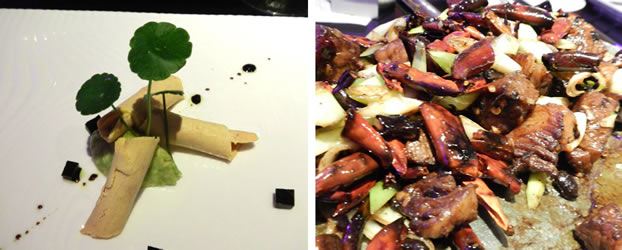 Left: Goose Liver, Truffle Jelly, Avocado Right: Spicy Beef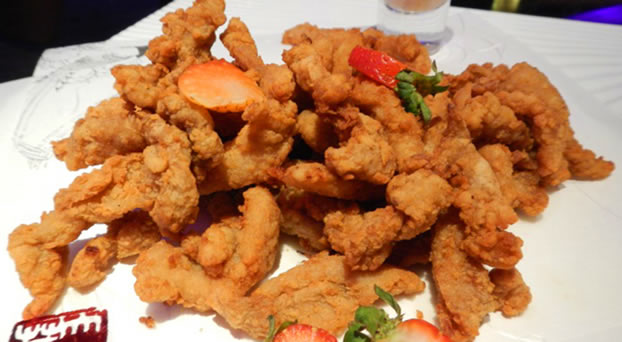 Fried Chicken


Fangshan is one of those places you may either be taken to on a tour and eat from a "regular" Chinese menu or reserve in advance a Chinese banquet made of unusual Chinese foods. Unusual foods. That is for me. Odynovo made these reservations for me.
Beijing - Fangshan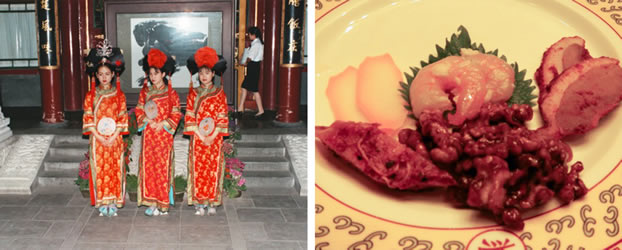 Left: Greetings from the Staff Right: Appetizing Cold Dish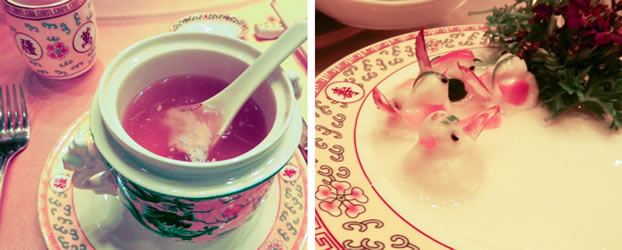 Left: Venison Brain with Chinese Herb Soup Right: Bird-Shaped Steamed Prawns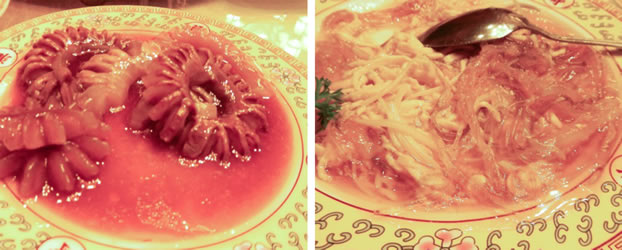 Left: Braised Deer Pizzle with Hot Sauce Right: Fin & Shredded Chicken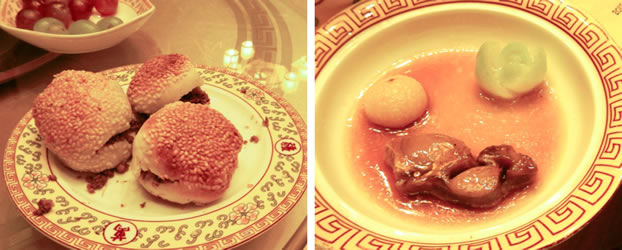 Left: Sesame Cakes with Minced Meat Right: Camel's Paw with Garlic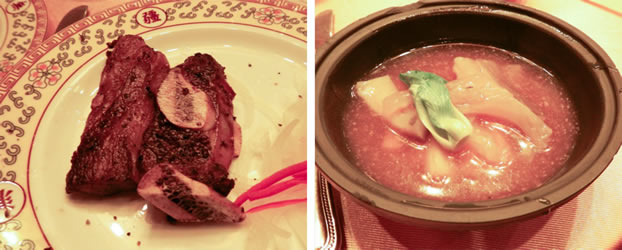 Left: Roast Beef Steak Right: Braised 4 Kind of Treasures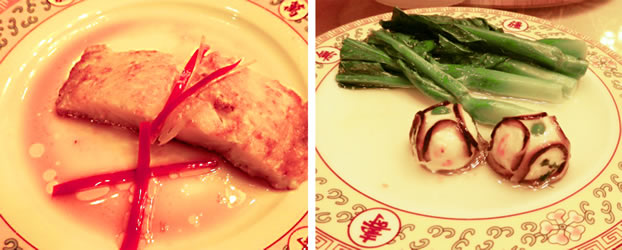 Left: Deep Fried & Sauteed Fried Mandarin Fish
Right: Braised Mushroom with Minced Fish & Vegetable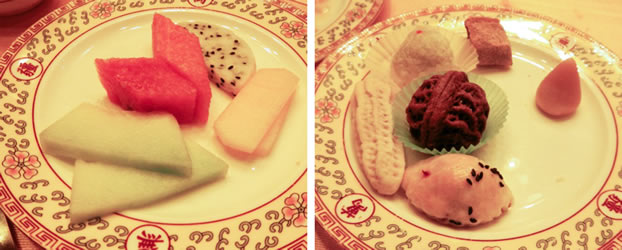 Left: Mixed Fruits Right: Small Assorted Cakes


I heard of Mapo Tofu and its usual spicy properties so it was on my must-try list. Our guide from Odynovo brought us to Chen's Mapo Tofu rated the best Mapo Tofu in the world.
Chengdu - Chen's Mapo Tofu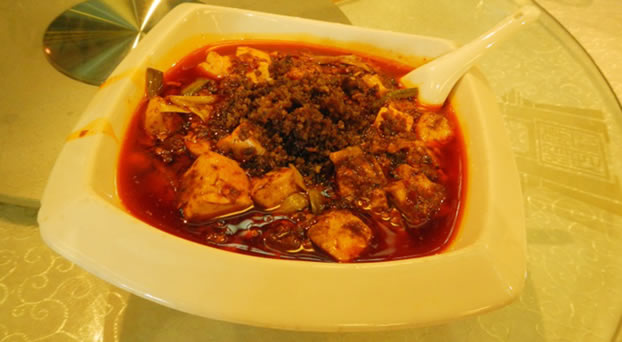 Mapo Toufu in Chengdu


Definitely one of the most unusual dishes I've ever eaten. You mouth literally goes numb from the Sichuan peppers. That was a unique experience for me.
Yu's Family Kitchen has 3 Michelin Stars. The diners are raved about. We were going to Chengdu to see the
pandas
. An experience of a lifetime I will NEVER forget.
Chengdu - Yu's Family Kitchen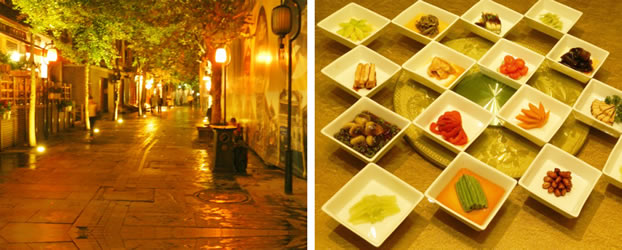 Left: Entrance Right: liáng cài Cold Dishes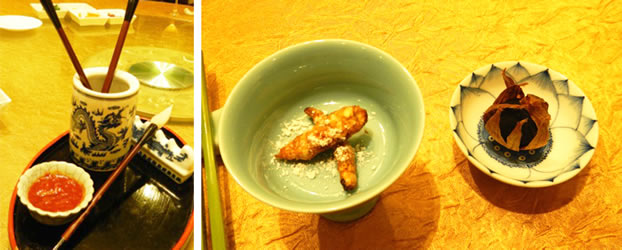 Left: máo bǐ sū Crispy Calligraphy Brushes filled with ground
Right: Pork fried taro root and Black Garlic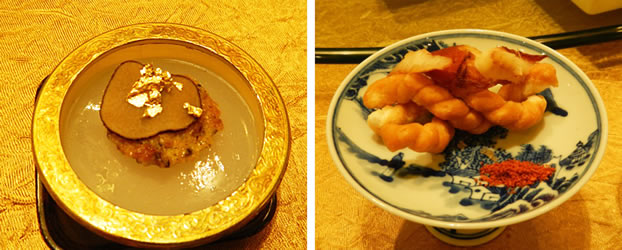 Left: Black Truffle on Egg Right: Twist of Dough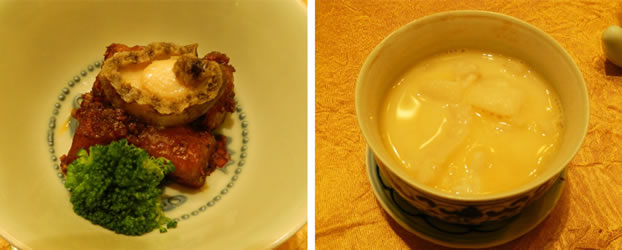 Left: liáng fěn shāo bào yú Abalone with Glutinous Rice Jelly
Right: A Gelee Based Completely on the Juice of Tomatoes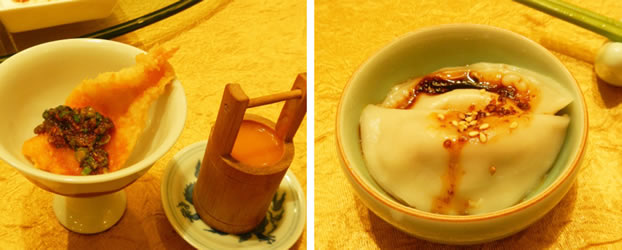 Left: yú xiāng duì xiā Fish-flavored Shrimp
Right: Boiled Dumpling with Chili Oil, Ginger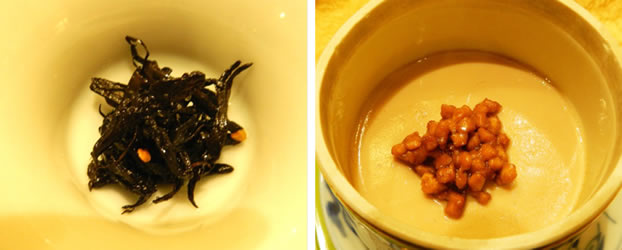 Left: Rare Fungi from Yunnan Right: Light Egg Custard with Rabbit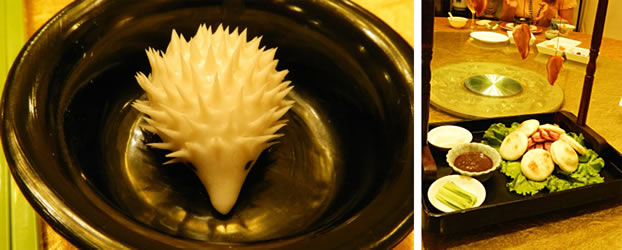 Left: cì guǒ xiǎo bāo Steamed Bun with Red Bean
Right: diào piàn zhāng chá Ya Filling Tea Smoked Duck served with flatbread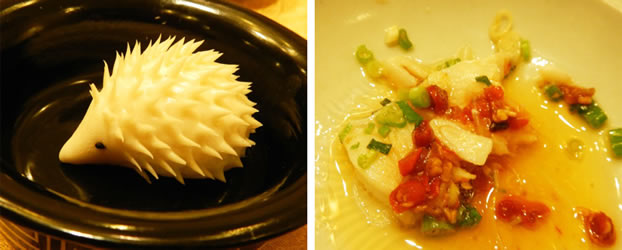 Left: cì guǒ xiǎo bāo Steamed Bun with Red Bean
Right: DelicateSkate with Chilis on Fine Vermicelli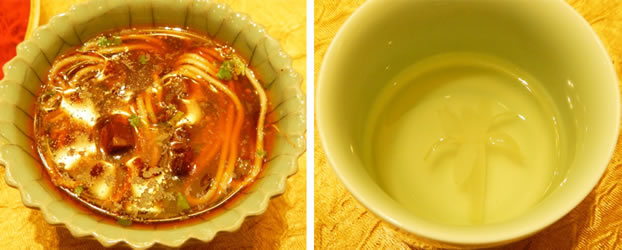 Left: jiā cháng miàn Home-style Noodles Right: Fragrant flower soup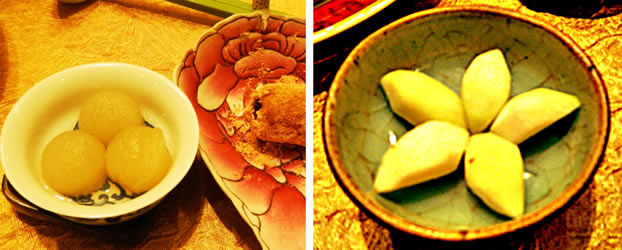 Left: Fruit + Flaky Dragon's Beard Candy Right: Asian Pear
Odynovo arranged this for me. Dinner with a Tibetan family. Eat local cuisine. Drink with the locals. Of course, my guide translated, one gentleman sung me a song, and we ate. Buttered tea is a specialty. And they had a local homebrew that is quite potent.
Jiuzhaigou - Tibetan Family Dinner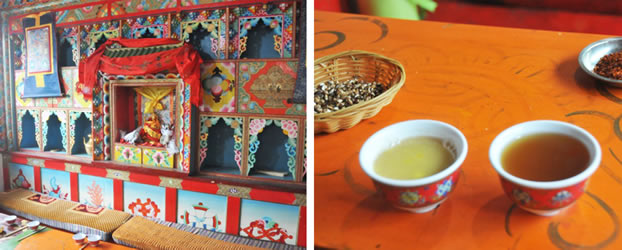 Left: The Dining Room Right: Buttered Tea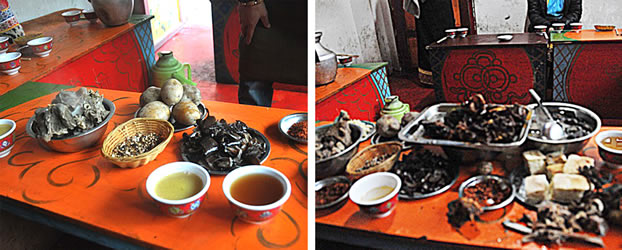 Left: Table Setting Right: Barbequed Yak


Shook! Get strong recommendations on the internet. I knew for our last night out this would be really nice.
So I returned the next year when tourists were again allowed in Tibet. Also, I wanted to check out the Beijing food stalls that I was told and have some quite unique cuisine. That was something my Odynovo guide told me about. Since I was alone this time, it wouldn't be an issue with my family.
Every ten years China elects new leaders and during that time certain areas are closed to foreigners. Unfortunately the year we went Tibet was closed to outsiders. We instead went to
Jiuzhaigou
but I wanted to see Tibet.
Beijing - Food Stalls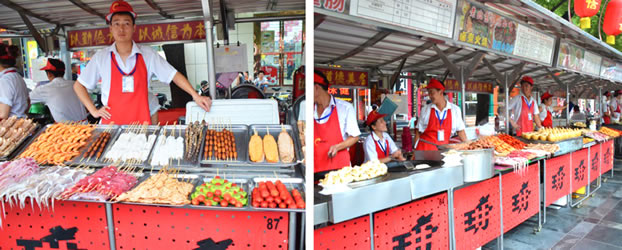 The food can vary from squid, pork, beef, and chicken to more exotic items.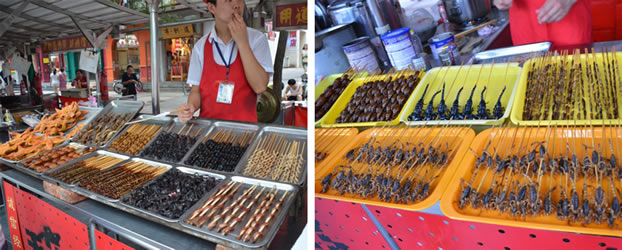 Bugs such as scorpions, spiders, centipedes are available.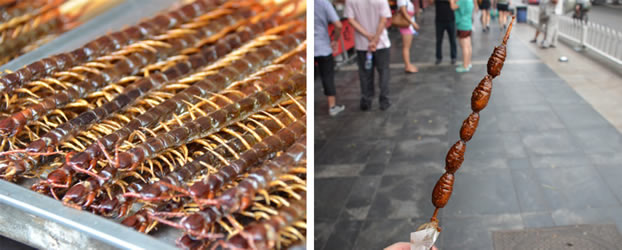 Left: Huge centipedes Right: I chose silkworm larvae.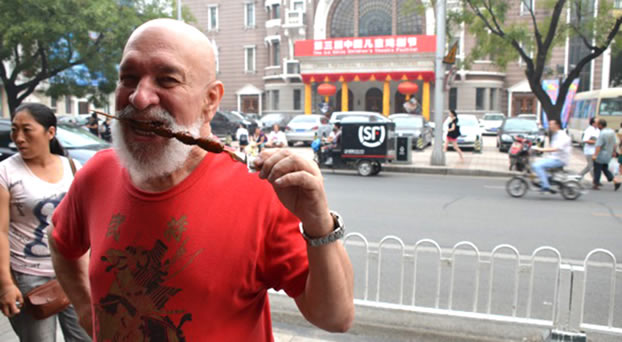 Tasting Silk Worm Larvae


Personally, I found them disgusting. There was a hard shell, similar to shrimp shells, basically inedible. Inside was a granular tasteless gooey mass. That cured me of eating bugs. As an aside in Hanoi at Highway 4 Restaurant I had very tasty cricket spring rolls and grasshopper salad.
Highway 4 was seen in a TV program on Vietnam. The program discussed the bugs and I figured I'd give it a try. Exotic, weird, and I never tried them before were my reasons for eating here.
Hanoi – Highway4 Restaurant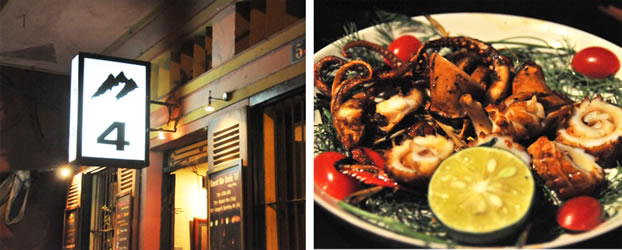 Left: Highway 4 Restaurant, Hanoi Right: Sauteed Squid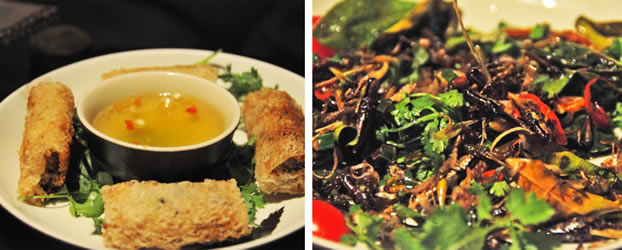 Left: Cricket Spring Rolls Right: Grasshopper Salad


The cricket spring rolls were quite tasty. The grasshoppers were deeply fried which made them very crispy. The consistency and taste were that of a burnt potato chip. But after eating the silkworm larvae I was off bugs, at least for a while.
Next off to Zhangye to see the Zhangye Danxia Landform and of course, more eats.
So cured of bugs it was off to Spicy Spirit for something much tastier. I wanted hot food. I told my guide to find a restaurant that serves hot food. And I emphasized HOT! So we went to Spicy Spirit. WINNER.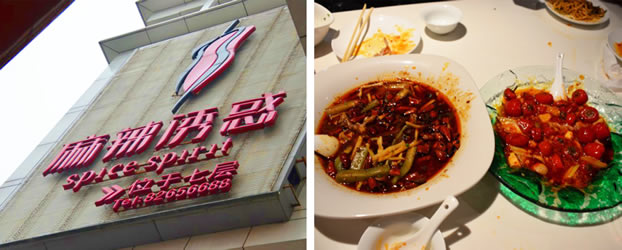 Left: Signage Right: Spicy Frog& a Spicy Tofu Dish


Next off to Zhangye to see the Zhangyedanxia landform and of course, more eats.
Zhangye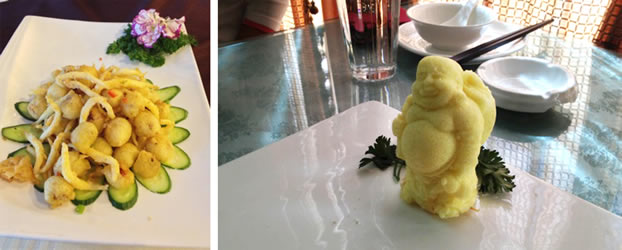 Left: Deep Fried Foie Gras and Squid Right: Butter Figurine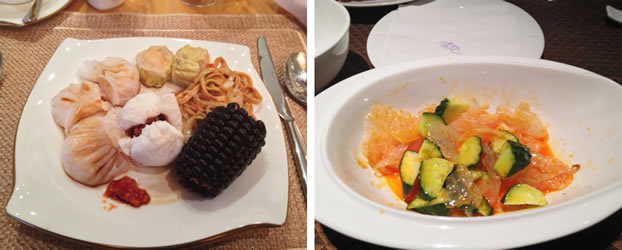 Left: Dim Sum Right: Spicy Jellyfish& Cucumber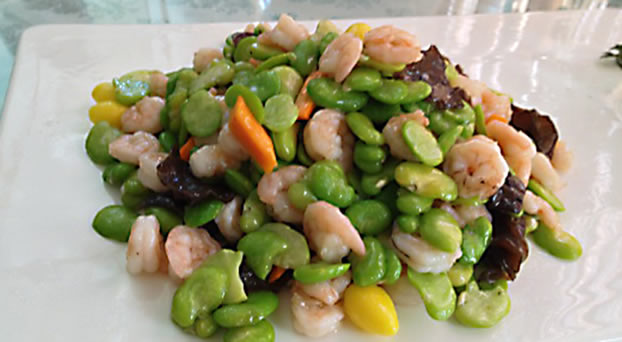 Shrimp, Lima Beans served at my hotel and guide selected restaurants.


Zhangye Danxia Landform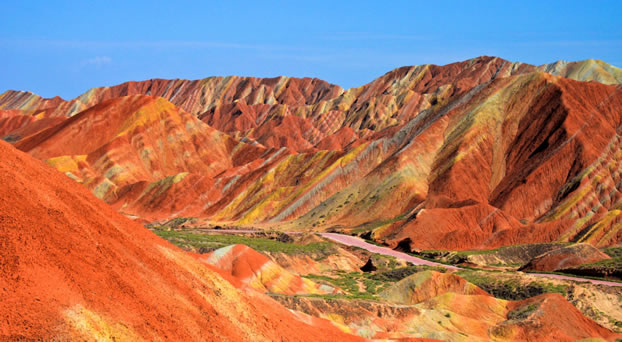 Zhangye Danxia Landform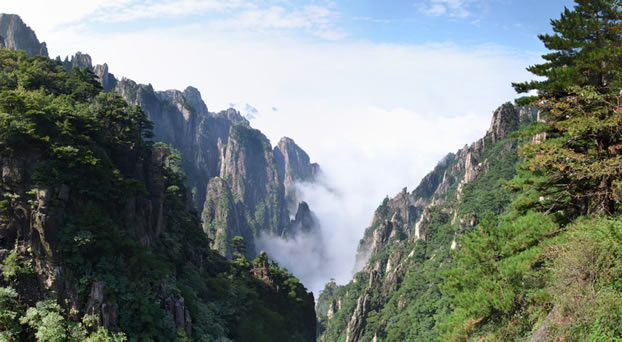 Huangshan Mountain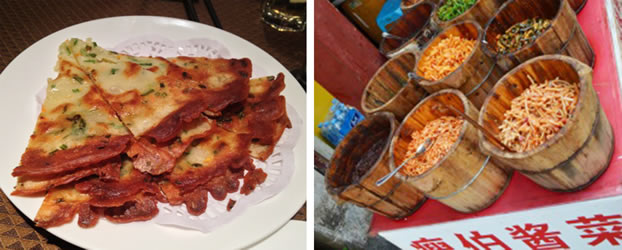 Left: Scallion Pancakes, some of the best Scallion Pancakes I've ever had.
Right: Spicy Pickled Goodies, at Street Scene in the Town of Huangshan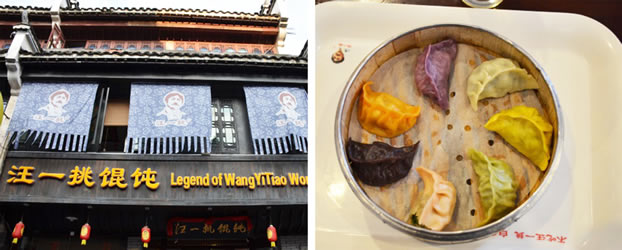 Left: Wang Yi Tiao Wonton Right: Assorted Wontons


I know I'm not the only one who is challenged by strange, unusual, and gourmet foods. I used China Odyssey Tours to plan my trips. Ask them for a gourmet's tour and they can plan a wonderful experience for you.
Saw this place walking the streets of Huangshan. The idea of assorted wontons in all different flavors intrigued me and I was hungry.
So - from Huangshan Mountain, I returned to Beijing and home.
Simply Tell Us What You Want, Get Customized China Tours in 24 Hours.
Tailor Now
Cambodia - Tarantulas & Scorpions


As you may have known, I am willing to try most any food. Durian - no problem. Cricket spring rolls, grasshopper salad - had that in Hanoi. Scorpions - tried some little one in China. But - tarantulas? Deep fried with garlic - actually quite tasty. Tarantulas & scorpions


I am currently trying to establish an International Surgical Residency Rotation in Cambodia for UCI surgical residents. Please go to Quality Surgery for Cambodia to learn more about what I have done and what I'd like to do to help improve surgical care in Cambodia.
What Our Clients Say
"Great Customized Service", "Trip of A Lifetime", "Exceed All Expectations"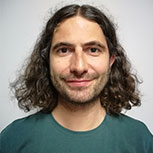 CONTACT A TRAVEL EXPERT
1-to-1 Service | Reply within 24hrs | Expert's Advice
SUBSCRIBE TO WIN A FREE TOUR
Subscribe to our newsletter for a chance to win a free 7-day Peru tour! And more insider travel news, exclusive offers, and inspiration will be sent straight to your inbox.