Back to a few days ago, in mid-August, I spent 6 days in Northwest China journeying from Qinghai Province to Dunhuang in Gansu Province and Xi'an in Shannxi Province. It was my dream trip. The vast northwestern part of China enjoys stunning landscapes, history, and culture but is off the beaten track for some reasons. Now I've come back and I am eager to share with you the amazing experience and photos.


Qinghai - highland lakes and flowers
Qinghai is located 3,205 meters above sea level in the northwest corner of the Tibetan plateau; this vast province with a population of only 573,000 people offers travelers the chance to enjoy a journey with the most amazing and unique landscapes and travel experiences in China. The region is home to a diverse group of ethnic groups including Han Chinese, Mongolians and Tibetans, the Tibetan population accounts for around 24.4% of the total population giving the region a unique cultural flavor. Qinghai is less known to the world than Tibet but it has equal or even more splendid views.


Qinghai Lake:
Qinghai Lake is known as "Blue Lake" by local Tibetans. But it really seems like a sea rather than just a lake. Because we came in August, there were seas of cole flowers along the lake, which enhanced the beauty of Qinghai Lake. Another kind of flower is also blooming by the lake, which is called Kelsang flowers, meaning "Flower of Happiness". TIt's the most tenacious and most common flower on Tibetan Plateau. Tibetan prayer flag is also the highlight, which is said to bring happiness, longevity, and prosperity to the flag planter and those in the vicinity. In addition, along the way, there were herds of antelopes and yaks freely strolling or eating grass, making up one of the classic scenery by Qinghai Lake.
Chaka Salt Lake:
I would call it a "pure, beautiful girl". A straight road leads to the other end of the lake, but it seems that there is no end. Looking from afar, a vast expanse of whiteness stretched beyond the horizon. Getting close to it, I found the water is clearly mirroring the white clouds. The beauty of Chaka Lake is no less than that of Qinghai Lake but more sacred. I got there in the evening and I believe it would be more stunning at sunset. This gives me a reason to come back.


Taer (Kumbum) Monastery:
Although there were too many fellow travelers, it still is an eye-opening experience to visit it. The brilliant architectural styles, marvelous religious paintings, barbolas and yak butter sculptures are what make it so outstanding among all the Tibetan monasteries. From the tour guide, I learned that it was built to commemorate Tsong Khapa (1357-1419), founder of the Yellow Hat Sect in Tibetan Buddhism.
Dunhuang - a major stop on Silk Road
Dunhuang is a popular travel route for those both domestic and international tourists who want to explore the Silk Road. It was once in ancient times a famous commercial port on the Silk Road. Merchants from the west kept coming here for trading. Today Dunhuang is again experiencing economic growth with tourism and manufacturing leading the way. It is known to the world for the exquisite murals and sculptures of Mogao Grottoes. The famous desert landscape of Mingsha Mountain and Moon Crescent Spring that I saw in a book is what first drew me to this oasis in the desert, I wanted to see with my own eyes what made this place so attractive to tourists.


Mingshashan (Singing Sand Dunes) & Moon Crescent Spring: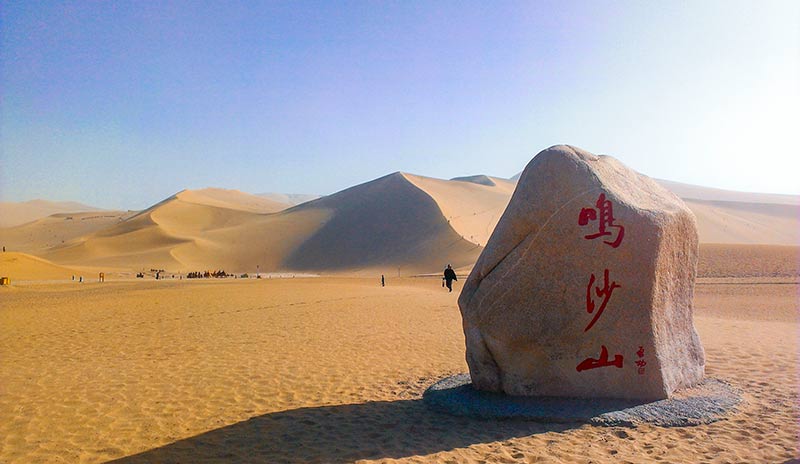 When the wind blows, the sands will make loud sounds seemingly being produced by some ancient musical instrument, hence the name.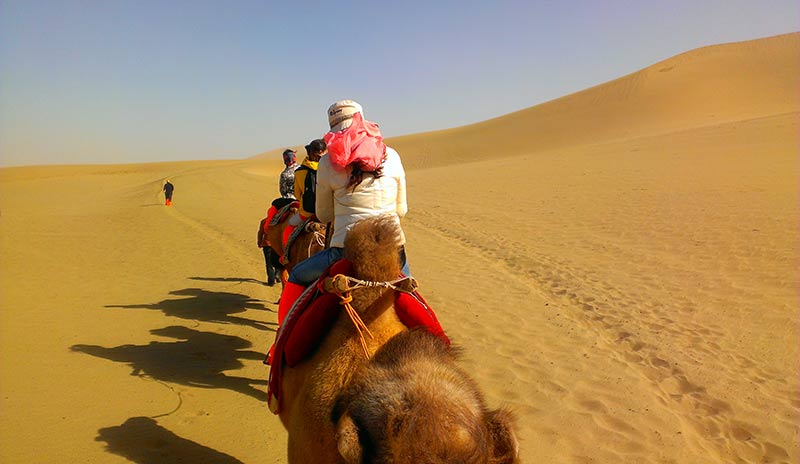 Riding camels in the desert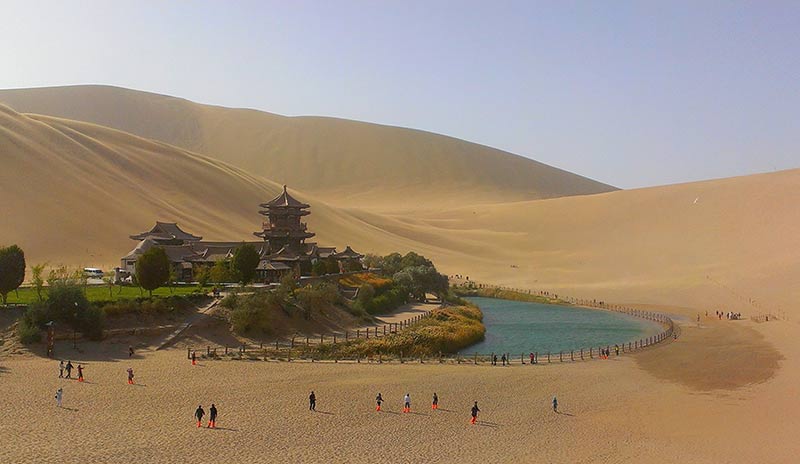 Moon Crescent Spring, a unique tourist attraction in the desert of Dunhuang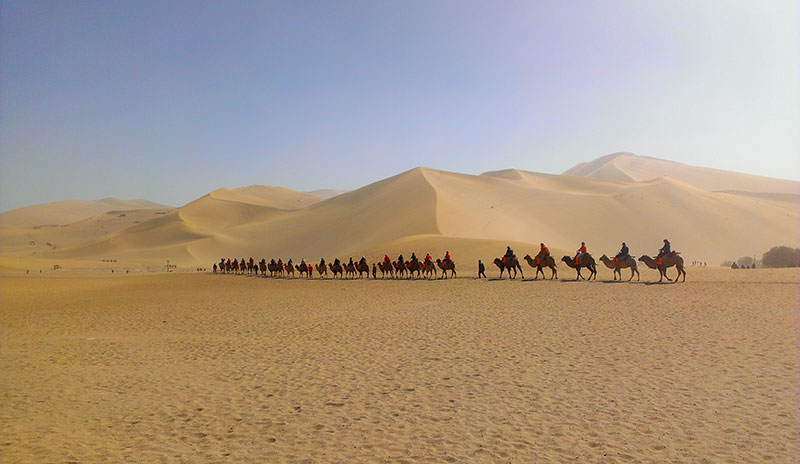 Mogao Grottoes:
This World Heritage Site is the largest, best preserved and richest treasure house of Buddhist art in the world.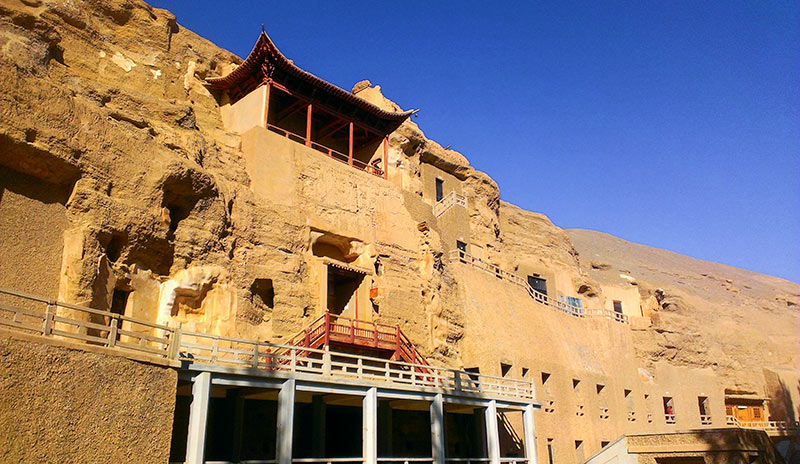 There are a total of 492 caves, containing some 2,100 colored statues and 45,000 square meters of murals. I was amazed by the craftsmanship of the ancient people.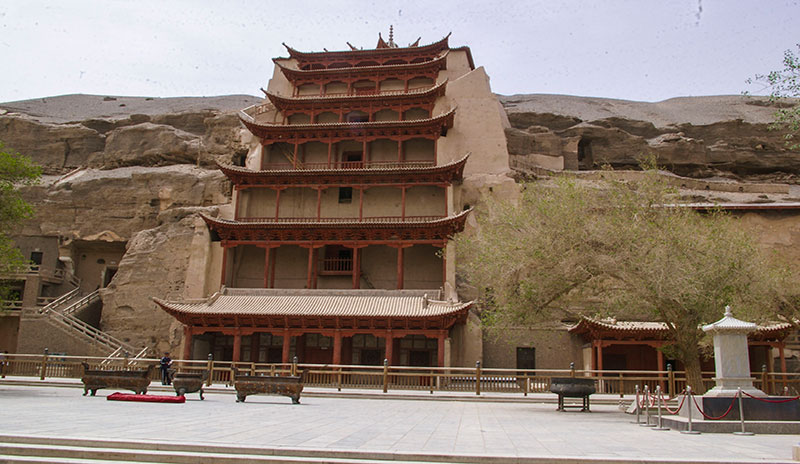 This cave houses a 35.6 meters high painted clay sculpture, the third largest of its kind in China.


Dunhuang, a town falls short of the metropolis of Lanzhou and Xi'an, is really a comfortable mix that is rich in natural beauty and culture.


Xi'an - the ancient capital
Xi'an is one of the most popular destinations in China. As I had only a half day to spend there, I went to the must-see site Terracotta Warriors. Here I was amazed by the wisdom of the ancient people again.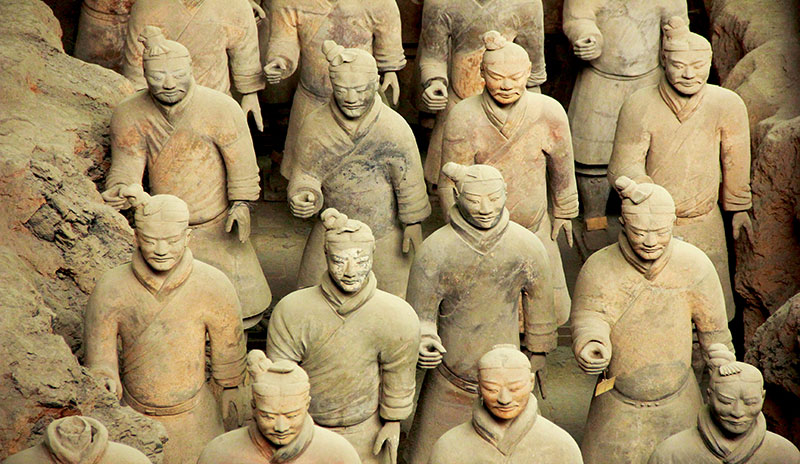 Taking a close look at them, I found each of them has a different expression.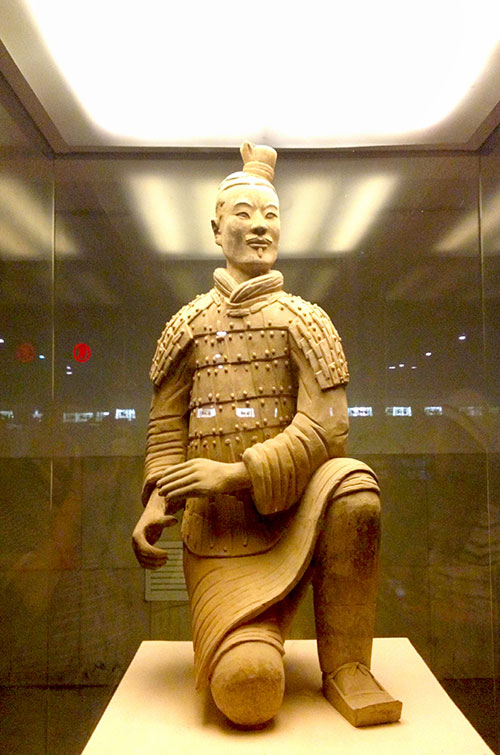 Kneeling Warrior


A final word
This short trip gave me a glimpse of northwest China. I was really amazed by my country; it is so rich in natural beauty, history and culture. If this article has whetted your wanderlust for China, contact us to tailor-make a trip or write to for more information.
What Our Clients Say
"Great Customized Service", "Trip of A Lifetime", "Exceed All Expectations"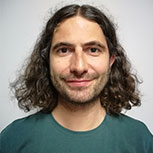 CONTACT A TRAVEL EXPERT
1-to-1 Service | Reply within 24hrs | Expert's Advice
STAY IN TOUCH WITH US
Subscribe to our newsletter so we can provide you with insider travel information, exclusive offers, and discounts.