It was in January 2005 that Odyssey (rebranded as Odynovo in 2018) went online by a small group of young professionals. Some had just graduated from university, and some had already stored rich knowledge about travel; all of them had a growing experience in the world of tailor-made tours. These travel experts wanted to craft bespoke itineraries for guests, aiming to deliver one of the best private tour services that nothing beats the way they were treated and entertained. Odyssey Tours was born out of these visions, shaping its service and quality.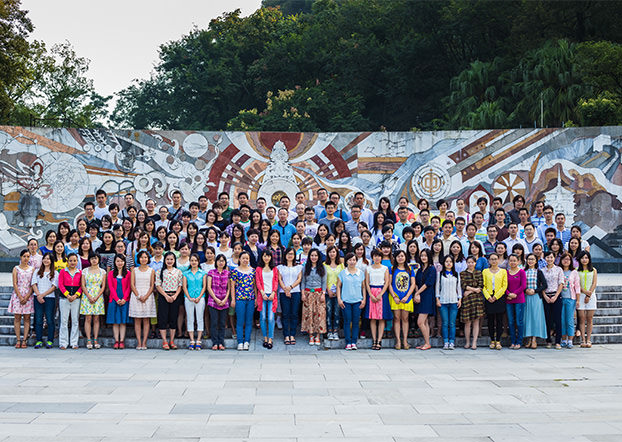 2016 marks Odyssey Tours' 11th anniversary. Half a decade has seen a remarkable evolution in the tourism business, and we are pleased to reveal some of the favorable changes witnessed on Odyssey Tours.


Today Odyssey Tours has more than 200 employees and serves over 10,000 yearly guests, which counts a 20% increase from last year. Our newly bought fleet of buses and vans ensures that private ride is another enjoyment. The destinations we take tours to are beyond Asia to the Middle East, along with world cruises and vacation packages that have been recently added to make the holiday choices more diverse.
But what really makes Odyssey Tours stand out from others during these years of growth? The answer lies in so many details that can be easily ignored but we have managed to pay attention to, especially the following nice touch adopted since 2015:
Gifts, cakes and wine for guests whose important anniversary or birthday falls during the travel;
Memorable souvenirs for guests who travel during a big local festival, for example, moon cakes on China's Mid Autumn Festival, sticky rice on Dragon Boat Festival, gifts during Christmas in the UK, etc.;
Energizing snacks for those who are visiting attraction sites of long distance;
Ice-cold bottled water is available in the car during summer days;
Increased coverage of portable Wi-Fi devices or in-car Wi-Fi (available on request due to limited Internet access in some undeveloped countries);
Li River cruise snack pack makes up for the uninteresting food the cruise provides.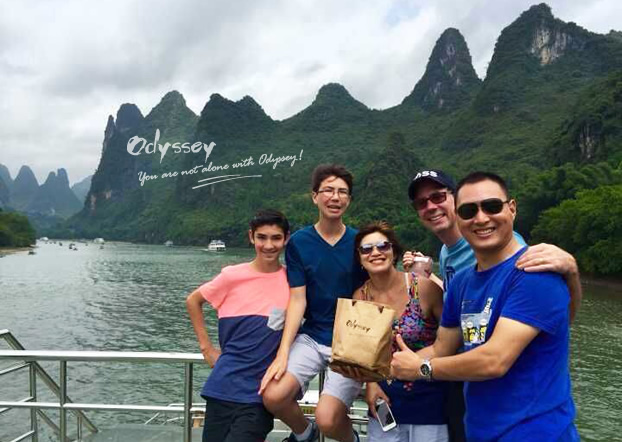 Complimentary snack pack for guests who are taking a Li River cruise.


Throughout its 11-year history, Odyssey Tours has been going the extra mile that truly embody the notion of the private tour in a unique way:
In Nepal, we help couple guests arrange traditional wedding/anniversary ceremony in a historical Hindu Temple and provide a special wedding certificate to mark the significance of the event;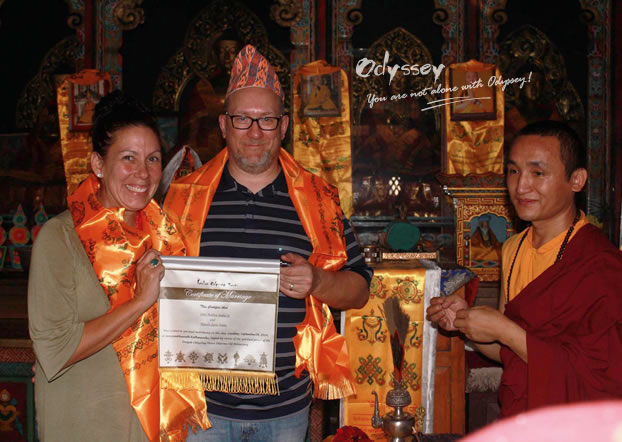 Our guests Mr. Peter Andew Statia and Mrs. Natalie Lynn Statia's 20th wedding anniversary ceremony at Swayambhunath Temple, Kathmandu.


In Cambodia, guests can decently dine in the grass of a scenic lake or face a famous temple ruin to enjoy an experience that cannot be found anywhere else.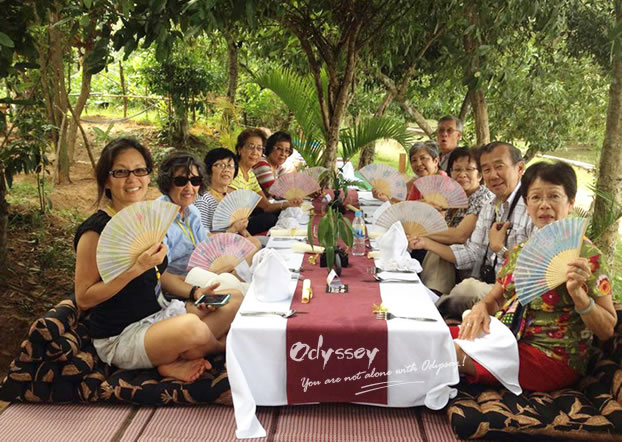 Private lunch set up at Srah Srang, the royal bathing pool of the Khmer Empire.


As we grow, giving back is crucial. In the past 11 years, Odyssey Tours and its guests have donated more than 25 pump wells for those who don't have clean water in Cambodia's Angkor area and have made a donation to accelerate the earthquake relief in Nepal in 2015. We help arrange philanthropy visits to orphanage and primary school in accordance with the guests' wish - the children's smile is priceless. We are aware of animal benefits and have stopped working with elephant bases that are not animal-friendly, taking guests to an authentic rescue center instead.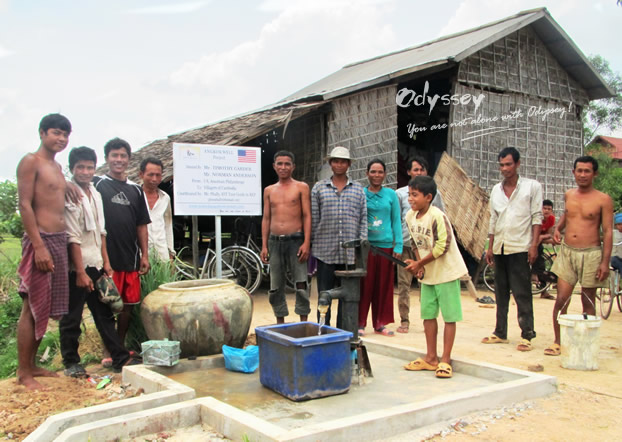 One of the pump wells was donated by Odyssey Tours guests in Angkor, Cambodia.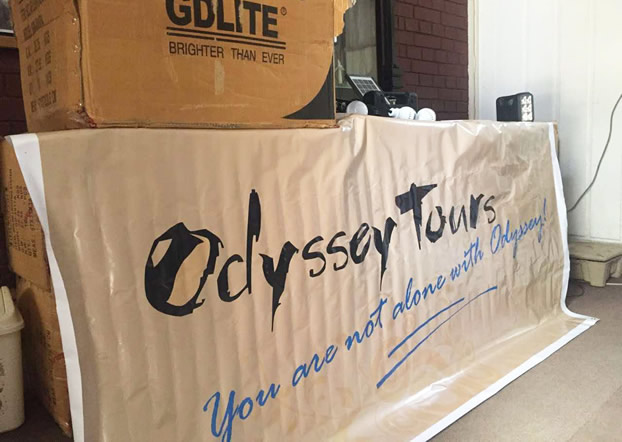 Donation of lighting items for people who don't have power after the earthquake in Nepal.


The efforts didn't go in vain – there are over 700 traveler reviews on Odyssey Tours' Facebook page and we have been successively winning the Certificate of Excellence awarded by TripAdvisor since 2012, and are seen on prominent travel media including USA Today, BBC, Travel+Leisure, About.com and influential travel blogs, such as Inside the Travel Lab, Little Nomads, to name a few.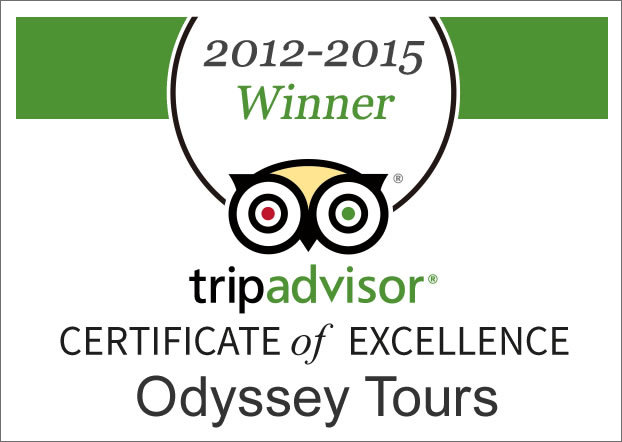 2015 was another fruitful year for Odyssey Tours. China Odyssey Tours, one of the Odyssey Tours brand series, seen on About.com.


So this is how much Odyssey Tours has grown and lived to see its beautiful 11th anniversary. The biggest "Thank You" has to be addressed towards our team as well as all the guests who trust and travel with us. Though already mature and well-experienced, 11 years may sound short, but it showed us that we are on the right way and we will work with full power and motivation to exceed the guests' expectations, even better than always. Be ready to hear more from Odyssey Tours and contact us at to tailor-make your exclusive tour today!
What Our Clients Say
"Great Customized Service", "Trip of A Lifetime", "Exceed All Expectations"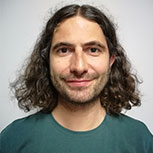 CONTACT A TRAVEL EXPERT
1-to-1 Service | Reply within 24hrs | Expert's Advice
STAY IN TOUCH WITH US
Subscribe to our newsletter so we can provide you with insider travel information, exclusive offers, and discounts.