Odynovo Youngest Client: a 13-day Old Baby and His True Star Family
Last updated: Apr 28th, 2023
At what age did you do China? It is nothing spectacular if your answer is 2, 29, 60 or more. Harry Ivan Hanson, who was born just 37 days ahead of the Royal Princess Charlotte on 28 March 2015, made his first-ever trip abroad with Odynovo quite a splash along the way.
There was not much time left before Harry and his family prepared to depart New Zealand for China in early April 2015. The basis of the trip was a family wedding in Puyang, which takes 7 hours to drive from Xi'an. Planning to add an 11-night trip around China after the wedding, Harry's mother Melissa found Odynovo online because of the great family-orientated reviews. Travel Consultant Karen happily dealt with her regarding their upcoming trip. Being that the unborn guest was something she never encountered before, Karen quickly arranged everything. Along with the waiting and excitement next, Harry came into the world on 28 March 2015, with his family's loving smiles and our sigh of relief - voila, the youngest client ever! Then the trip was only 13 days to go… Passport&Visa, check. Diapers, check. Dad, mom, Harry, brother, sister, and grandma, check! However, all went well until an unexpected problem occurred.
"He is too young to fly a domestic flight in China. He must be 14 days old." The domestic airline informed Karen of this when she processed the ticket booking for Harry once obtaining his passport information. After a swift and timely talk, the Hanson, decided to stay one night in Shanghai so Harry reached 14 days and gained his entry to take a domestic flight. Luckily they didn't miss the family wedding, a great time well spent. After that, they rejoined Odynovo in Xi'an and started exploring China - Xian, Chengdu, Shanghai, and Beijing.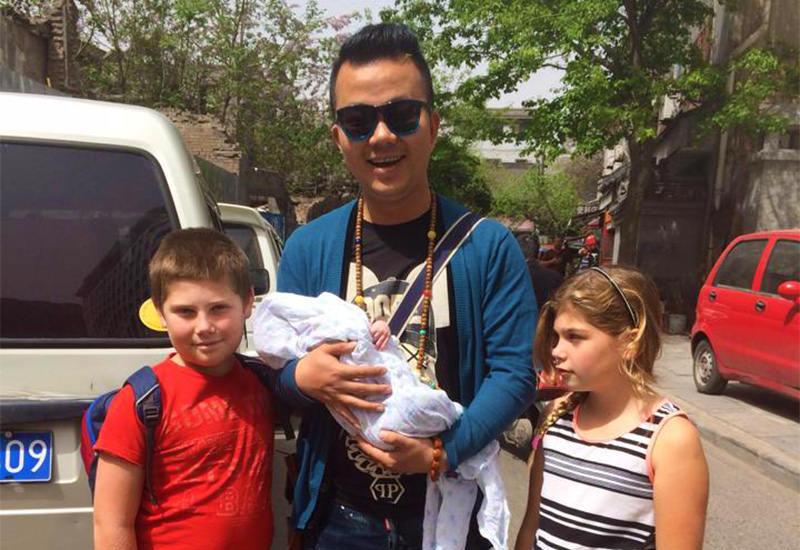 "I don't have children yet. Never seen a human being could be this small!" The Hanson's Xi'an private guide Kenny exclaimed.


"I think Harry was already more than 6 months old at the time when Melissa contacted Odynovo to arrange a tour for the family," Karen felt shocked as she heard that Melissa determined to bring the newborn baby after he was due. As a matter of fact, we all did. The cultural shock is, in most circumstances, that Chinese postpartum women submit to a 30-day regimen of food and rest to help them recover from the rigors of childbirth. Going out is unacceptable, let alone traveling abroad.
Worked as Hanson's first tour guide in Xi'an and considering it a unique experience, Bai (Kenny) definitely has something to say. "It was the first time I served such a little baby guest. The youngest one of course. But no problems, though I had to explain to people we met how old the baby was and why the family was traveling with him instead of staying home for 30 days as the Chinese do!" (Laugh) He also extends his admiration to the family, along with regards: "It melts my heart when I looked to the back seat, Harry's 9-year-old sister was holding and feeding him while their parents were taking a nap. The three days with them are precious. I hope Harry grows healthily and happily."
So you can visualize how Harry and his great families made waves.
"Considering a trip to China - They say never to travel with a newborn baby. Or the Mother in Law (aged nearly 70). We did both! Along with our 2 other children aged 9 and 10." Wrote in the review on Odynovo's Facebook page, Melissa made protestation to stereotypes. "Thankfully I trusted my own judgment based on excellent reviews on TripAdvisor etc and not the comments from people who had never been to China on how to travel in China."
And you are asking how was the tour going?
"Our holiday exceeded our expectations."
Just by the way, the oldest guest we have worked with is 93 years old. (Round of applause, please.)


To avoid similar slight mishaps, here are some airline regulations you need to know before taking domestic flights with an infant in China:
- An infant less than 14 days old or a premature infant less than 90 days old will be denied boarding.
- Each adult passenger can take up to two infants or one infant and two children, or one sick infant.
- The maximum number of infants to be carried differs in compliance with aircraft types and routes. Be sure to request infant service when making a booking.
- Infant under 2 on the day of travel usually charges 10% of the normal adult fare, however, a separate seat is not provided.
- Each piece of free baggage allowance for an infant varies from 10 kilograms to 23kilograms. The stroller can be checked as baggage as well.
Though the regulations apply to most Chinese airlines they don't mean safe passes. Should there be any concerns or questions about flying with an infant in China, write to trip@odynovotours.com. We'll go out of our way to provide help and assistance.
What Our Clients Say
"Great Customized Service", "Trip of A Lifetime", "Exceed All Expectations"
CONTACT A TRAVEL EXPERT
1-to-1 Service | Reply within 24hrs | Expert's Advice
SUBSCRIBE TO WIN A FREE TOUR
Subscribe to our newsletter for a chance to win a free 12-day China tour! And more insider travel news, exclusive offers, and inspiration will be sent straight to your inbox.