Odyssey (rebranded as Odynovo in 2018) recently got a mention in Silkwinds, the well-known inflight magazine of SilkAir (the regional wing of Singapore Airlines). A few days ago, Odyssey was invited to offer help in finding a tea connoisseur who can provide expert knowledge of Dragon Well Tea as the writer Theodora Sutcliffe from Silkwinds was writing an article about the tea. We were delighted to have Daisy Dai, a tea connoisseur and experienced tour guide with China Odyssey Tours and Shining Wu, a tea master, to be interviewed by her. With the help of them, the article called "Dragon's Brew" was finished and published in the August issue of the magazine.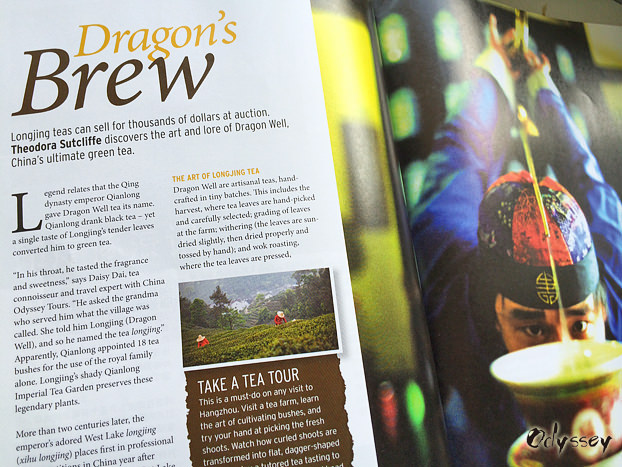 Dragon Well Tea (Longjing Tea) grows near West Lake in China's Hangzhou City. It is noted for its green color, delicate aroma and mellow taste. Drinking Dragon Well Tea or sleeping on a pillow full of the tea leaves helps alleviate problems like high blood pressure. In the article, the author reveals the art and lore of Dragon Well Tea. She also mentions that taking a tea tour is a must-do on any visit to Hangzhou.

To read the whole article, please download the PDF version.