The Odyssey Tours App developed for iPhone and Android is now available for China Odyssey Tours customers, and will be soon available for customers of our Odyssey Tours series: Indochina Odyssey Tours and India Odyssey Tours. Designed to be a personal tour assistant, the App provides our customers with more convenience and one-stop services.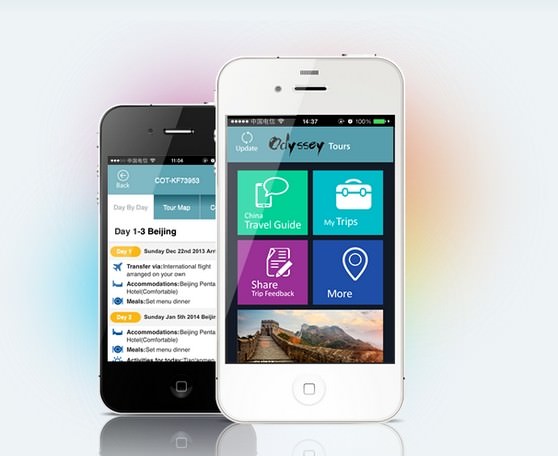 The App offers many useful and exciting features, such as Travel Guidebook, My Trip, Daily Schedule Reminding, Sharing, Messaging, etc. With the App in smartphones, our customers can enjoy a paper-free, thereby lighter and easier trip, and will never have to dig through printed paper itineraries again and worry about losing the paper. This is a significant App for making our customers' travel experience more enjoyable and memorable.
The most brilliant feature is "My Trip", it is accessible at the touch of a finger, and thereby easy to read day by day itinerary and an offline tour map as well as contact information of local tour guide, local manager and the hotel our customers will check in. All the trip details are included in the phone screen and convenient to be viewed anytime en-route.
For customers who have great interests in China tours, they will be very excited to find the useful Travel Guidebook with practical travel tips, interesting destinations, and FAQ, from which they can know much valuable information about travel in China.
When finding something new, interesting or exciting, people always want to share with others. The App provides a good opportunity for our customers to share and make comments on whatever they like and whenever they want. Besides, it also makes our customers very convenient to send short messages to their travel consultant for any question, suggestion or complaint anytime en-route. Our travel consultant will make rapid response accordingly.
Additional useful functions include daily schedule reminding. At every 6 p.m., the App will remind our customers the sightseeing spots they will visit the next day, making our customers have a clear itinerary in mind even the schedule is very full and make proper preparations in advance.
The App is available for anyone who is traveling with Odyssey, and free to download in App Store and Google play after being invited by their travel consultant. All members in a private group can access the same content in their own smartphones after logging in with information provided by their travel consultant, thus making all members of the private tour be informed of all related information about the tour and be able to conveniently contact their travel consultant.
Odyssey Tour is already in development of future releases of the App which will offer even more exciting and useful features.