Written by Sunny Tang, and published by Forrest Yu
"None of the photographs I saw before leaving home had prepared me for the majesty of the mountains and the lingering charm of the ancient town. I was amazed by the power of nature as well as the wisdom of human being."
-By Sunny Tang, the Marketing Specialist at Odynovo (Formerly Odyssey)
When we've been longing for a journey for months or years, there is a risk that it may not be able to live up to expectations. But that was not the case for me when I finally realized one of my travel dreams - travel to Zhangjiajie and Fenghuang Ancient Town located in China's Hunan Province.
The two places have been fascinated me ever since I saw pictures of them on the internet. But not until this month did I have the opportunity to visit them. And I'm glad I did.
Changsha - Zhangjiajie
Our trip started from Changsha, the capital city of Hunan Province, from where it took us a 4-hour drive to reach Zhangjiajie. The road was well-maintained. Transportation and lack of decent accommodations were once the distracting reasons that prevented tourists from visiting this paradise. But now, things have been improved.
Unexpected Snow Scenery at Tianmen Mountain
We didn't expect to see snow, so when we were told that there were snowfalls on the top of Tianmen Mountain, we were rolled over by a wave of excitement.
The photo was taken in the cable car up to Tianmen Mountain
A 30-minute cable car ride took us to the summit of the Tianmen Mountain (Heavenly Gate Mountain), which has a height of 1,519 meters (4,983 feet). The ropeway is said to be the longest one of its kind in the world. As we stepped out of the cable car station, the true magic of Tianmen Mountain appeared.
The forest on the mountain was covered by snow. Rime can be found on the tree branches. Rare opportunities to see such amazing scenery, I set up my camera and kept shooting despite the brisk temperature.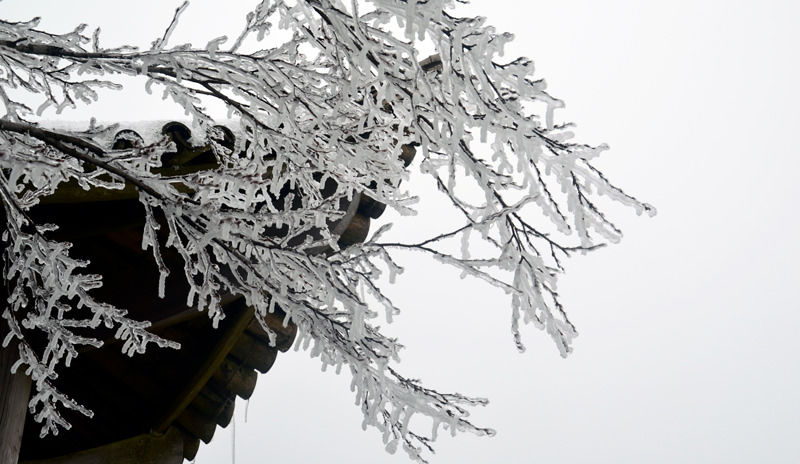 Rime Scenery of Tianmen Mountain
A glass skywalk was built on the edge of the mountain. I wondered how the workers built it above the deep gorges. I tackled the walkway by sticking as close to the cliff as possible, feeling the way with tentative steps.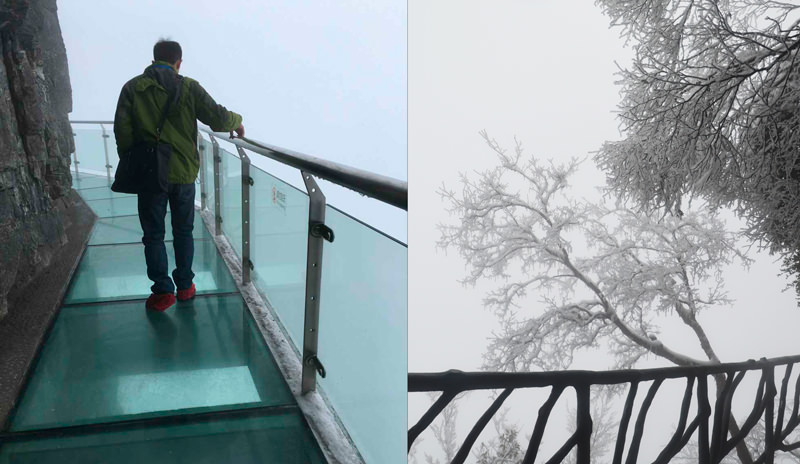 Tourists need to put on shoe covers to keep the path clean.
Tianmen Mountain, literally translated as Heavenly Gate Mountain, is so called because of a huge natural cave that exists halfway up to the summit resembling a gate to the heaven. It's a pity that we didn't reach it because of the snow. But the scenery definitely made this visit worthwhile.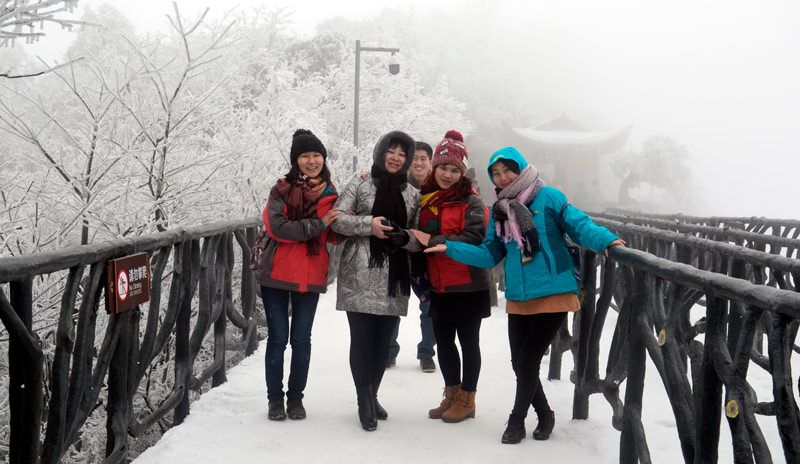 Feeling happy at Tianmen Mountain
The Masterpiece of Mother Nature
Wulingyuan Scenic Area, the essential part of Zhangjiajie, was designated as a UNESCO World Heritage Site in 1992. It consists of many smaller national parks and scenic areas including Zhangjiajie National Forest Park, Yuanjiajie Scenic Area, Tianzi Mountain, and Suoxiyu Nature Reserve (Baofeng Lake, and Yellow Dragon Cave).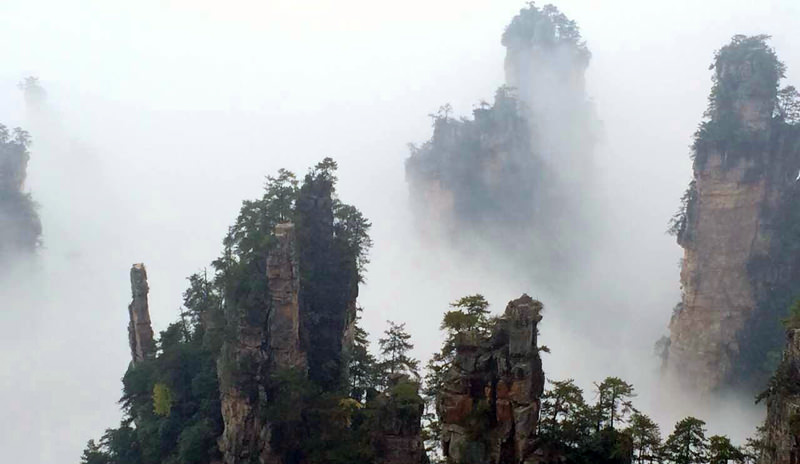 The scenery at Wulingyuan Scenic Area in Zhangjiajie
Bailong Elevator, with the machinery inside the mountain and three glass elevators clinging to the mountainside, brought us to Yuanjiajie within two seconds. When the elevator ascended to a certain level, a spectacular view of the mountains in the opposite jumped into my eyes!
About 800 meters into Yuanjiajie, we hiked along a zigzagging trail to the top of Wuyanding Platform, which afforded us panoramic views of "Lost Souls Platform". There were many peaks of various shapes and sizes that were partially hidden in mists and clouds as if they were floating in the air.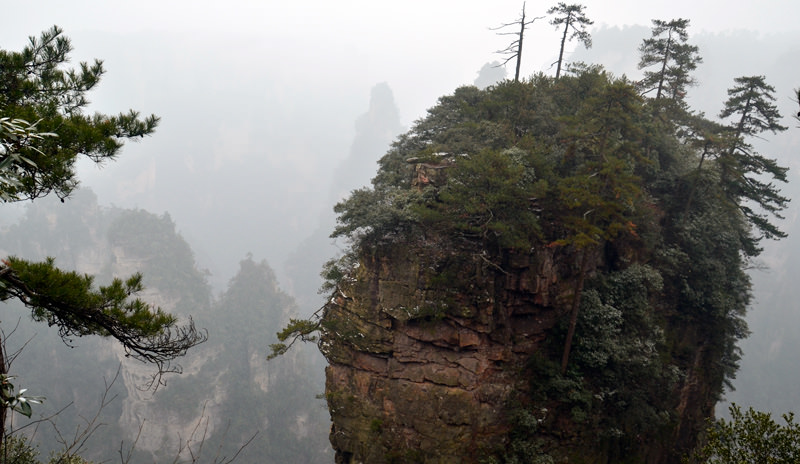 An unknown peak jutting out of the deep gorge
A metal suspension bridge gave us a view down to Heavenly Pillar, the prototype of Hallelujah Mountain in Avatar. This is where nature is at its extreme, a dominant force that creates wonders. I wondered how Mother Nature created this masterpiece.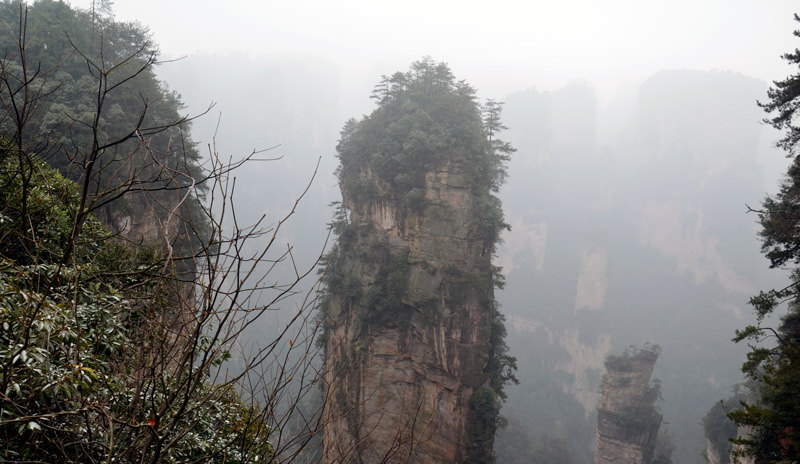 The Heavenly Pillar
We spent 3 full days in Zhangjiajie, and likely could have spent 4 or 5 days and not seen it all. There are so many to see - peculiar mountains, crystal streams, lush forests, deep valleys and large karst caves. But today I'm not going to list the sights not to miss, because I believe an important part of experiencing Zhangjiajie is getting to discover the peaks through your own journey.
Fenghuang (Phoniex) Ancient Town
Located on the western edge of Hunan Province next to Guizhou, Fenghuang is regarded as one of the most beautiful ancient towns in China. Rightly so. And it didn't take long for me to fall in love!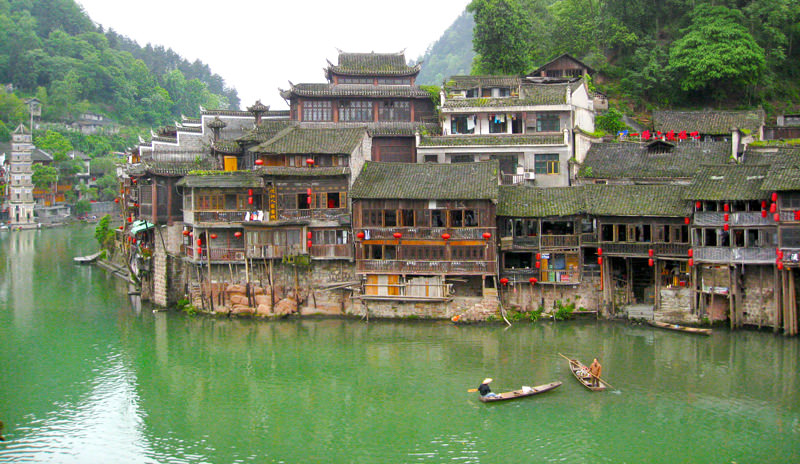 Houses built on stilts along the river
The limpid Tuo River runs quietly across the city with beautiful ripples, along which are distinct residential houses of Miao minority people. The ancient town was permeated with a sense of mystery, elegance and primitive simplicity.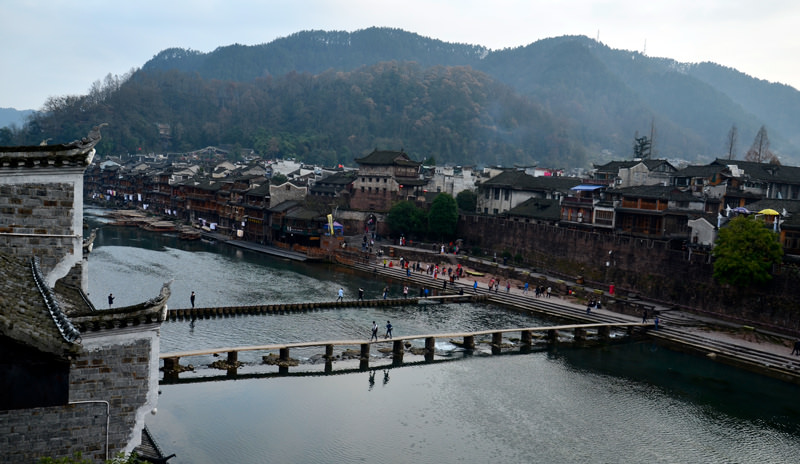 Tourists were walking on the elegant bridges; local people were doing their laundry at the riverside. Everything seemed so surreal.
At night, buildings along the riverside were lit up, presenting a magnificent view.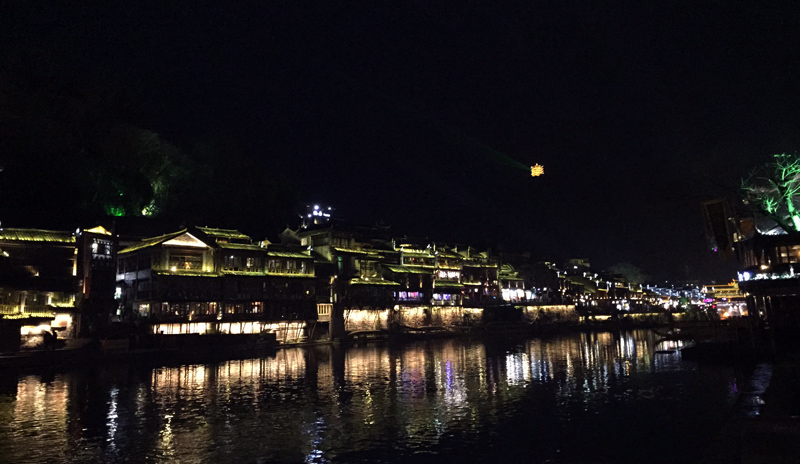 Night view of Fenghuang Ancient Town.
So this was my trip to Zhangjiajie and the ancient town of Fenghuang. What I want to say here is that they are absolutely stunning destinations that deserve to be visited more. If you ever get the chance to fit them into a China trip, leap at the chance! Feel free to write to
, if you are looking for a tailor-made trip to Zhangjiajie and Fenghuang Ancient Town.