Custom itinerary, private guide, and vehicle, sometimes a surprising happening does not stick to the original plan: the private tour is all that and much more. Through these Odynovo (Formerly Odyssey, the same hereinafter) guests' travel stories you will catch 5 amazing facts about the private tour and how it changes the way people travel.


1. Private tour is affordable with premium service
Just returned from a 16-day China private tour booked through Odynovo, Deborah thinks the whole trip "has excellent value without question", quoted from her review left on Odynovo's Facebook page.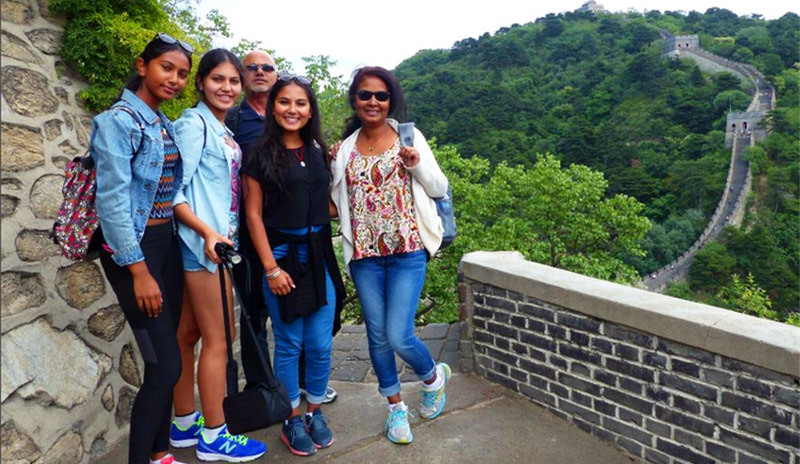 Deborah, her husband, and three girls at the Great Wall


In mid-April, Deborah decided on a reasonable-priced trip to China with her husband and three daughters. Recalling her last travel with a big group a "rushed" experience, she was seeking flexibility this time. That's how she contacted Odynovo but also bet on a few group tour companies because rumor has it that the cost for a private tour could be too high to afford.
After all the correspondence, she found that Odynovo "struck the perfect balance for me", notably in terms of cost as the company has strong working relationships with travel suppliers and occasionally has access to exclusive hotel deals, which makes the total sum of a private tour "very competitive when compared with group tours"! She also noticed that the price would go down accordingly if she invited more people to join.
This amazing finding precipitated her picking Odynovo as their tour operator. Working with her travel consultant Kalinda, Deborah requested some adjustments to the itinerary so the cost stayed around her budget while the details were still tailored to the family's needs.
"Embarking on a private tour isn't cheap nor is it overpriced. It is worth every cent though," further added Deborah, "as the staff sees to everything from the time you land at a city till the time you leave, which is fantastic and so cushy - exactly the way we wanted it." She also liked the fact that with a private tour planned by Odynovo, they didn't have to wait endlessly for heaps of people to finish their sightseeing or visit the toilets, if any other inconvenience was not counted.
If you are pondering that "affordable" actually equals degraded tour service…No, this doesn't exist in Odynovo's dictionary. Selected hotel, trusted driver, best quality vehicle, professional tour guides in every city, the standard remains premium and stands out in the industry. As a matter of fact, Odynovo exceeds expectations from time to time by offering free bottled water, snack packs, portable Wi-Fi, and so forth to make sure her guests have fantastic travel experiences. "Really worth it" is the phrase commonly used by Odynovo guests to describe their tour, and we are totally not surprised about it.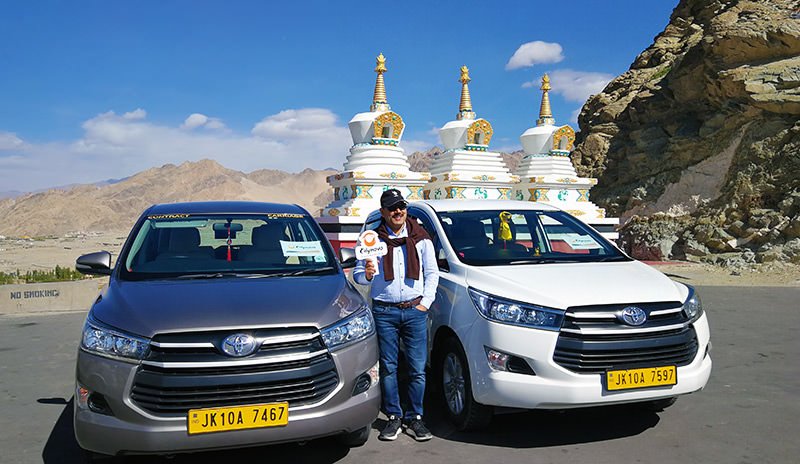 Professional, caring, and competitive are the key features of Odynovo's private tour service
Customize a Private Tour to Suit Your Needs
Inquire Now
2. Your travel consultant can offer what the Internet can't
In his early 50s, Jack Kyle is a savvy Internet user, yet in the meantime the most old-fashioned traveler - when planning a trip, he always comes for advice from Mavis, his Odynovo travel consultant who has helped arrange 7 private tours for him and his wife Kathy in the past few years. "It's so easy today to use the web to make travel plans, but I just loved the personal touch," Jack cannot recommend Mavis highly enough. "With her professionalism, we have seen most of Asia in a way we probably wouldn't have otherwise."
Before picking Odynovo on TripAdvisor, the couple is by no means green to travel. They used to wander independently. But Asia is where they'd like to benefit from the help of an expert, which is Mavis, who truly knew the places they would be visiting. According to Jack, Mavis "outperforms the Internet. She offered free consultancy, always replied within no time with correct answers to all my questions, and she knew my taste." Furthermore, "she was clever in choosing fun things to do, the connecting transport and careful about selecting our seats in the trains and airplanes."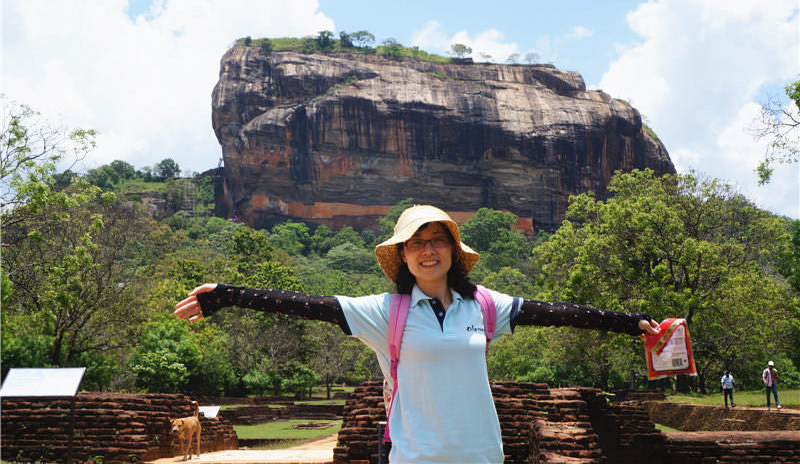 Mavis at Sigiriya, Sri Lanka. Odynovo travel consultants regularly visit the destinations they excel at to "vet" attractions, hotels, and restaurants in a bid to recommend highlights for guests.


Then Jack and Kathy just sat back and the tour happened. While on their adventure, Mavis continued to follow up on their progress and it was reassuring to know that she was always there.
In their last 7 trips, the couple had numerous surprises when they followed Mavis' recommendation to watch blue whales in Sri Lanka, try the best noodle soup in Hanoi, and soak up the propaganda poster art of recent China at a private museum in Shanghai, to name just a few.
Now Jack wonders how much was missed in their past independent travels, and he expresses the unwillingness to go back to the old times when lots of efforts were spent on aimless searches.
"The net wouldn't have proactive engagement with you, people. Your leisure time is the most valuable asset, and once it's lost, there's no making it back."


3. It's your trip, we mean it
A professional Canadian travel photographer, Brendan Roy travels alone to different countries every year to photograph historic places and human beings.
Because of his professional parameters, Brendan's travel requests are not always easy to fulfill: He likes what tourists hate; he avoids popular sights, going in for the type that people normally overlook. "Until recently I realized only private tour can help me see to it," laughed Brendan, "I got great recommendations plus the extra bonus of looking around."
What Brendan meant is his just-finished travel to Cambodia booked through Odynovo: "During the planning stage, I worked with my travel consultant Eric who truly understood my requests and did a remarkable job putting a very difficult tour for me."
He called the shots to when he departed for the trip, what time he started each day, even when it was 4 am for the sunrise; how long he spent somewhere, and avoid the things he wasn't interested in. "I felt the private tour enabled me to prioritize my needs of taking loads of pictures," Brendan recalled, "my private guide and driver would always stop and wait for me to finish my work with boundless patience."
What he didn't expect? The reward went above and beyond.
He found himself in Siem Reap, at the home of a local family who was celebrating the arrival of a new baby. Stumbling upon this occasion was simply because Brendan told in a chat with the guide that he had been seeking opportunities to photograph the newborn baby and its families. "Oh, I happen to know a friend who just had his third child coming. You want to drop by?" His guide suggested. Then Brendan was in the middle of happy Cambodian families busy cooking, singing, and shaving the baby's head so the bad luck from his past life would be gone. He was welcomed to document his visit, which really made all the difference to his overall enjoyment.
Those unanticipated moments produce some of his favorite images of the trip. Brendan likes to remember that day, an amazing exercise in letting go of the control he has in his daily photography.
"Things happen, plans change," said Brendan, who is pleased about the new ways to maximize his travel. "Flexibility is the key. And I'm sure you'll find lots of surprises on a private tour just as I did."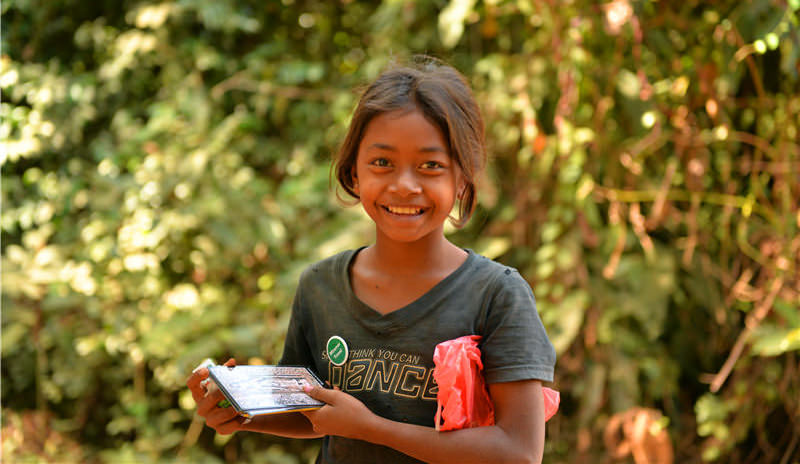 Brendan took a portrait of the Cambodian girl with her permission. The guide helped Brendan understand that she peddles postcards to help her family make ends meet. After a long wait, Brendan had the chance to photograph Ta Prohm without a tourist in sight. The site was used as a location in the film Tomb Raider.


4. You're not alone
"A journey is best measured in friends rather than miles." The US travel writer Tim Cahill's quote holds true for Diana and Jenny, two US besties who established a true friendship with each of their private guides on Odynovo's private tour to China.
They described them as "guides with soul". It is not just because those educated young people have "encyclopedic knowledge of history and the sites visited", but they made Diana and Jenny feel like they "were traveling with a friend". For instance, they loved Cathy, their Xi'an guide, who enhanced their trip enormously by taking them to her personal eating places for Chinese hamburgers Rou Jia Mo, as well as other memorably delicious local food.
They also enjoyed the openness of the Shanghai guide Vivian, a world traveler in the meantime, with whom they shared each other's globe-trotting stories and cultures.
They would not forget that lovely evening in Guilin, where they had a drink with their guide Libby at a bar (not originally planned), talking about everything and laughing about anecdotes that were no way they could hear from the Internet.
"We found that their slogan that 'you are not alone with Odynovo' is so true and it is very comforting to know that every last detail was attended to," said Diana, "Jenny and I are extremely grateful that we made several good buddies over here. The time we spent together was priceless."
Diana and Jenny are not alone. The 13-year-old Nicholas shares exactly what they feel about the guides too.
Titled his review "A Tour Guide, But Part Of Our Family!", Nicholas oozed his fondness for Amanda, the Beijing guide for him and his family during a two-week trip to China.
"Most people think the Tour Guides are there for information but I can tell you Amanda is not she was like a part of the family I always called her my sister because she acted like it," wrote Nicholas, revealing that he was deeply touched by Amanda's exceptional attention to detail, which is impossible to get if traveling with a group. He was amazed at how he and Amanda bonded in just 3 days, but he came to realize it was because Amanda was so kind to both child and adult. When the time came to leave, Nicholas was crying and hugged the "nice, smart, beautiful, motherly, sisterly" new family member about 40 times.
Nicholas by far remains the youngest guest that commented on Odynovo's TripAdvisor page. He has traveled 7 countries with families, yet until this recent China trip that he understands a guide is truly more than a guide.


5. Enjoy privateness without any interruptions
Pete Statia wanted to keep his 20th wedding anniversary celebration private, so private that even his wife, Natalie, didn't have any idea until their Buddhist wedding ceremony was held at Swayambhunath (Monkey Temple), an ancient religious complex in Nepal's Kathmandu Valley.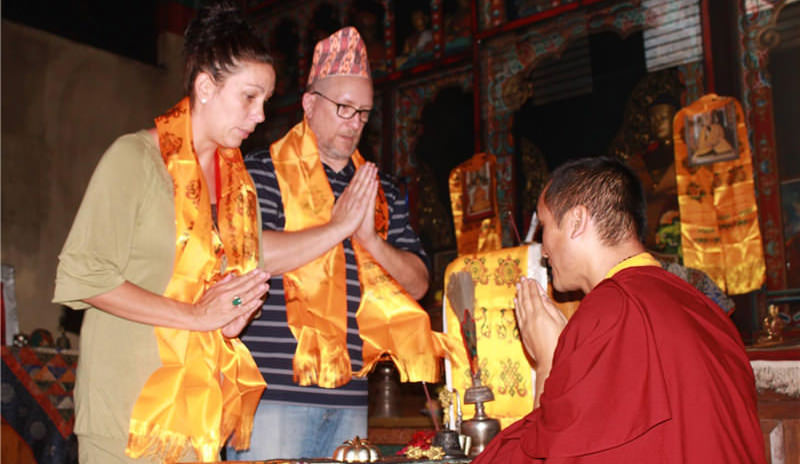 Pete and Natalie were observing Lama's blessing


The date of nearly a quarter-century of marriage is an occasion worth celebrating, and going away together seems only natural. In a sweet attempt to renew the wedding vows, Pete planned a surprise Nepal trip for Natalie with the assistance of Cindy, his travel consultant who did a good job suggesting memorable activities and turning his secret wish into reality.
The special ritual happened on the second day of their private tour. An ordained Lama chanted from Buddhist sacred texts in the Buddhist language and did customary puja(worship) to solemnize the wedding for the couple. Lighting 108 butter lamps, Natalie couldn't hide her euphoria, smiling all the way, as Pete and she received a blessing from the Lama. Traditional music played during the occasion made the environment pleasant and soothed the mind. With the couple's agreement, Dipen Pradhan, Odynovo's Nepal deputy manager, as well as a few of his colleagues were also present to make the spiritual matrimony more special.
The ceremony went without a hitch and ended up issuing a custom certificate of marriage to Pete and Natalie as a great item to remember their 20th anniversary. Natalie felt like their wedding day all over again and they were both blown away.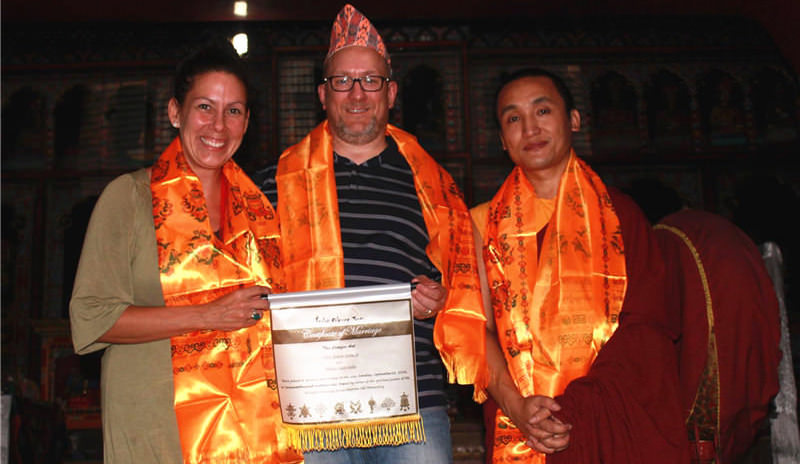 A custom certificate of marriage issued to Pete and Natalie


In the evening, the couple had dinner at one of the finest Nepali restaurants. Natalie was amazed when she spotted a congratulations card, and a bottle of wine alongside an anniversary cake prepared on their table. With memories of good old days surging back, they really enjoyed the unexpected exclusiveness and considered it icing on the cake.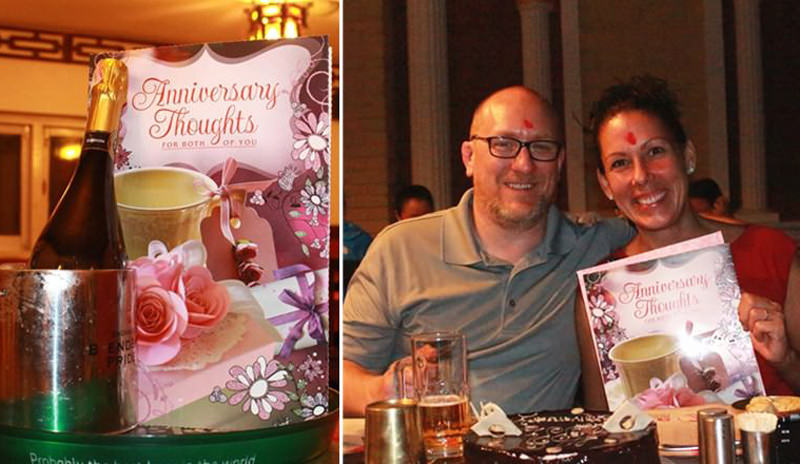 Anniversary gifts for Pete and Natalie from Odynovo


We still like to mention that before the wedding ceremony took place, Pete and Natalie had a lifetime scenic flight that took them to soar at the top of the world to catch breathtaking sights of Mt. Everest, which was Cindy's idea to make their trip remarkably unforgettable.
The trip created plenty of precious moments: their guides were able to change the schedule to fit what looked interesting and they didn't have to take strangers' feelings into account as it were in a group tour. In this honeymoon-like trip that only belongs to themselves, Pete and Natalie found that the quality time they enjoyed together had further strengthened their relationship.
In his tour review on TripAdvisor, Pete exclaimed that Odynovo "so far exceeded my expectations words cannot do the experience justice".
So what private tour actually is? We'll just define it as something that has long-term investment value to your memory, relationship, and life experience.


If you are on the look for a life-changing travel experience, Odynovo is pleased to tailor-make one in accordance with your own wishes. For any further information, simply let us hear from you at .
* For some guests interviewed in the article, the alias is used to preserve privacy.
What Our Clients Say
"Great Customized Service", "Trip of A Lifetime", "Exceed All Expectations"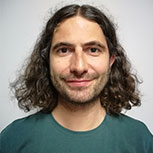 CONTACT A TRAVEL EXPERT
1-to-1 Service | Reply within 24hrs | Expert's Advice
STAY IN TOUCH WITH US
Subscribe to our newsletter so we can provide you with insider travel information, exclusive offers, and discounts.