Beijing, the capital of China, has distinct four seasons. Considering the weather and tourist flow, autumn would be the best time for a Beijing visit, which has a temperate climate and colorful scenery, and the other seasons also have their own characteristics. This article can help you choose the best time for your visit to Beijing.


Autumn (September to November)
As the sandy and foggy days are disappearing, the autumn in Beijing presents a clear blue sky with a cooler temperature. And it's wonderful to walk through the historical sites and old streets. You can immerse yourself in the hues of Beijing's autumn under the comfortable sunshine. And it's a great time hiking on the Great Wall, as you can see red leaves spread all over the mountains.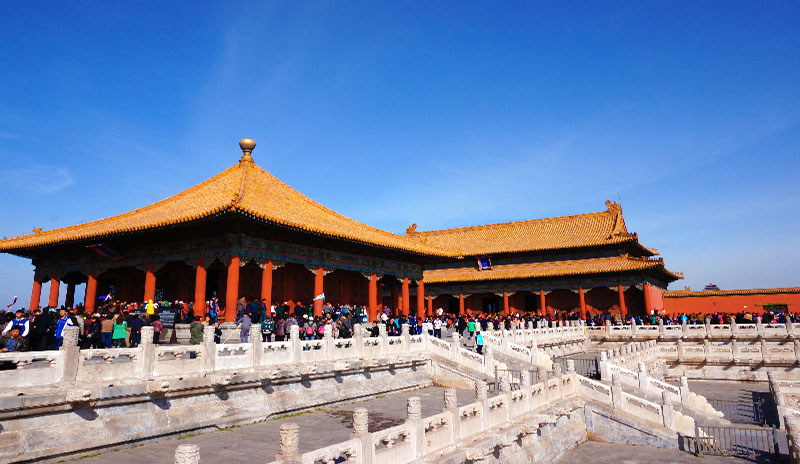 Forbidden Palace in autumn with blue sky


Festivals and holidays you may need to notice
1. Mid-Autumn Festival (some 3 days between September to the middle of October, tourist peak): taste the traditional Chinese moon cakes, and experience the atmosphere of a family reunion under the glorious full moon.
2. National Day (early October, usually lasts from October 1 to 7, tourist peak): some major sites close to Tiananmen Square may not open to the public on October 1. You may need to contact our travel consultants to check whether the places you want to go to are available at that time.
Advice
1. The temperature difference between day and night would be big, so you can wear a jacket or warm overcoat with long-sleeve shirts or short T-shirts inside in the morning, and take off the outerwear when you feel hot. But don't let the wind blow over you for too long if you get wet from sweating, otherwise, you'll catch a cold easily.
2. The air would be dry and the walk outside will cost a lot of energy, so make sure you bring enough water and some energy supplements. And prepare sunglasses and sun cream for the sunlight.
3. To see red leaves on the Great Wall, the middle of October to late November would be the best time.


Spring (March to May)
Spring is also good for travel, which is full of vitality with trees starting to grow new branches, and flowers blossoming. The temperature begins to rise, and so does the hotel price. And there may be occasional sandstorms on some days.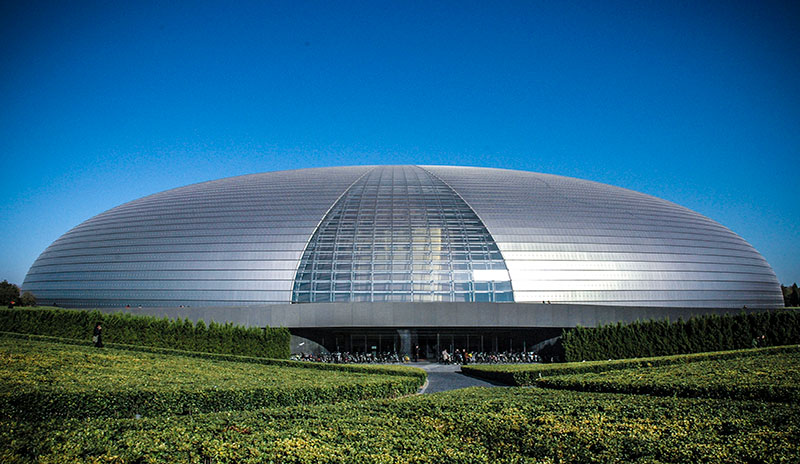 Green grass in front of the Grand National Theater during spring


Festivals and holidays you may need to notice
1. Tomb Sweeping Day (some 3 days in early April, tourist peak): a day when people go to clean their ancestors' tomb and cherish their memory. It's a good time for a hike to admire the bird's twitter and the fragrance of flowers.
2. Labor Day (May 1, usually lasts for 3 days, tourist peak)
Advice
1. The temperature difference between day and night is big, wear light outerwear and prepare a dust mask to prevent yourself from sandstorm days.
2. Sandstorm usually occurs in March and April.
3. The weather is still dry, so enough water supplements are necessary.


Summer (June to August)
During the summer months, Beijing is facing its tourist peak, and the hotel price is as high as the temperature. And there will be heavy rains and thunderstorms taking place occasionally, so it would be hot and wet.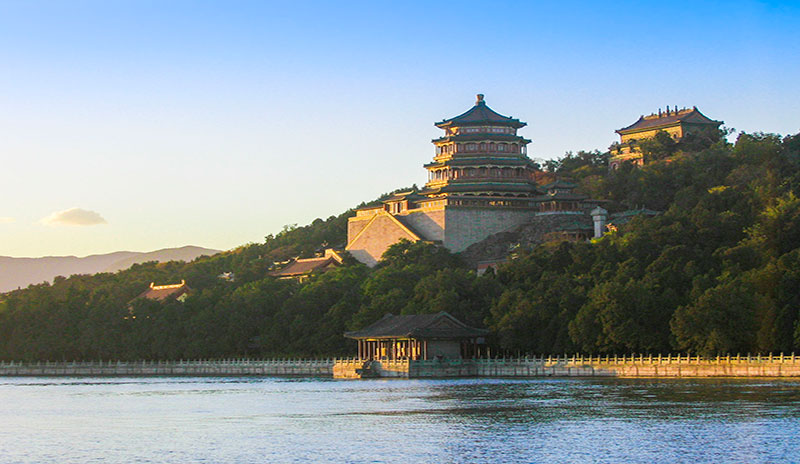 Summer dusk at the Summer Palace


Festivals and holidays you may need to notice
1. Dragon Boat Festival (June, lasts for 3 days, tourist peak): a traditional holiday for people to cherish the memory of Qu Yuan, during which you can try the traditional Chinese rice pudding and see the interesting dragon boat race.
2. Chinese Valentine's Day (August, streets full of couples and lovers that day): the day when the legendary Cowherd and the Girl Weaver meet on the bridge of magpies, you can experience Chinese romance on this day.
3. Summer vacation (July to August): during these months, many families would take their children on tours.
Advice
1. It would be wise to book your trip and transportation tickets in advance for there will be a massive flow of tourists coming to Beijing due to the summer vacation.
2. Sunglasses, and sun cream are necessities, and remember to bring an umbrella to prepare for the rain, and check the weather forecast to make sure you don't pay your visit in extreme weather.
3. Sites like Chengde Mountain Resort, and Summer Palace are nice places for you to escape from the heat.
4. Take mosquito repellant measures if you're going to climb the Great Wall.


Winter (December to February)
The weather is gradually getting cold, and heating would be provided. Plants and flowers lose their color. The temperature will drop to below freezing point, and there will be cold wind howling and snow floating. The city would be covered with white snow, and daily outdoor activities will get difficult.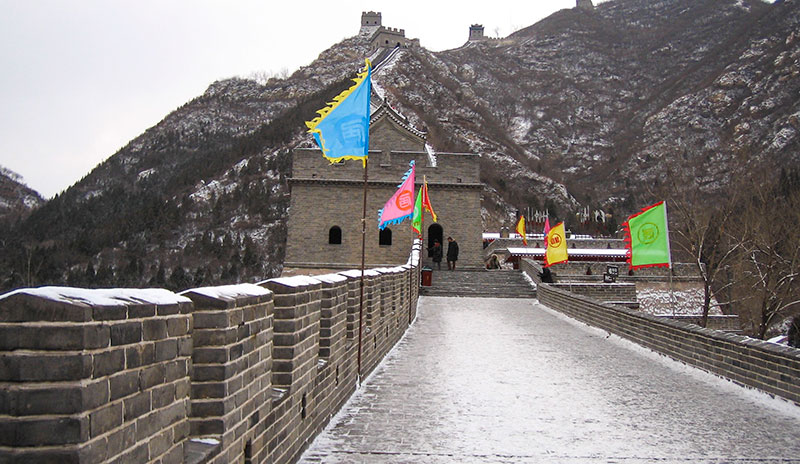 The unique scene of the snow-covered Great Wall during winter


Festivals and holidays you may need to notice
1. New Year's Day (January 1, 3 days, tourist peak)
2. Chinese New Year (January to February, tourist peak): during this time, you will find yourself drowning in the happy atmosphere of the Spring Festival with people dressing in their new clothes and greeting each other a happy new year.
Advice
1. During December, hotel prices may fall down, and restaurants might launch different promotions to attract customers due to the shoulder season.
2. Snowboarding and skiing are interesting and popular winter activities.
3. It would be quite a scene to see the snow-covered Great Wall, but make sure you dress warm enough to against the low temperature.
4. Bring necessary skin care products and cold medicine to prepare for the big temperature difference between indoor and outdoor.
As you can see, autumn would be the best season for a Beijing trip, but if you prefer to see the snow-covered Great Wall, or maybe the vibrant revival in spring, then you may put the other seasons into consideration. China Odyssey Tours provides you with professional tailor-made itinerary services. Please feel free to contact our travel consultants for any inquiry and we will respond within 24 hours and tailor-make a most suitable Beijing trip for you to your preferences.

What Our Clients Say
"Great Customized Service", "Trip of A Lifetime", "Exceed All Expectations"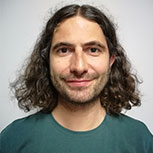 CONTACT A TRAVEL EXPERT
1-to-1 Service | Reply within 24hrs | Expert's Advice
STAY IN TOUCH WITH US
Subscribe to our newsletter so we can provide you with insider travel information, exclusive offers, and discounts.