China has one of the most complex and busiest rail networks in the world. The trains link almost every town and city. Trains are a safe and cheaper way to travel around China, and that journey is quite an experience in itself.


Different Types of Trains in China
In China, passenger trains are numbered with special characters and/or numbers, different train numbers are designated into different classes.
G train
The fastest high-speed EMU bullet train; runs on newly built high-speed railways at a top speed of 350km/h.
Note: Equipment and ornaments of G trains differ in different cities.
C train
The intercity high-speed train operates between two big cities, for instance, Beijing and Tianjin. It runs as fast as a G train.
D train
MU (Multiple Units) high-speed bullet train runs in the daytime and has a top speed of 250km/h. Normally, it covers a short distance (around 200kms). However, there are also some long lines available.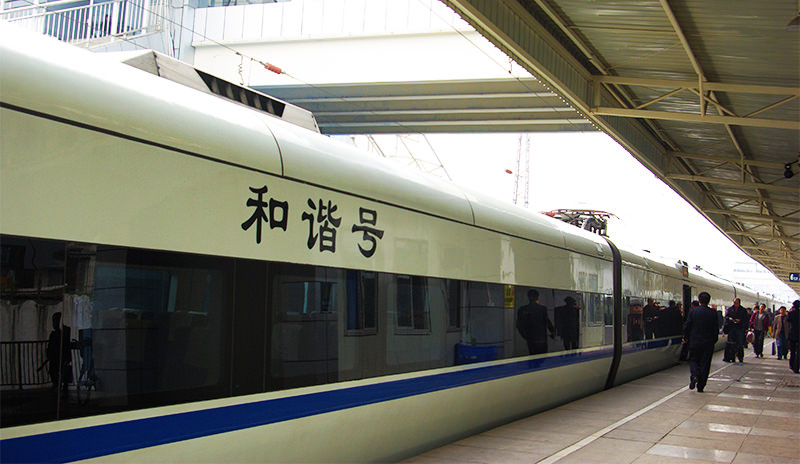 D train of China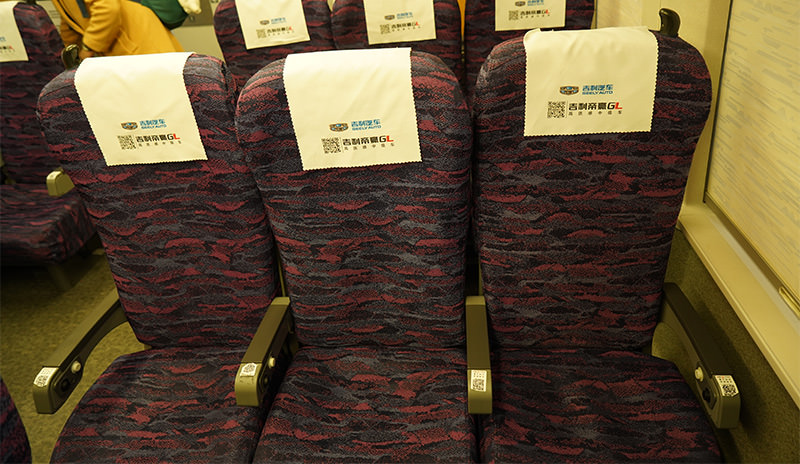 The second class seats of the D train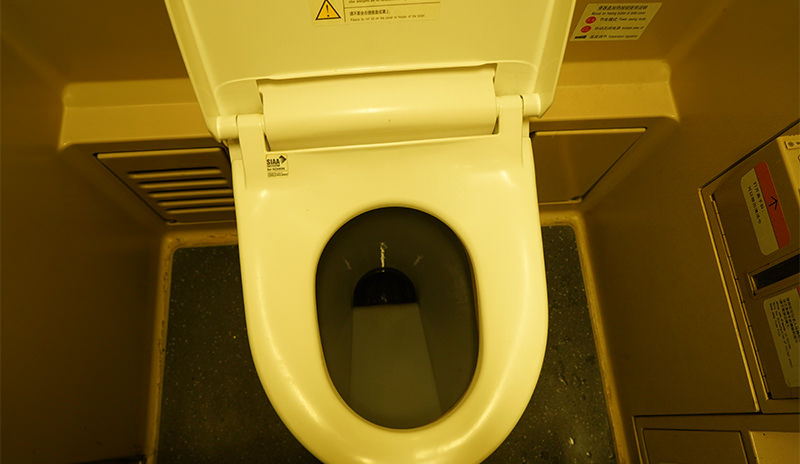 A toilet on a D train
Z train
Overnight express, with few or no midway stops.
T train
Extra fast express that runs on most railways in China, with stops only at major stations. It's a bit slower than the Z train for it has more stops.


How to take the train if I book a trip through Odynovo (formerly Odyssey)?
1. Get the Ticket
If you book the train ticket through us, your ticket will be issued 3-10 days prior to the departure date according to your tour itinerary. You will get the train ticket from your local guide. And your guide and driver will escort you to the railway station in time.
2. Get to the Railway Station
Your guide will see you off before the security check and indicate to you how to board the train.
3. Find the Right Waiting Room
After entering the railway station, you should find the electronic departure boards and check which waiting room is the appropriate one.
4. Get into the Platform
When the check-in process starts, you should stand in a queue and go through the ticket barrier. At the barrier, you need to present your ticket and passport. About 5-10 minutes before departure, the barrier is closed and the check-in stops.
5. Board the Train
The train number and the carriage number are shown outside the train clearly. Therefore, it is easy to find your carriage. There is a railway staff at the door of each carriage to whom you are requested to show your ticket.
6. Ready to Get off
Listen to the destination broadcast or ask someone or the attendant. Get your gear packed and down off the rack. There will be time, so no rush.
7. Exit the Train and Station
Get off the train and follow the crowd to the exit, probably below or over other tracks to the station outlet. You will be met by your local guide at the specific exit.


Recommended Train Routes
*for specific information on distance and running time, kindly consult your travel consultant.
G Train
Departure City
Arrival City
Running Time
Distance(KM)
Beijing
Shanghai
5h30m
1318
Beijing
Xian
5h40m
1216
Beijing
Taiyuan
2h52m
505
Shanghai
Hangzhou
1h10m
162
Shanghai
Wuhan
4h56m
811
Xian
Luoyang
1h44m
387
D Train
Departure City
Arrival City
Running Time
Distance(KM)
Chengdu
Chongqing
2h10m
313
T Train
Departure City
Arrival City
Running Time
Distance(KM)
Lhasa
Beijing
42h31m
3761
Tips on traveling to China by train
1. Soft sleepers are a good option for overnight train travel and the surroundings are usually very quiet. The air-conditioned soft sleeper car has comfortable 4-bunk compartments (2 top bunks and 2 lower bunks) with full bedding provided. You will share the compartment with other passengers unless you pay for the entire compartments (4 bunks). Each soft sleeper car has a public washroom and a public toilet, but no shower.
If you are traveling with your partner and want more privacy and comfort, we'll recommend a deluxe soft sleeper compartment (lockable, available on K, T, Z, L, and some overnight D trains) whose price is almost double that of an ordinary soft sleeper. The compartment comes with two beds (one upper, one lower), a sofa, a table, and a closet. Each has clean bathroom facilities; some even contain an in-room sink and a shower cubicle.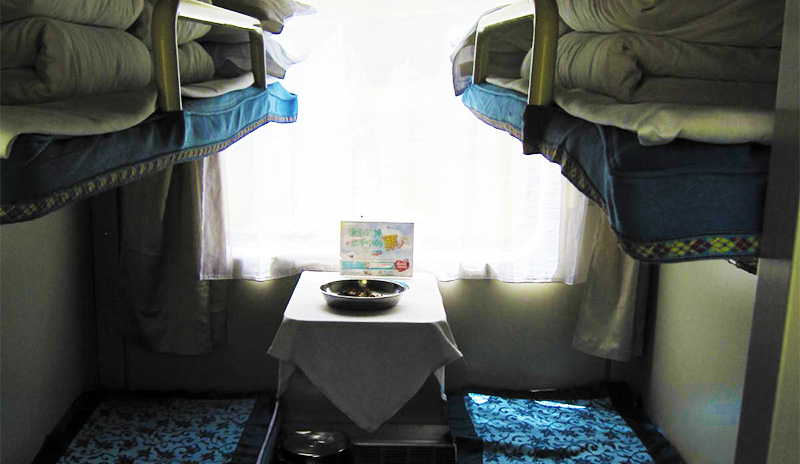 The interior of a deluxe soft sleeper compartment
2. A dining room is next to the soft sleeper car on most trains. A food trolley will also pass through the cars during meal time. Only Chinese food is available with limited choices. Most local people buy food in advance or buy food from the vendors on the platform. We suggest you prepare some food or takeaway before boarding as the meal on the train isn't interesting. Boiled water (free to use) and bottled water are available on the train.
3. Luggage allowance and luggage porters. The maximum carry-on baggage allowance for each adult passenger is 20kg and 10kg for each child. The length of each item cannot exceed 160 cm. Luggage must be placed on the rack above or under the bunk, not on the aisle. Porters can help you with the luggage at around 20-30 CNY per piece.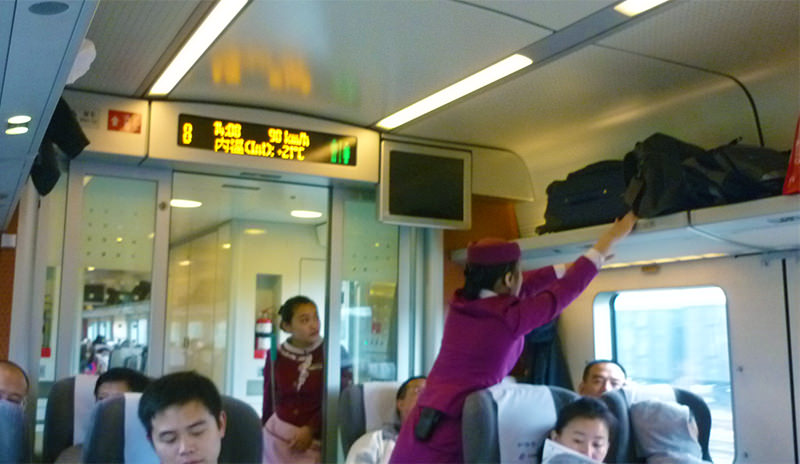 An attendant tidying the luggage rack above the seats
4. If you take a soft sleeper, the onboard conductor will exchange your ticket with a card. When your destination is almost there, they will come to exchange it back and remind you of your arrival. Please keep your ticket safe because you will be asked to present it when you exit the station.
5. Tickets are not issued until 3-10 days prior to the departure day. Train tickets are in short supply during Spring Festival (usually falls in January or February) and Golden Week Holidays (such as Labor Day at the beginning of May and National Day on the first week of October). Tibet trains are often in demand and cost a higher booking fee.
Feel free to write at should you plan to add some rail experience to your China tour with us!
What Our Clients Say
"Great Customized Service", "Trip of A Lifetime", "Exceed All Expectations"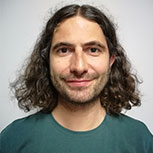 CONTACT A TRAVEL EXPERT
1-to-1 Service | Reply within 24hrs | Expert's Advice
STAY IN TOUCH WITH US
Subscribe to our newsletter so we can provide you with insider travel information, exclusive offers, and discounts.