China is one of the best tourist destinations that boast many greatest museums in the world. If you are an enthusiast of Chinese culture and history, this article is definitely to your appetite. Seven must-see museums in China are rounded up, and they will show you the Chinese civilization for the past thousands of years.


1. The Palace Museum, Beijing
There are always long lines at the gate, but it's worth the wait. The Palace Museum, also known as the Forbidden City, lies at the heart of Beijing. It had been the Chinese imperial palace from the Ming dynasty to the end of the Qing dynasty, for nearly five centuries. Rectangular in shape, the Palace Museum consists of various structures, which are in accordance with traditional Chinese architectural hierarchy and designed to reflect the authority.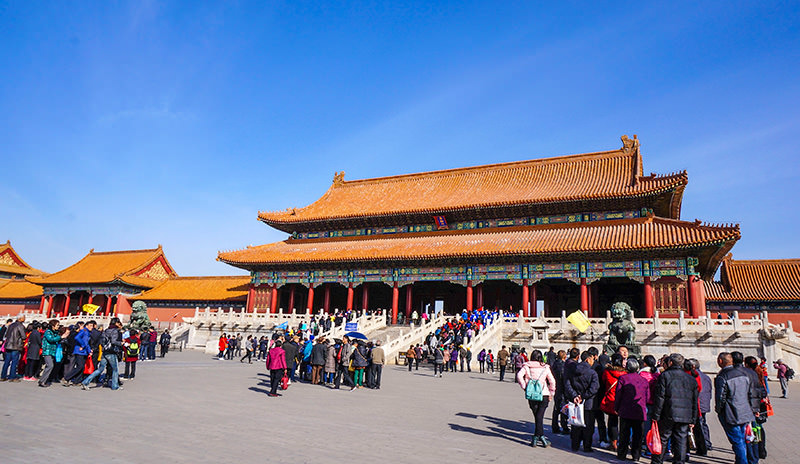 The Palace Museum
When you stroll in the museum, you will marvel at this largest palace complex in the world (with an area of 780,000 square meters)! It has over one million rare and valuable artworks that witness the 5,000-year Chinese civilization, as well as the 600-year history of the royal life.
Opening Hours:
Closed on Mondays (except for national holidays and July-August)
April 1st – October 31st: 8:30 – 17:00
Summer Vacation: 8:00 – 17:00
November 1st – March 31st: 8:30 – 16:30
Location:
NO. 4 Jingshanqian Street, Beijing, China.


2. National Museum of China, Beijing
This is one of the most prestigious museums in the world. Despite being founded in 2003, the National Museum of China is regarded as one of the largest museums in the world. Its foundation is based on the merging of the previous National Museum of Chinese History and the National Museum of Chinese Revolution. The museum is dedicated to educating the art and history of China through its collections, exhibitions, academic research, and communication.
As you expect, here you'll find the most brilliant masterpieces in China. It is now holding approximately 1,050,000 amazing collections, including "Simuwu Ding", the largest piece of bronze ware to survive from the ancient world. These collections are like storytellers who reveal Chinese history from the Yuanmou Man of 1.7 million years ago to the end of the Qing Dynasty.
Opening Hours:
Closed on Mondays
9:00 – 17: 00
Location:
16 East Chang'an Avenue, Dongcheng District, Beijing, China.


3. Emperor Qinshihuang's Mausoleum Site Museum, Xian
Emperor Qinshihuang's Mausoleum Site Museum is all about the first unifier of China. The museum contains two parts, referring to the Museum of Terracotta Warriors and Horses, along with the newly built Qinshihuang's Mausoleum Site Park (Lishan Garden). Both of them are filled with amazement!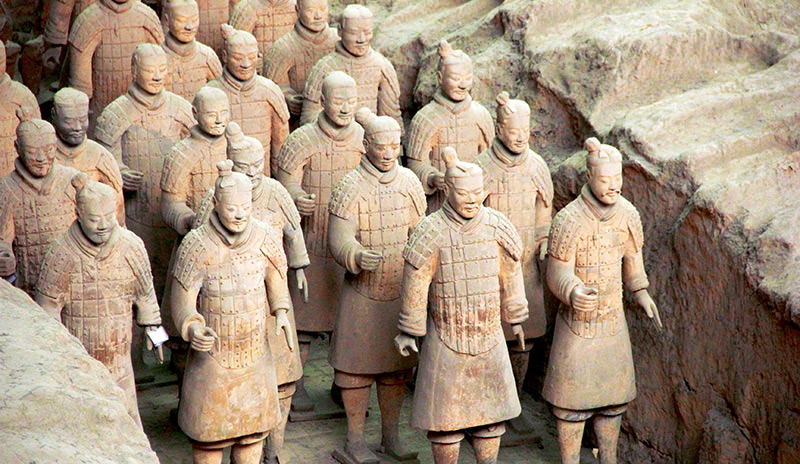 Museum of Terracotta Warriors and Horses
The Museum of Terracotta Warriors and Horses has featured thousands of life-sized terracotta figures of warriors and horses. They are arranged in battle formations and different from each other with individual characteristics. The other site, Qinshihuang's Mausoleum Site Park, is the largest imperial tomb in China with the richest buried objects. It took 720,000 workers nearly 40 years to build and displays the skill and craftsmanship of the country's tomb construction.
Thousands of treasures still remain to be unearthed at this archaeological site, and more mysteries of the Qin dynasty will be revealed someday in the future.
Opening Hours:
March 16th – November 15th: 8:30 – 18:00
November 16th – March 15th: 8:30 – 17:30
Locations:
Lintong, Xian, Shaanxi Province, China.


4. Shaanxi History Museum, Xian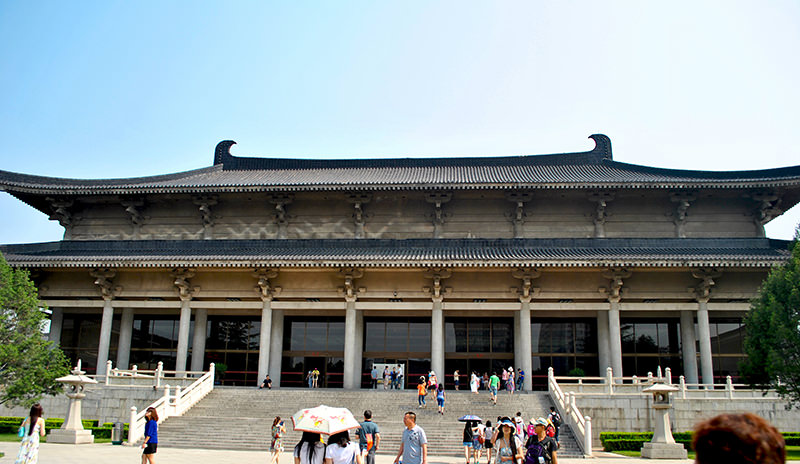 Shaanxi History Museum
Xian, which served as the ancient capital for 13 imperial dynasties, is endowed with various treasures in culture and substance. Located in this well-known capital, Shaanxi History Museum is like a mirror of the architectural arts of the Tang Dynasty – its building with white walls, dark grey tiles, and pyramidal roofs.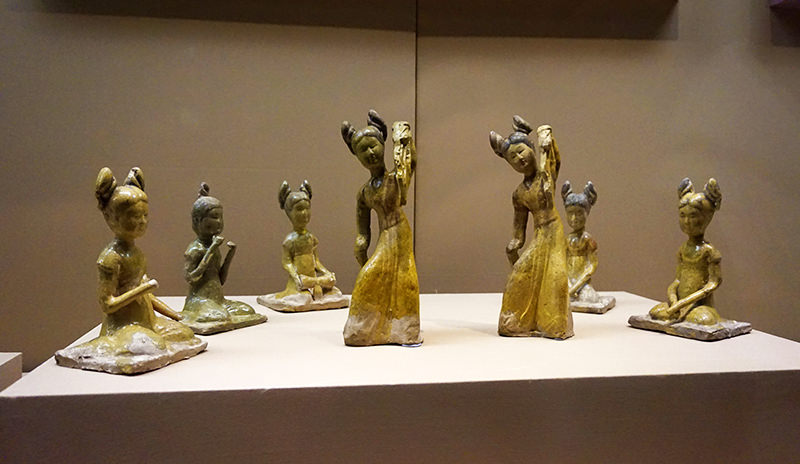 Valuable relics exhibited in the museum
Occupying an area of about 65,000 square meters, the museum houses 370,000 relics, most of which were sent to the museum once scattered around the region. The museum's permanent exhibition named "Ancient Civilization of Shaanxi" is divided into 3 rooms with 7 units, displaying the development of the province in the timeline, as well as its contribution to the Chinese civilization. Besides, its bronze wares, tomb wall paintings of the Tang dynasty, ceramics, and construction materials through dynasties are all very eye-catching.
Opening Hours:
Closed on Mondays (except for national holidays)
November 15th – March 15th: 9:00 – 17:30
March 16th – November 14th: 8:30 – 18:00
Location:
91 Xiaozhai E Rd, Yanta, Xian, Shaanxi, China.


5. Nanjing Museum, Nanjing
Taking an area of 70,000 square meters, Nanjing Museum is the first large national comprehensive museum in China. Two exhibition halls – one for history and the other for art – are splendid palatial architecture in the style of the Liao dynasty. It was originally established in 1933, proposed by a famous educationist – Mr. Cai Yuanpei, and he became the first chairman of the board of directors in this museum. The architecture of the museum is a perfect mixture of the East and West since the roofs of the front section are covered with golden tiles, while they are in flat-roofed western style in the back section.
Now, it holds over 400,000 objects from the Paleolithic period to the contemporary era, including the heaviest gold ware ever found in China – "gold beast" and the "Red Plum Vase" that showcases a rare copper red underglaze, a color effect so difficult to achieve that it was considered a technique reserved for the elite.
Opening Hours:
Mondays: 9:00 – 12: 00
Tuesdays – Sundays: 9:00 – 17:00
Location:
No.321, Zhongshandong Road, Xuanwu District, Nanjing City, Jiangsu Province, China.


6. Shanghai Museum, Shanghai
Visiting Shanghai Museum is ranked No.2 out of 10 things to do in Shanghai. It should be hard to miss because the top of the museum is shaped like an ancient Chinese cooking pot. Perhaps, this is the most modern museum in mainland China. It now enjoys a high reputation both at home and abroad, housing a diverse collection of artifacts that chart the nation's history.
There are eleven galleries in three exhibition halls, covering most of the major categories of Chinese art: bronzes, sculpture, ceramics, paintings, calligraphy, seals, jade, coins, and Ming and Qing Furniture, as well as minority nationalities. Apart from these, the museum also holds short-term exhibitions from around the world and exhibits its collections worldwide. Exhibits displayed in Shanghai Museum
Opening Hours:
Monday to Sunday: 9:00 – 17:00
Location:
No. 201 Renmin Da Dao, Huangpu District, Shanghai, China.


7. National Palace Museum, Taipei
It is undoubtedly a must-see attraction in Taipei. Sharing the same root as the famous Palace Museum in Beijing, National Palace Museum moved to Taipei as a result of the Chinese Civil War. This palace-like museum is with a traditional Chinese-courtyard atmosphere and can be identified easily. Being listed as one of the top ten museums in the world, it is displaying the world's greatest and rarest collections of Chinese art crafts and historical documents.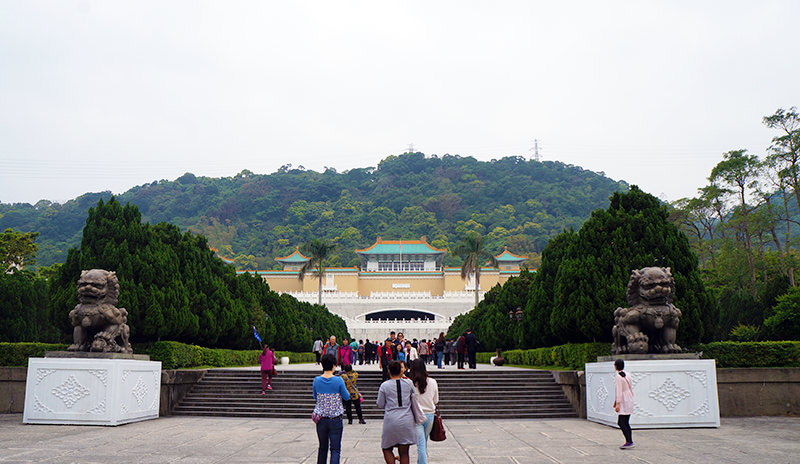 National Palace Museum
National Palace Museum is known as a treasure house of Chinese culture, with the entire collection covering 5,000 years of history and achievements in China. Among all the greatest treasures, there are some signatures in the museum that you should have a look at. For example, "Draft of a Requiem to My Nephew" wrote by Yen Cheng-Ch'ing – a leading Chinese calligrapher in the Tang dynasty. Additionally, valuable collections like the bronze ware "P'an with Dragon Décor", and "Early Snow on the River" by the painter in the Five Dynasties, Zhao Gan, will leave a deep impression on you.
Opening Hours:
Main Building Open Daily: 8:30 – 18:30
Location:
No. 221, 2nd Zhishan Rd., Shilin Dist., Taipei.
Now, there are over 3,589 museums in China, including the ones that I mentioned above. If you're willing to visit them, you can write to us at . We will help you tailor-make your own unique China tour according to your desired museums.
What Our Clients Say
"Great Customized Service", "Trip of A Lifetime", "Exceed All Expectations"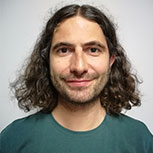 CONTACT A TRAVEL EXPERT
1-to-1 Service | Reply within 24hrs | Expert's Advice
STAY IN TOUCH WITH US
Subscribe to our newsletter so we can provide you with insider travel information, exclusive offers, and discounts.