There is a saying that the Chinese prefer making a friendly greeting with the question "Ni chi le ma (Have you eaten yet)?" To some degree, it is true. The following popular food tours in China are designed to ensure you a fantastic gourmet vacation and tell you what will rock your appetite.


Beijing: go through hutongs to sample various snacks
Apart from Peking Roasted Duck, Beijing also boasts hundreds of delicious snacks that include many Chinese ethnic groups and imperial snacks. Going through hutongs to taste these local snacks in Beijing is a perfect experience.
Your food exploration in Beijing will be started at Jinfang Huimin Restaurant, which is located at the end of Ciqikou Street and enjoys a very good reputation in Beijing. Tanghuoshao (baked sweeten wheaten cake), aiwowo (glutinous rice ball), matuan (fried glutinous rice balls with sesame), yipin shaobing (sesame seed cake), and shijin yuanxiao (assorted glue pudding) are favored specialties of the restaurant, attracting many food lovers every day.
After the first experience of local snacks, head to the Goldfish Pool Hutong where you could enjoy a break from being a tourist and experience the real daily life of Beijing.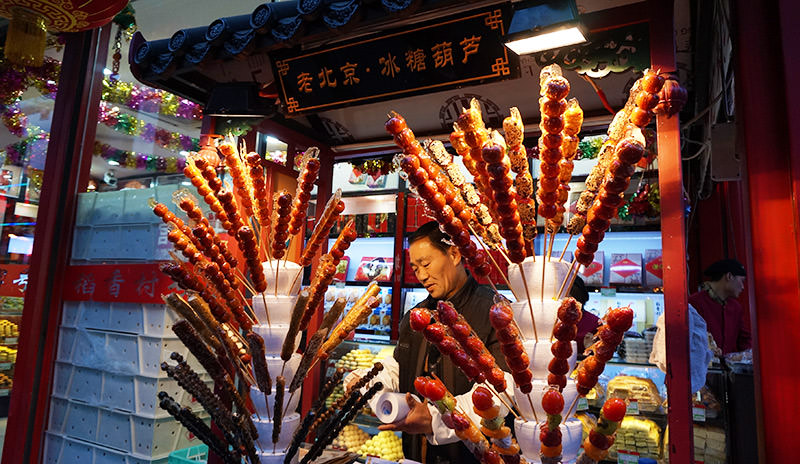 Bingtang Hulu (candied haw in a stick) - one of the signature snacks in Beijing


Then you may walk to the Lao Ciqikou Douzhi Shop which is located at the South end of Qinian Street. Douzhi (mung-bean milk), similar to soy milk, is made from mung beans and goes through several days of fermenting before it is served. Probably, because of its good taste and health benefits, douzhi is regarded as one of the most famous and typical snacks in Beijing. When served, it must go with a few Chinese-styled pickles, which makes it taste better, especially for those who try it for the first time.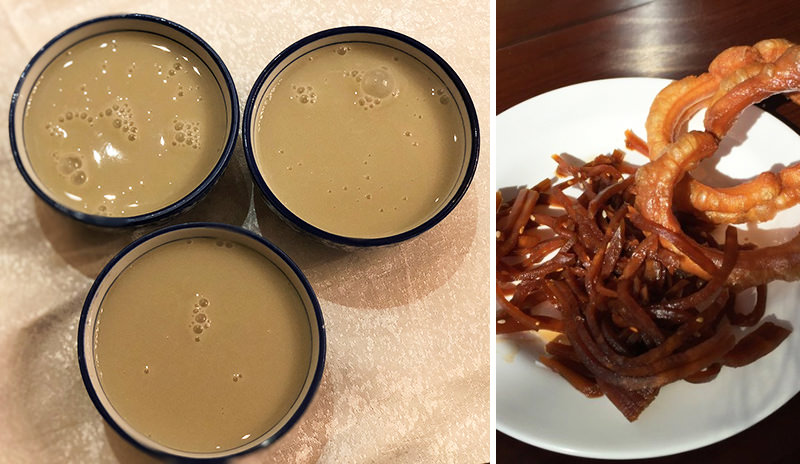 Douzhi


During the tour, your informative guides will share their expertise in local customs, eclectic folklore, and authentic Beijing specialties with you.


Xi'an: taste yummy snacks and visit a local family
Since the start of the Silk Road, Xi'an is a wildly popular tourist destination filled with history, and its featured snacks are just as well-known as its historical heritage. And, if you want to blend in with the locals, you can visit a local family and interact with them.
A regular part of the city's typical morning routine is to get up early, to eat hulatang (spicy meatball soup) preparing for the long day ahead. This is a kind of delicious breakfast cooked by skillful Muslims, and its taste will give you a comforting glow throughout the body. Hulatang's main ingredients are beef meatballs, capsicum peppers, and vegetables (including potato, Chinese cabbage, carrot, cauliflower, and celery). Some herbs and flavorings can be added to improve the flavor.
When you come to Xi'an, you'll see that Roujiamo (Xi'an meat burger) is on almost every corner of the city. Everyone here is crazy about this. Roujiamo is like a hamburger, but with a much longer history – about 2,400 years. The buns outside consist of a simple mixture of wheat flour and water; while the meat inside is various, ranging from pork, chicken, and beef to lamb, and being stewed for hours in a soup with over 20 kinds of spices, like ginger, cloves and star anise. Once you travel to Xi'an, please make sure to try a historic burger!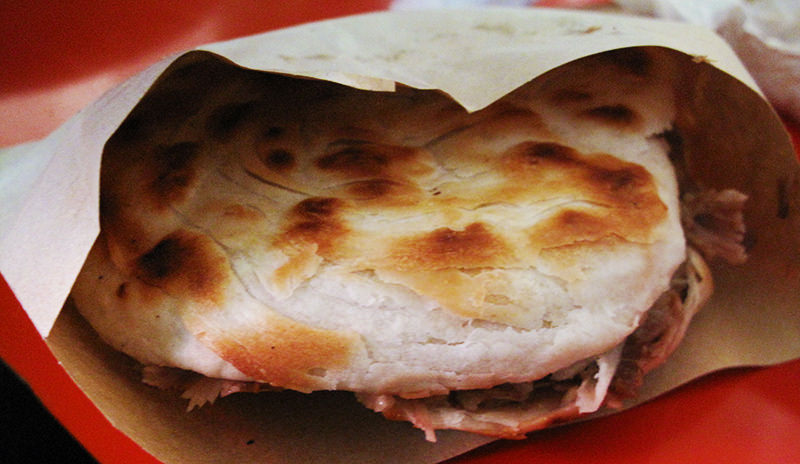 Roujiamo, one of the typical street food in Xi'an


Of course, this tour will also lead you to taste other snacks, such as yangrouchuan (grilled lamb skewer), shouganmian(handmade noodle), liangmian(cold noodle), yangrou paomo(stewed mutton), liangpi(noodles mixed with spices), bocaimian(spinach noodle), etc.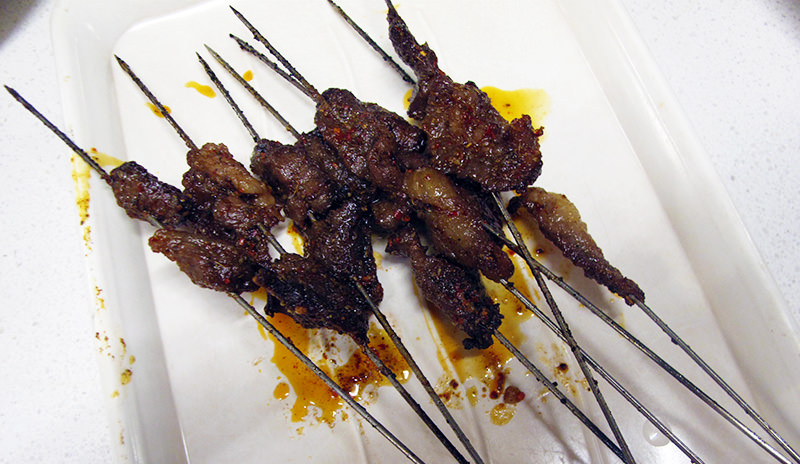 Yangrouchuan, a popular snack in Xi'an


In addition, a visit to a Muslim family will enable you to get a better understanding of the Muslim community. You may walk through narrow allies to the host house, prepare the meals with them, join in their family events, and hear their memorable stories.
Shanghai: find Shanghai snacks around Yu Garden
As the biggest and most incredible city in mainland China, Shanghai has a good variety of delicious food. Although Shanghai's surgery cuisine is not so crowd-pleasing, many people still speak highly of its snacks. Here, you can grab a bite to eat at any time!
Walking from Yu Garden to the famed Nanxiang Mantou Restaurant just costs you a few minutes. This restaurant is exclusively selling xiaolongbao (steamed bun) which is famous for its moderate thick skin, plenty of stuffing, and gravy. Traditionally, xiaolongbao is filled with pork, but Nanxiang's modern innovative crab roe filling is more characteristic and popular among diners.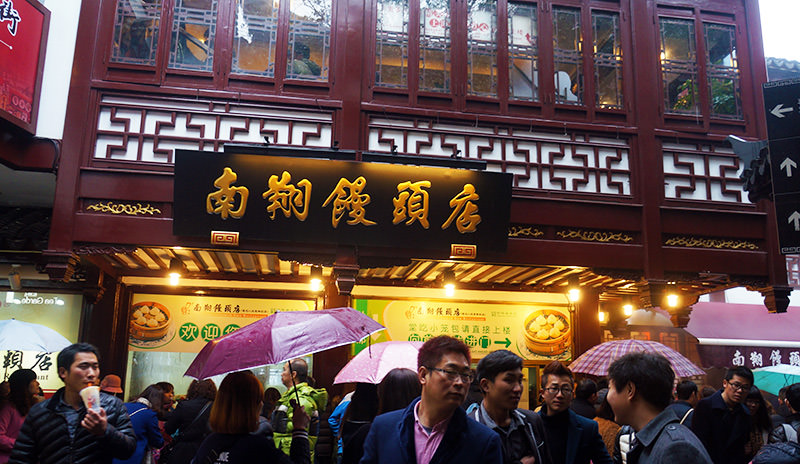 The Popular Nanxiang Mantou Restaurant in Shanghai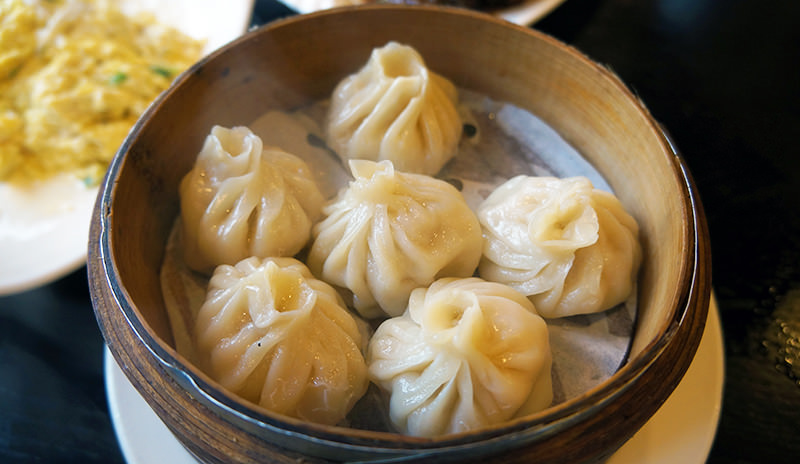 The unmissable xiaolongbao in Shanghai


Xiekehuang (crab shell cake) in Lubolang Restaurant is another highlight of the tour. The name is inspired by its brown-yellow color appearance which looks like a cooked crab shell. With sesame sprinkled on it, xiekehuang tastes salty or sweet. The salty one is made of shallot oil, fresh pork, minced crab meat, or peeled prawns; while the sweet one is filled with sugar, roses, sweetened bean paste, or Chinese date paste.
During the tour, we also bring you to discover Yu Garden for Shanghai's specialties: traditionally fried noodles in Chunfeng Songyue Lou, shenjianbao (pan-fried bun), tangchao lizi (roasted chestnut with sugar), and guihua lagao (osmanthus jelly) in the restaurant of Lubolang or Bifengtang. What's more, you could go to the local market for a visit if you like.


Chengdu: discover local snacks in "the City of Gastronomy"
With a very long history, Chengdu snacks are popular and own several notable features. Their unique colors, smells, shapes, and tastes are impressive for foodies. Chengdu was named as "the City of Gastronomy" by UNESCO in 2010, is the perfect place to fulfill your appetite.
If you claim yourself as a fan of spicy food, chaoshou (Sichuan-style wonton) will be a regular part of your daily life after you taste it. Chaoshou means "folded arms" in the local dialect, referring to the wrapper folded into 2 points, one crossed over the other. This is a typical savory snack with thin skin and stuffed with minced pork and vegetables. Although similar to Cantonese Wonton, chaoshou's dough is thinner and is served in chili oil.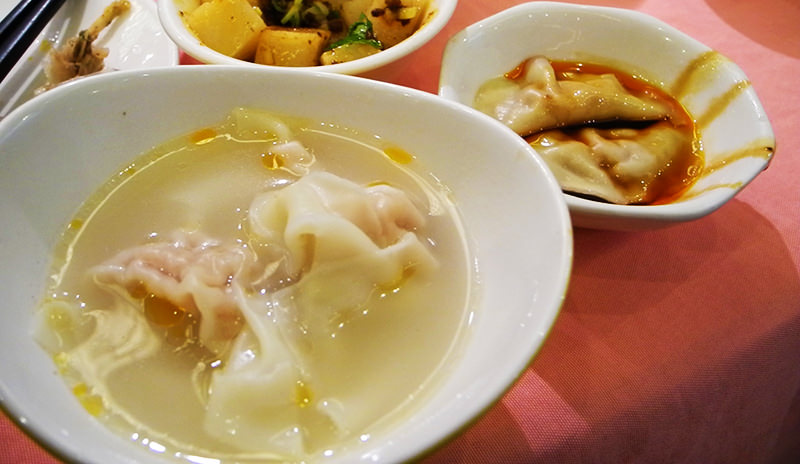 Chaoshou

"You can walk into a restaurant and order Chaoshou without making a sound. Cross your arms and they will understand exactly what you want." - Peter Hessler (correspondent for The New Yorker)


However, Chengdu snack is not all about the famous "hot and numbing" flavor. It is easy for you to find a walking vendor selling tangyou guozi (sweet fried balls), which taste sweet, on the streets. Served four or five on a bamboo skewer, tangyou guozi is made from glutinous rice, coated with sesame seeds and brown sugar glaze. Evenly heated, it is scorched outside but soft inside.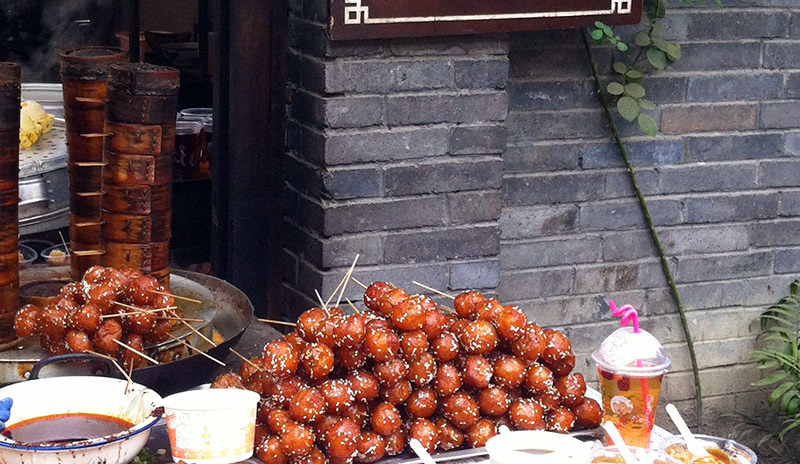 The Sweet Tangyou Guozi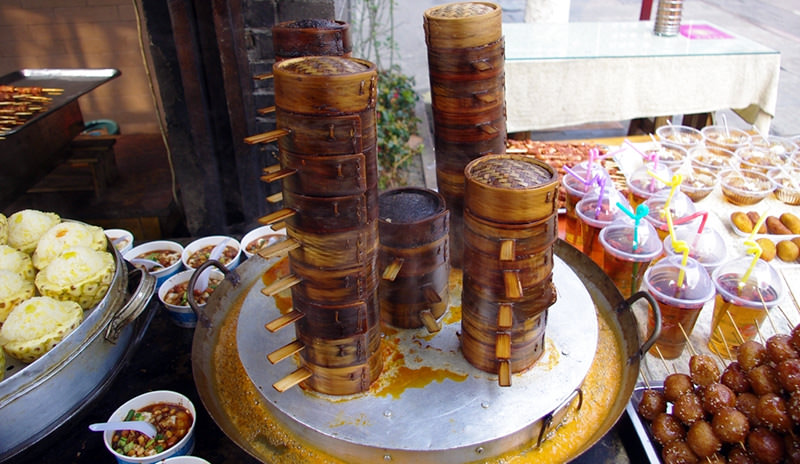 Different Snacks in the Local Market


Eating is the heart of life in Chengdu. Led by a dedicated foodie, you'll explore the city's highlights by tasting danhonggao (mini pancake), langya tudou (fried potato), dandanmian (Sichuan spicy noodle), tiebanshao (Chengdu-style stir-fry)… Countless snacks are waiting for you in this city.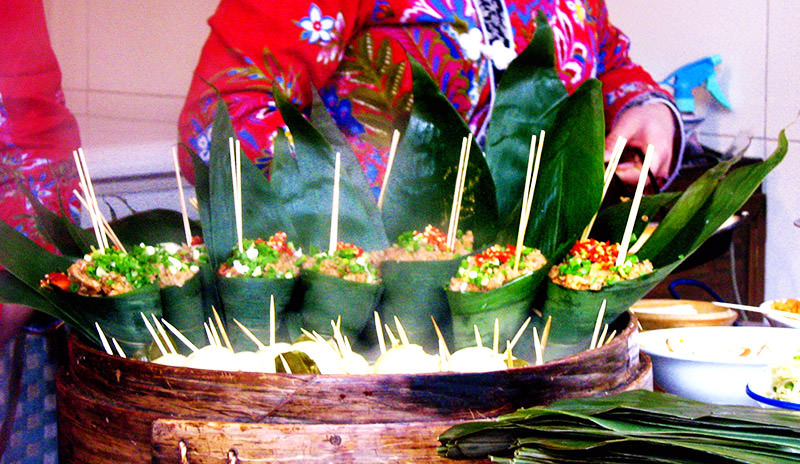 Tasty Chengdu Snacks


Hong Kong: enjoy the most authentic Dim Sum
From the stalls on the road to the world-class restaurant (for example, Michelin-starred restaurants), Hong Kong is a fairyland for food fans. So, don't wait to graze around Hong Kong for a real experience!
With the meaning of "touching your heart"- dianxin (Dim Sum) becomes the reason for many foodies to come to this city. Our walking food adventure in Hong Kong will allow you to have a glorious meal at Tim Ho Wan Restaurant - the cheapest Michelin Star Restaurant in the world. Shaomai (siu mai) is one of the most popular items on the menu in this restaurant. It is often filled with chopped pork, though sometimes the shrimps are included in the filling. Chefs wrap the fillings in a fresh pasta skin that is left open so that the peek is out of the top of it when served at the table.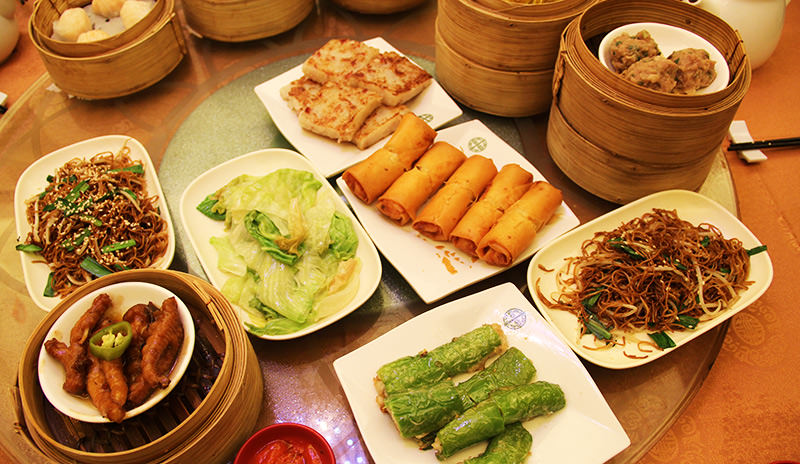 Tim Ho Wan Restaurant in Hong Kong


After finishing the tour to the local markets, your food tour guide will lead you to have a leisure afternoon tea at Tsui Wah Restaurant, one of the best and busiest restaurants in Hong Kong. The must-eat for your Hong Kong-style afternoon tea is zhuzaibao (crispy bun). Each freshly baked zhuzaibao is cut in half, toasting the surface and keeping soft inside, coated with thick butter and condensed milk. It has an inseparable BFF - yuanyang (Hong Kong-style milk tea) which is usually made of a mix of black tea, evaporated milk, and sugar.
Besides, sugar cane juice & sugar cane pudding at Kung Lee Herbal Tea Shop, egg tart at Tai Cheong Bakery, egg waffles in Uncle Fong Bakery, and deeply fried fishballs at Chee Kei Noodle Restaurant, and many other snacks are highly recommended in Hong Kong.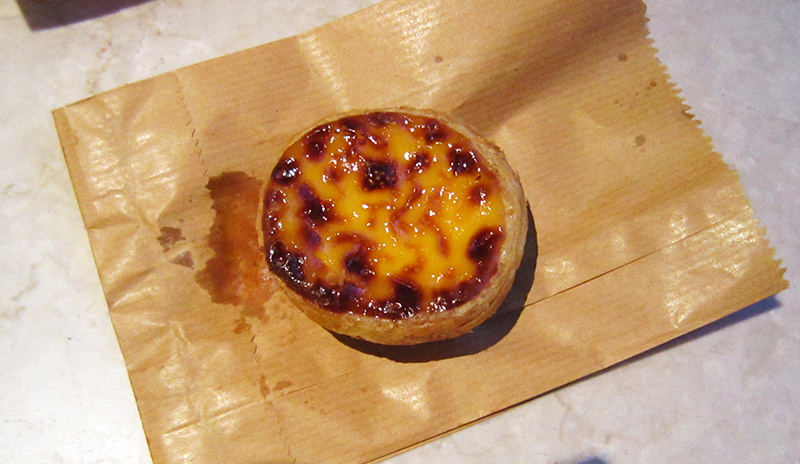 The Very Traditional Egg Tart


If you really want to immerse yourself in China, there is no better way than a food tour. Let's explore the amazing food tours together! Please contact us at , and we'll lead you to taste authentic China based on your interests. Or, if you have tried any of these snacks, share this article with your friends and tell them how amazing they are!
What Our Clients Say
"Great Customized Service", "Trip of A Lifetime", "Exceed All Expectations"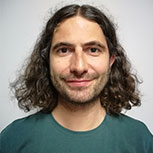 CONTACT A TRAVEL EXPERT
1-to-1 Service | Reply within 24hrs | Expert's Advice
STAY IN TOUCH WITH US
Subscribe to our newsletter so we can provide you with insider travel information, exclusive offers, and discounts.