Taking good street photographs during a trip to China is every shutterbug's dream. However, due to little knowledge about the places and protocol, very few travelers succeed in returning with satisfying pictures. If you are preparing for taking pictures of something unique on the street in China, I have some advice to help.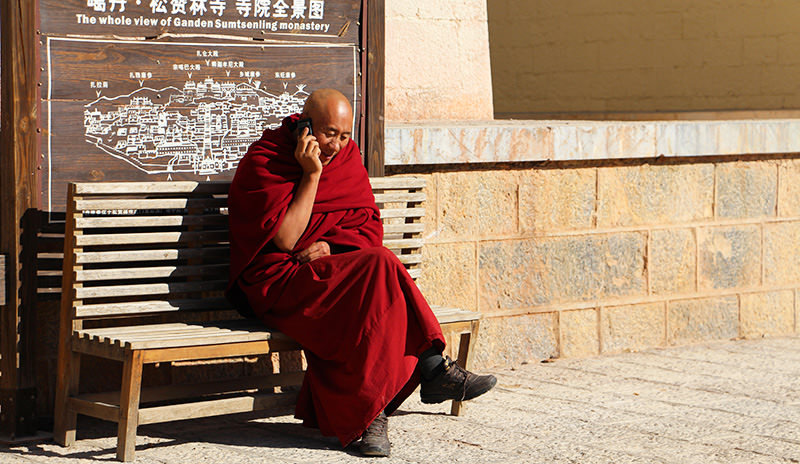 A monk in the Ganden Sumtsenling Monastery


Best locations for street photography in Chin
According to Wikipedia, street photographs do not have to be taken on a street or even in the urban environment. China is a vast place with limitless possibilities – be it in town or a village, you are going to encounter incredible sights right at the corner.
Attraction sites may not be the prime place to shoot street photography, but there are exceptions: Beijing's Temple of Heaven in the early morning is a great spot to capture the local older people dancing, playing cards and instruments; Sera Temple in Lhasa provides great opportunities to photograph the debating monks as well as their daily class scene.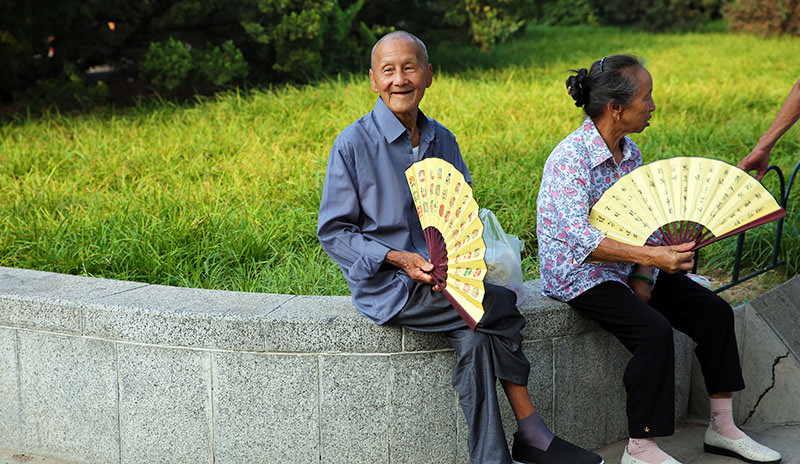 The local people at Temple of Heaven


If you don't want to restrict your photography to the clichéd moments, take a path off the beaten path. I was born and have been living in China, thus I can tell you that the places to take authentic photographs are often places only the locals' visit, such as:
- Public parks: Where the seniors do their daily exercise, dance, sing, play chess, and traditional musical instruments. A good place to blend in for a little chat or engagement.
- Markets: Capture the busy moment of different markets, such as wet markets (a quite eye-opening place), and night markets. Vendors at Yuyuan Wet Market, Shanghai.


- Old neighborhood: One of my favorite locations to shoot the local and street life. The CITE BOURGOGNE introduced in my previous article unique things to do in Shanghai is a good place to start with.
- Minority/hill tribe villages: Featuring colored culture to observe through your lens.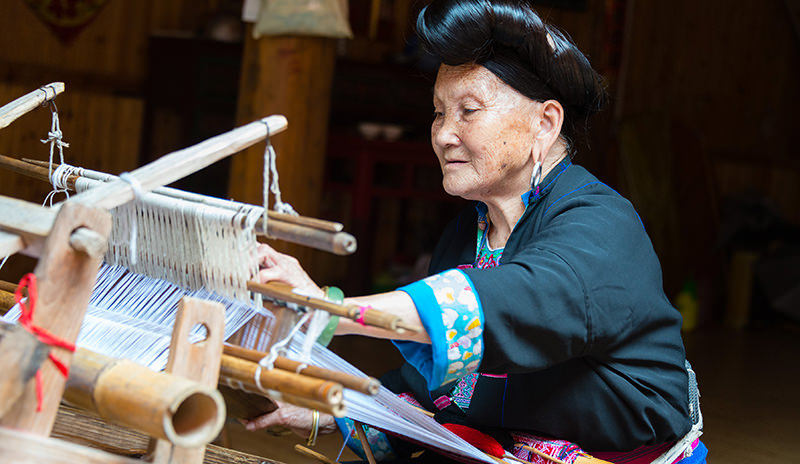 An ethnic minority lady is weaving.


- Open Squares: Offering interesting sight of middle-aged and retired women performing square dancing at night.
- Department stores: Presenting new and modern China.
Unfortunately, if you tour with a big group or roam independently, you are unlikely to get a flexible itinerary to fulfill your photography pursuit and access to hidden corners as travel privately, by which I mean having your own local guide and driver who know the places inside and out.
Are there issues with street photography in China?
There is no law or regulations against street photography in China. It's a lucky thing that most Chinese don't lose their temper at a camera. Generally, people are curious about foreigners and show great willingness to interact with you, which makes it easy to shoot, though they still change their composure. If you are unsure of possible issues, simply ask the subjects if they mind before pressing your shutter button.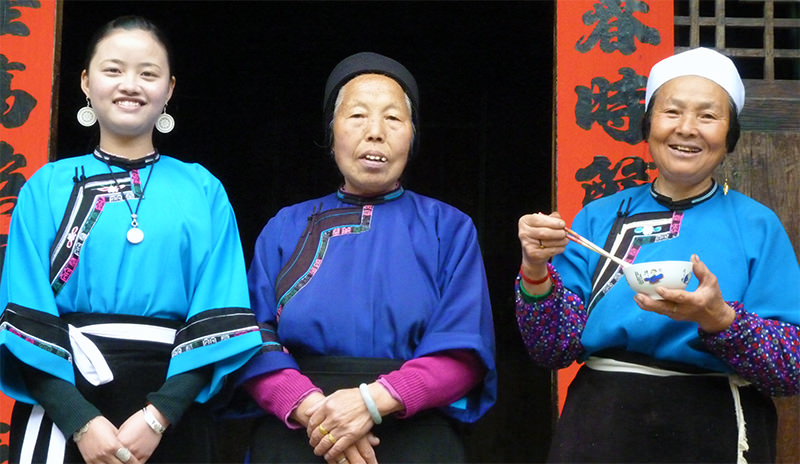 Chinese ethnic minority ladies (Photo Credit: Odynovo guest Mary Monro)


You are very likely to get more optimal chances to photograph people's homes and shops if you can speak Mandarin or are with a local tour guide who can clearly help state your simple requests. Give a smile, act polite, you can go a long way.
But as commonly happening everywhere, there are times that your subjects are unhappy to have their photographs taken. Don't take it then. Basic common sense has to apply always - return an apologetic gesture and walk on.
In tourist attractions, people would ask for money. It is up to you to give or not. If you want to proceed, negotiate a price (a dollar or two) and make sure you get the shot.
It is unofficial guidelines not to take pictures of police and military personnel, or you might get in trouble. Exercise caution in places like airports, customs, Tibet, and religious places.
However, the act of including these figures in your photo is fine when in touristy areas or festival events, where security forces are designated. For instance, the soldiers guarding Tiananmen Square have gotten used to tourists' cameras, and there is no problem photographing patrolling police during Spring Festival. That said, asking for permission first is always the safest way to go. Don't get frustrated when you receive nasty looks -there are a million alternatives you can shoot, anyway.


Bonus tips to take away
1. Ask for advice from professionals.
Odynovo's (formerly Odyssey Tours) knowledge of China is more valuable than 10 hours of online search. Get advice from our locally based travel consultant on where to go and go with our locally born tour guides – you are bound to take great street photographs. The expert will take you to the right places.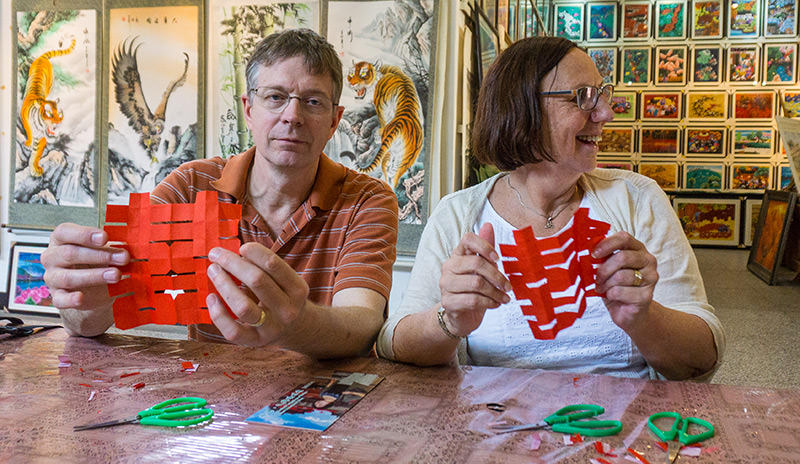 Our customers are experiencing Chinese Paper Cutting.


2. Carry simple gears.
Street photography doesn't require an obtrusive camera body and long lenses. One camera and two lenses are enough for different environments. Besides, carrying light gears enables you to move faster and save energy.
3. Dial in-camera settings beforehand.
Make sure your camera is always ready for a precious moment. It is suggested use auto-ISO and set the shutter speed not lower than 1/100th in order to get a clear picture. Use Manual Mode for better images if you are familiar with street photography.
4. Be open-minded.
Get over your shyness to look up to people. Most Chinese take it as a compliment that you want to photograph them. When necessary, having a private guide speaking their language is essentially important.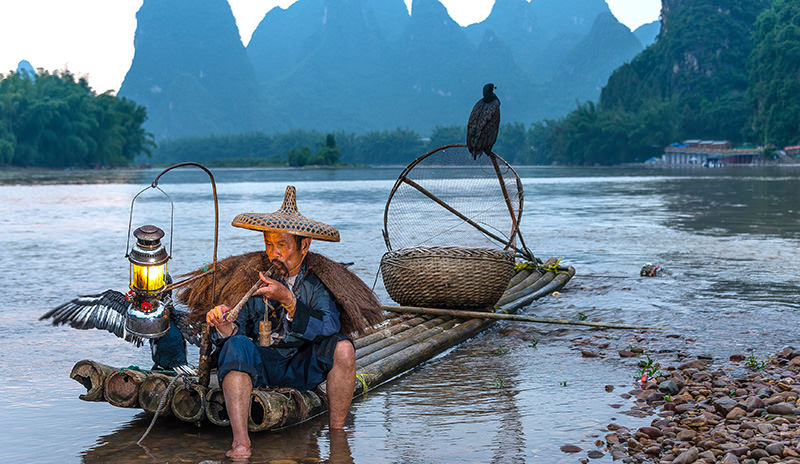 A fishing boat on Li River, Guilin


5. Avoid using flash.
This makes Chinese people alert to you. Being a foreigner is already conspicuous so try to attract as little attention as you can.
6. Focus on the old and new China
China is developing faster than expected, yet there are traditions booming as ever. Shooting the great contrast of life between the old and the new adds unique elements to your street photography.
7. Watch out for thieves.
Keep an eye on your belongings when taking photographs – this rule applies to anywhere in the world. Also, avoid walking alone in the streets or remote places late at night.
8. Use your street photographs legally.
You are allowed to display your works in galleries or on websites but only use street photographs in commerce with the subject's permission. Consult a qualified Legal Representative if you are not clear about your rights as a photographer.


If you found this article helpful, give us a social share so it will benefit others too! Odynovo is specialized in organizing private tours, traveling with us enables you to fulfill your need of taking great street photographs in China. Speak out your travel requests at and get a personalized itinerary in less than 24 hours!
What Our Clients Say
"Great Customized Service", "Trip of A Lifetime", "Exceed All Expectations"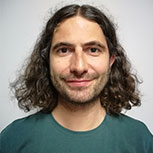 CONTACT A TRAVEL EXPERT
1-to-1 Service | Reply within 24hrs | Expert's Advice
STAY IN TOUCH WITH US
Subscribe to our newsletter so we can provide you with insider travel information, exclusive offers, and discounts.