Without a doubt, Chinese food is great. Though you may have heard that they are based heavily on soy sauce, rice noodles and rice-flour, don't shrink back - my following tips just help the celiacs travelers have a wonderful trip in China, a country that doesn't cater to the gluten-free diet.


1. Call the airline to book your gluten-free meal before leaving for China
Most international flights that fly into China offer gluten-free meals for celiac passengers. It's wise to call the airline to book your gluten-free meal before leaving for China. Don't leave it to the last minute as most airlines require special requests to be made at least 24 hours before departure. And when you receive your gluten-free meal (which we hope you will!), double-check that it is actually gluten-free. Often it will be labeled with something like the international code "GFML" (gluten-free meal) but other times it won't.


2. Work with a professional tour operator and tour guide
When dining out, the most important thing to do is to talk about your allergy. And communicating all of this in a foreign country? Seems almost hopeless! Your salvation is to travel with a considerate tour operator that cares to negotiate with restaurants ahead of time and find out which ones are willing to go the extra mile to cater to your gluten-free food requirements. This will save you a lot of hassle. Also, an English-speaking Chinese guide who can clearly explain your dietary restrictions (and the utmost importance of following them) before each meal is essential.
When on a tailor-made tour with Odynovo (Formerly Odyssey, the same hereinafter), both your private travel consultant and tour guide will make out their way to arrange exclusively prepared dishes for you. So, if you have a special diet, just let us know your needs!


3. Know what is safe to order and what should be avoided
Restaurants might seem happy to follow up with your requests and questions, but be aware that gluten allergy doesn't receive the same amount of sensitivity in China as in the West. Chinese cuisine can be amongst the trickiest cuisine in the world: dumplings and wontons are wrapped in wheat flour; soy sauce, MSG, or flavorings that contain gluten are added to most dishes. Always talk directly to the chef (if possible) regarding gluten-free dishes beforehand, especially issues like ingredient preparation and cross-contamination. Make sure vegetables are steamed over pure water rather than boiling pasta water (as with usual practice). Besides, knowing what is safe to order and what should be avoided helps you eat safely in China:
Gluten-Free Chinese Food List
√ Steamed rice & vegetables
√ Non-breaded meat & fish: hot pot and sizzling-plate dishes
√ Rice noodles cooked without wheat-containing sauce: chow fun, mung bean noodles
√ Non-thickened Soup (without soy sauce/flour)
Food/Ingredient to Be Avoided
× Soy & oyster sauce: used for stir-frying and as a dipping sauce, such as Kung Pao Chicken
× Imitation ("vegetarian") meat: served in temples
× Deep-fried food: sweet and sour pork, spring rolls, fried bread stick, and the like
× Cereals, wheat, and all its products: dumplings, wontons, tofu, and all bread products, including pancakes served along with Pecking Duck
× Food-containing beer and rice wine
Steamed rice, vegetables, and non-thickened soups are the safest food options for the celiac traveler to China.


4. Bring along a Chinese Restaurant Card
If good communication is not an option, a restaurant card that explains the gluten-free diet in Chinese will do you a big favor. Make sure you get the card to the chef as sometimes the servers/waiters don't quite get it (they will have a puzzled expression or give you a glib response).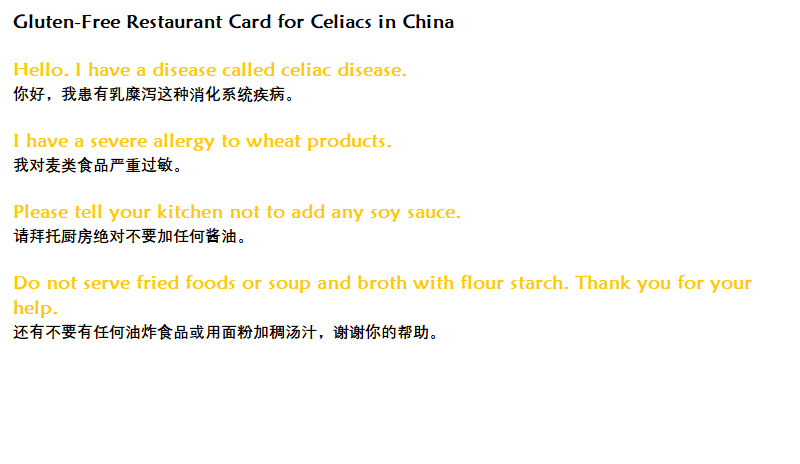 A few useful sentences from the restaurant card
It explains your disease and dietary restrictions in both English and Mandarin.


5. Choose upscale restaurants, hotel restaurants, and private kitchens if the budget allowed
Asking someone for a gluten-free meal can be difficult at times in China - many do not even know what exactly gluten-free means. If you are not on a small travel budget, consider upscale dining places that better understand your specific demands and carry out them accordingly. Meanwhile, most international and up-market hotels are able to provide safe food and have more buffet choices. An Odyssey client shared her experience in China as a celiac: "Stayed in the high-quality hotels and had a huge breakfast each morning and then didn't go hungry during the day. In the evening to ourselves, we had more time to source appropriate meals. "


6. Always pack snacks with you
Gluten-free food can be hard to come by in China, especially in some remote areas where food options are very limited! It's recommended that you take gluten-free backups like energy bars, nuts, crackers, protein drinks, boiled eggs (avoid those boiled in soy sauce), fruit, and steamed vegetables, which you can either buy at the supermarket or bring from home. Plenty of fruits are available in the local stores.
When buying gluten-free snacks in China, you might find it hard to read the labels and figure out if anything (other than the obvious: rice, rice noodles, fruits, vegetables, etc) is gluten-free. Bigger cities will have more western markets or organic stores that may stock imported gluten-free food with English labels. In smaller cities, it can be difficult to find celiac-friendly snacks, so consider bringing some along with you if you don't plan on spending time browsing expensive, foreigner-aimed supermarkets.
Where to buy gluten-free food? In Beijing and Hong Kong, I have some recommendations as follows.
Supermarkets for Celiacs in Beijing:
- Jenny Lou's, whose shops are located across the CBDs, including Chaoyang Park, Sanlitun, Ritan, and more. You may visit their website to check out the nearest.
- April Gourmet, four shops in Lido, Shunyi, and Sanlitun. Their detailed addresses:
Lido Store: Building 7, Richmond Park, 9 Fangyuan Xili, Chaoyang District;
Shunyi Store: Outside South Gate of Capital Paradise, Shunyi District;
Sanlitun Store: 1/F Jiezuo Mansion, Xingfucun Zhonglu, Sanlitun, Chaoyang District;
Sanlitun Store 2: 1 Sanlitun Beixiaojie, Chaoyang District.
Supermarkets for Celiacs in Hong Kong: ThreeSixty Organic Supermarket (Locations: 3 & 4/F, The Landmark, Central; Shop 1090, 1/F Elements, Kowloon Station)


7. Buy some medications before leaving for your trip to China
Though we all hope for the best, it's always better to be prepared for the worst. Talk to your doctor about any measures you can take just in case, for example, an epinephrine injector (e.g., EpiPen), or taking an antihistamine like Diphenhydramine (e.g., Benadryl). Make sure to buy these medications before leaving for your trip to China as it is difficult to find them after your arrival.


8. Try to explain the disease to the doctor
Celiac disease often has symptoms such as abdominal pains or cramps, vomiting, flatulence, fatigue, heartburn, nausea, or pain in the chest or back after meals. As it is less common than in the US and Europe, Chinese doctors can easily misdiagnose it as a heart attack. When you experience similar symptoms, you should doubt whether it's from gluten sensitivity. After getting to the hospital, try to explain your disease to the doctor: I have celiac disease.


9. Be adventurous
Finally, be adventurous, do not let celiac disease detain your footstep in China - just make sure you are prepared. There is so much to see and to do! Concentrate on the amazing things you will be able to see: the Great Wall, Terracotta Warriors, Guilin, and the Bund in Shanghai, and then plan a great gluten-free feast on your return home.


Planning to travel to China? Let us tailor-make a tour for you. You will have the freedom to choose restaurants where you can order dishes that are cooked separately just for you. Feel free to write to us directly with any questions about traveling in China: trip@odynovotours.com.
What Our Clients Say
"Great Customized Service", "Trip of A Lifetime", "Exceed All Expectations"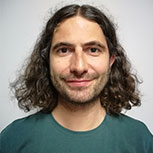 CONTACT A TRAVEL EXPERT
1-to-1 Service | Reply within 24hrs | Expert's Advice
SUBSCRIBE TO WIN A FREE TOUR
Subscribe to our newsletter for a chance to win a 5-day Japan tour for two people! And more insider travel news, exclusive offers, and inspiration will be sent straight to your inbox.