Shanghai is China's number one shopping destination. Famed for its name-brand boutiques, Shanghai has something for everyone. Shanghai has some of the best department stores in China. Local supermarkets are in almost every residential area and often stock many Western food items.
Shopping in Shanghai is different from shopping in Hong Kong or New York, since not only famous brand name fashions are available, but also many local products that cannot be found anywhere else.

Here we offer useful information about where to shop and what to buy in Shanghai.
The famous Nanjing Road, known as China's number one shopping street offers a seemingly endless variety of modern fashions, electronics and accessories.


Equally as famous, Huaihai Road is celebrated for its elegance. Featuring name-brand designer boutiques, it is a shopper's paradise for lovers of modern fashion.


North Sichuan Road offers a huge variety of good inexpensive merchandise, and the Middle Tibet Road is the place to buy local snacks, arts and crafts.


For lovers of jewelry, the Yuyuan Shopping City is the place to go.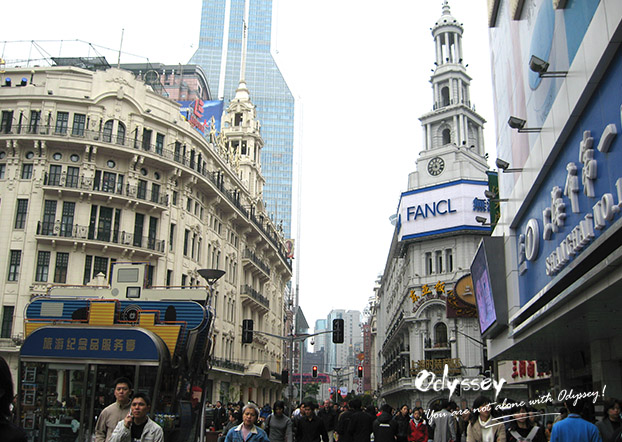 Nanjing Road is a famous shopping street in Shanghai
Shanghai Best Buy - What to buy?
Embroidered Silk
Silk is one of the oldest known textile fibers and, according to Chinese tradition, was used as long ago as the 27th century BC.
The silkworm moth was originally a native of China, and for about 30 centuries the gathering and weaving of silk was a secret process, known only to the Chinese.
Among the best buys in Shanghai, the most famous is Shanghai's embroidered silk. Shanghai is one of China's most imported locations for silk production and export.
China Odyssey recommends you to buy a tailor-made Qi Pao which is made of Silk in Shanghai. Frankly speaking, the best tailored Chinese Qipao always comes from Shanghai.
Porcelain
If you are an enthusiast of porcelain, you can go to ...
Shanghai Jingde Zhen Porcelain Artware, an excellent selection of some of China's most prized ceramic creations, produced by factories and artisans in nearby Jingde Zhen. Vases, plates, cups, and artware are expensive here, but the quality is high and the reputation good. 10am to 10pm
Jingdezhen classical porcelain is unlike any other clay. Westerners have described its properties as like throwing cottage cheese. The first porcelain of late 10th century Song Dynasty consisted of one ingredient, china stone felspar, petunze in the local dialect. The rock was ground into a paste by water-powered hammer mills, a practice still in use today.
Shanghai Museum, where some of the best porcelain are on offer. Most of them are curious in the world. In some big department stores, you may find porcelain made in Jingdezhen.
Ivory Carvings
Shanghai Ivory Carvings, highly praised "Oriental Bright Pearl", and "Chinese Distillate" is famous for its abundance theme, vivid visualize, exquisite technics. Its magnum opus is White Snail Girl, Mussel, Eighteen Arhats fight with Roc, Dragon Boat, Spring Scape and so on. For its small bulk and no depigmentation, the Ivory Carvings are the ideal souvenirs for tourists.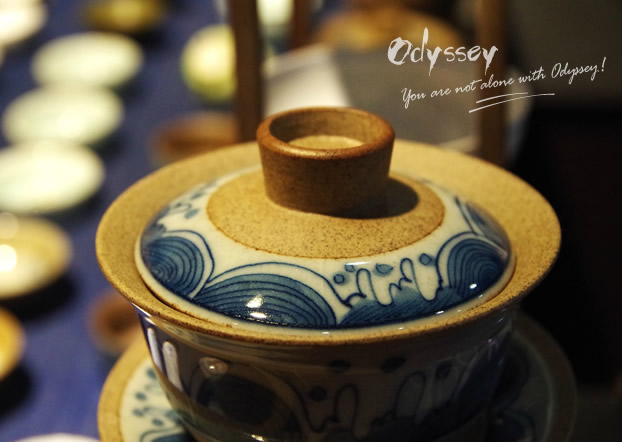 Visitors could buy porcelain in Shanghai Jingde Zhen Porcelain Artware
Shanghai Shopping Centers - Where to shop?
Shanghai Shopping Streets
Shanghai has numerous shopping streets, but four of them stand out more than the others for their excellent merchandise.
Nanjing Xi Road:
- No.1 Commercial Street in China,1200 meters long
- Centuries-old shops, specialized shops, and modern malls
Huaihai Road
- It features famous name designer brands from all over the world.
Xin Tian Di
- Morden Life of Shanghai is original from this fashion area.
North Sichuan Road
- Good inexpensive merchandise
- The first choice of ordinary people
The Middle Tibet Road
- A place to buy local food and local arts and crafts
( There are many other shopping streets in Shanghai available. For small souvenirs and inexpensive clothing, the Hong Kong Famous Shops Street and the Dimei Shopping Center are the perfect place. In these locations, bartering is expected, and the price given is usually twice as much as will be expected by the shop owners.)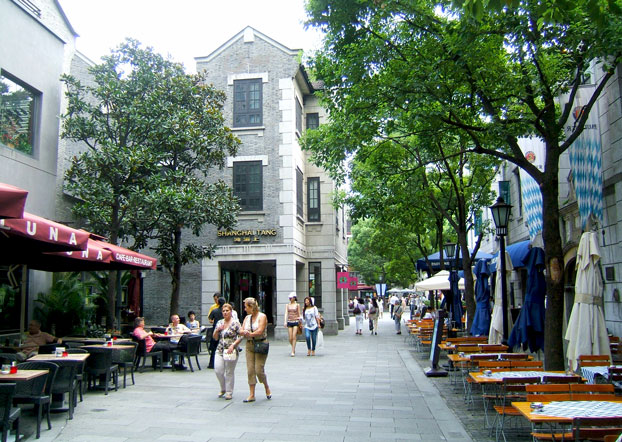 Tourists could enjoy a modern life in Xin Tian Di area
Shanghai Shopping Cities (areas)
Yuyuan Shopping area
- The venue deals in specialized Chinese arts and crafts ranging from small articles, local crafts, jade wares and gold and silver jewelry.
Xujiahui
- Newly-established shopping and entertainment plaza
-Consists of large stores where tourists can obtain both costly and mid-range priced goods.
New Shanghai Shopping Areas
- Offers the best facilities and amenities
- Located in the middle of Pudong Lujiazui Finance and Trade Area
- Surrounded by a variety of retail outlets
Jiali Sleepless Areas
- A flourishing commercial area
- Facing the Shanghai Railway Station
Shop for Silk & Qi Pao
Li Gu Long Qi Pao
- A good tailor-made qipao with exquisite silk and fine craftsmanship would cost between 1000-4000RMB. Because of cheap labour here in China, it's quite a reasonable price. Li Gu Long Qi Pao, a shop on ChangLe Road, you will quite happy with them there. Their design can be either very traditional or fusion, most of their silk/fabric are hand-made therefore each piece is different. they also do hand embroidery.
- Tel: Tel:+86 21 54031515
Han Yi Qi Pao
- One of the best and the most famous shops for Qi Pao in Shanghai. They made Qi Pao for the stars Zhang Man Yu, who played the heroine in a famous film "In the Mood for love". - Add:217-221 Changle Rd.
- Tel:+86 21 54042303
China tour including Shanghai:

Welcome to contact us if you want a China tour of your style.