Recently, we've noticed that it's becoming a hotter discussion about whether to stay at home or travel abroad due to unstable international situations. Well, the world's never as good as what we expect; meanwhile, it's never as bad as what we imagine. There're still countless places on this planet with both great attractions and excellent public security, just like where I am now, China. China, on the whole, is extremely safe to travel around. It's safe for visitors not only because of the huge social progress it has acquired during the past decades but also the way Chinese people treat tourists from all over the world. Still, wondering whether China is safe or not. Read on, please.


The real China now is greatly different from the past.
Massive motorbikes on roads, dirt around every corner of the street, crying babies and pathetic women, robbery may occur at any time… Above you might have seen in any western newspaper or broadcast did happen in China decades ago, but are nearly nonexistent in this giant country nowadays. Most of the things that Westerners tend to believe about China are either entirely wrong or at least incomplete. Only when you come to see China, that you'll find this country a not only fast-growing but also a civilized one at the moment. It's clean, it's safe, and it's worth exploring.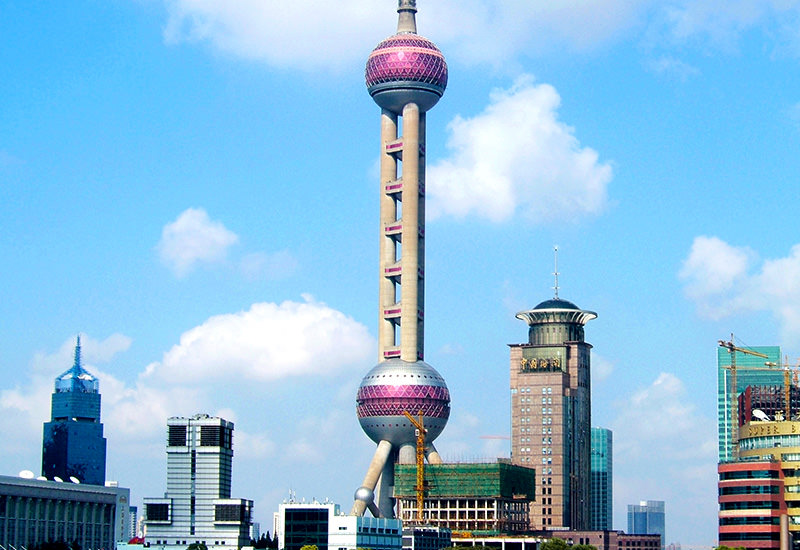 A civilized and modern China is worth exploring.


Remarkable economic development.
We know that China gained great change ever since the reform and opening-up policy which was started in 1978. The policy affected not only the Chinese economy but also the justice and political systems, which made the whole country way better than it was. And during the past decade, with the rapid development of its economy especially the high-tech industry, China has amazingly been close to the first class in the world. And the economy helps with further improvement of all things, like falling crime.


A way better legal system to avoid crimes.
Because of China's draconian criminal penalties (by a wide margin, China executes more criminals annually than any other country), the whole society is steadily safe. Crime against foreigners is rare. And violent crime, like mugging and rape, against foreigners, is extremely rare. In fact, many of our Odyssey (now Odyno) clients have told us that they feel much safer walking the city streets of China alone at night compared to other countries.


Significant betterment of national quality.
Since the 1950s, China has been providing a nine-year compulsory education to its people which equals one-fifth of the world's population. By 1999, primary school education had become generalized in 90% of China, and mandatory nine-year compulsory education now effectively covered 85% of the population. With such a situation, Chinese people especially the young generation are more educated and have so much more opportunities to exchange their minds with the world. They've seen something really new, and they've learned how to behave right. They're more sensitive about environmental protection, caring, sharing, and so on. All those made the whole nation more cultivated than ever.


A white or black face is not peculiar in China anymore.
Due to the Chinese government's policy of "turning tourism into a strategic pillar industry of the Chinese economy", China has become one of the most conspicuous and popular inbound and outbound tourist markets. A number of nearly 138 million overseas tourists visited China during the past 2016, which really is encouraging for those who also want to witness this amazing old and new country. In addition, the blooming businesses have brought millions of foreign businessmen to go and work in China, which mostly in Beijing, Guangzhou, or Shanghai and such metropolises. So once you walk in the street in China, you may never find yourself alone as a foreigner with a face of a different color. The hospitable Chinese people will talk to you, always willing to help and make you feel like being treated just like an old friend.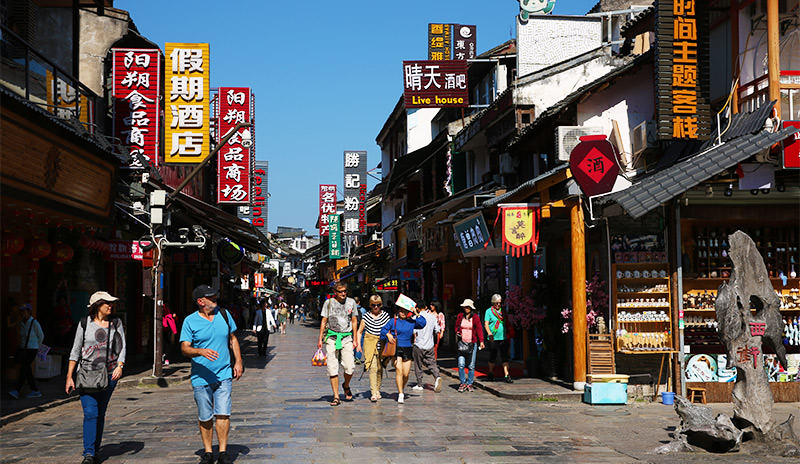 Foreigners can be seen quite often in China.

To sum up: China is an alluring part of the world that worth your visit, with no fear of its public security.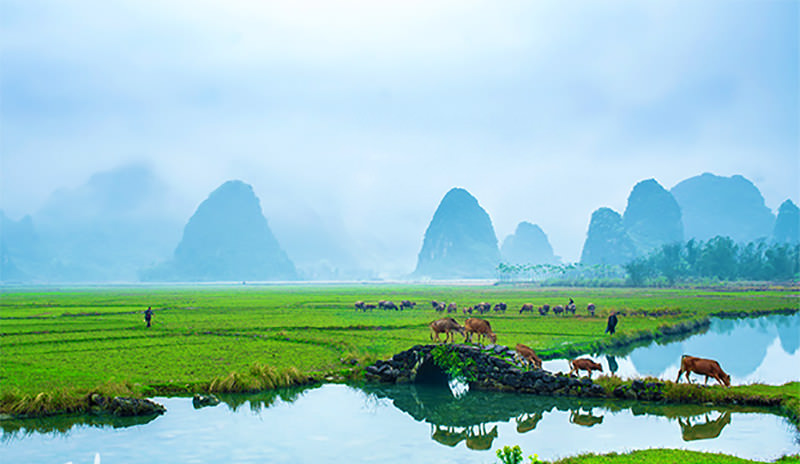 Farming life with fantastic natural beauties in south China.
Still and all, there are rates of being insecure that we'd like to share the following tips to help with your safer travel in China.


Overall, what worries you most in China is the Chinese traffic.
For a newcomer to China, you might be amazed at the crowds of people and cars in the street almost everywhere. And you may be worried about how to cross a street without any safety concerns. Here're some tips to help to build your common sense in China when crossing streets. First of all, do not be anxious. Although it seems like something chaotic, it's organized chaos. Be confident as your surrounding Chinese. Secondly, never follow any illegal actions as some Chinese may do. There're signs of being allowed or not allowed, just obey them and try to be a good pedestrian. Finally, remember that the best way of crossing a street in China is to follow a group of Chinese because they know way better than you about the traffic. So, try to stick close to a group of locals, look both ways, go ahead, and you'll easily make it.
Thefts do occur like in any other part of the world.
This is especially for your walking in major tourist attractions, railway/bus stations, busy markets, or during popular festivals when there're hundreds of people out there. Raise your awareness then, put your bag in the front, and do not bring a lot of cash with you. If possible, do not walk in the dark alone.


Chinese street foods don't usually fit western stomachs.
You may find various kinds of both interesting and tasty street foods in China, like steamed buns, RouJiaMo (known as Chinese hamburger), stinky tofu, etc. It's always good to try those delicacies when you are traveling to a country with countless cuisines, but do pay attention to your digestive system. Do not eat too much at one time, or too many different kinds. Walk away from frowsy stalls. And it's always the best choice for you to follow a local's advice, like your tour guide in town.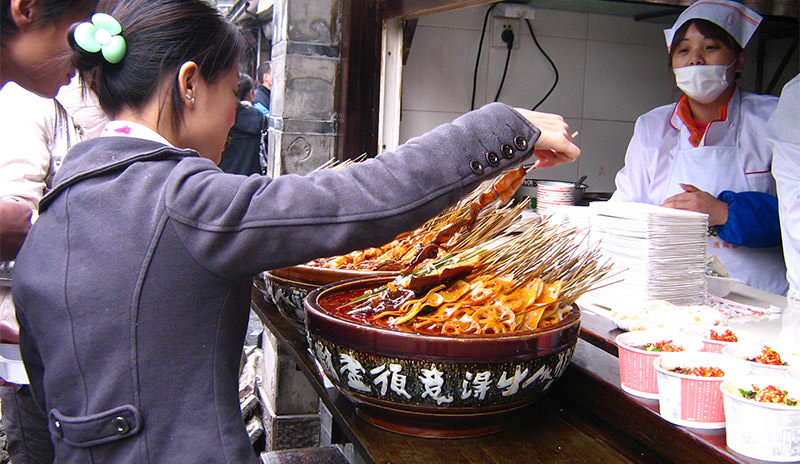 Street food in China
Do not drink tap water in China ever.
Tap water is not drinkable in China. Generally, there'll be one or two bottles of water served in the hotel room, and you can always buy bottled water from any convenience stores around. But it's OK to use tap water to brush your teeth as all Chinese people do.


Scams that are worth drawing enough attention:
Tourist tea: this might happen when you are walking in the street, and get approached by a Chinese who tends to practice his/her English. He/she will first chit-chat with you to establish rapport and subsequently brings you to a tea house. It sounds all good so far yet the problem is, you might be forced to pay a high price that you would never imagine about a cup of tea after you enjoyed it, or, say, drank it. About this issue, you should be on your guard when approached by a stranger, especially someone with a good command of English. This is because most Chinese tend to keep a distance from foreigners, if they come on strong, alarm bells should ring. And then, just remember this: never follow a stranger anywhere that he/she suggests.
Overcharging taxis: this can happen in airports, touristy areas, and in front of some hotels. What you can do to avoid this is: to negotiate all the details every time before you begin your ride. This includes not only pricing but also exactly where you're going. And if possible, take a picture of their registration as well as their license plate, for evidence just in case. Moreover, grab a few business cards of your accommodation, for getting back to the very right place by showing the card to the taxi driver.
Counterfeit currency: As a first-time visitor to China, it's common not to be able to tell the difference between a real banknote and a counterfeit. But thankfully, this scam is becoming rarer as penalties for counterfeit money in China are getting higher. Even so, it's good to be aware. Try to always get your cash from a reputable source which could be a Chinese bank, a local ATM machine, or a reputable money changer but not the guys on the street. Also, try to keep smaller notes to pay for small amounts, and better to break your 100 RMB bills at established businesses but not single-person services. And always be careful when you receive change at a stall.
Low-quality souvenirs: in most tourist markets especially outdoor ones, you can find hundreds of thousands of souvenirs at varied prices. Keep in your mind that the 100% silk that they claim to be may not be a real one, and the jade with beautiful descriptions from the seller's mouth may just be a piece of good-looking plastic. Be smart to distinguish them. It's always true that you get what you pay for.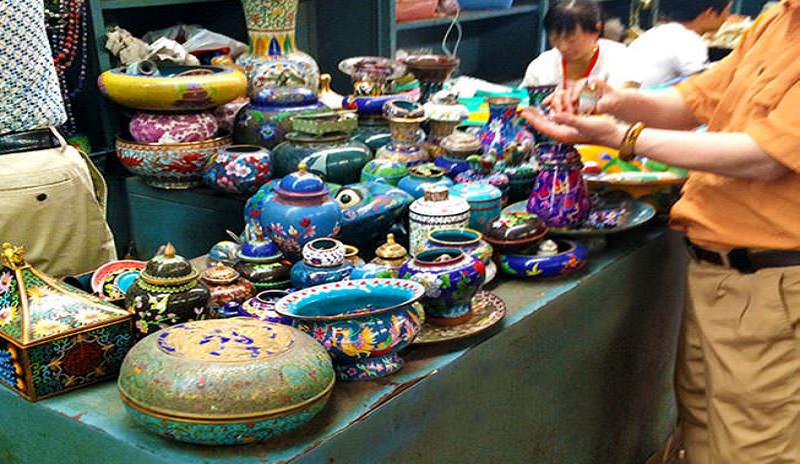 A stall in the antique market. Real or fake do you think they are?
Discount tours/tickets: There are some very cheap tours or tickets for a show or something hawked by street touts in major tourist cities. To avoid this scam is simple and easy: keep away from those touts, and book your tours or tickets online or from a qualified travel agency. Well, they're cheap for a reason actually, either the tour is inferior or you pay extra money for something not informed in advance. Better not to save just a little money but put yourself into an awkward position then.


Emergency numbers to call in China:
Police (Calling): 110
Police (Text message): 12110
First-aid Ambulance: 120
Fire: 119
Traffic Accidents: 122

With one of the best public security in the world being guarded, this country is attracting more and more overseas tourists to witness its great history, splendid culture, and fantastic natural beauties. Do you want to come to take a bit? Don't hesitate then to get your expectant China tour with no worry about safety by contacting us at .
What Our Clients Say
"Great Customized Service", "Trip of A Lifetime", "Exceed All Expectations"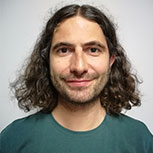 CONTACT A TRAVEL EXPERT
1-to-1 Service | Reply within 24hrs | Expert's Advice
STAY IN TOUCH WITH US
Subscribe to our newsletter so we can provide you with insider travel information, exclusive offers, and discounts.