Lakes are often compared to "tears of lovers" and "pearls on crowns" by Chinese poets. They showcase some of the most alluring qualities of water, such as tender ripples, exquisite reflections, and crystalline limpidness. China has many wonderful lakes that are well worth a visit, and here are the top 8 most beautiful ones.


1. West Lake, Zhejiang Province
Location: southwest of Hangzhou City, East China
Best time to visit: all the year around
The West Lake in Hangzhou is renowned for its scenic beauty that blends well with the culture. It was man-made and created as a water-based landscaping garden for recreation, and thus, has a special oriental beauty that few other lakes share.
The lake itself is vast and picturesque, dotted with verdant islands, fringed by tree-lined walkways, and surrounded by hills on three sides. Every inch of the surroundings is nourished by the rich accumulation of culture, seen in the pagodas, pavilions, Chinese-style arched bridges, and causeways. In addition, willow trees, peach blossoms, lotus flowers, and plum blossoms add colors to West Lake at a different time of the year.
To fully appreciate the breathtaking views of West Lake, you simply have to visit. So are you planning to visit West Lake?
2. Qinghai Lake, Qinghai Province
Location: 150 km from Xining City, Qinghai Province, Northwest China
Best time to visit: April - August
Qinghai Lake lies in the northwest part of the imposing Qinghai-Tibet Plateau, the roof of the world. It is the largest lake in China, covering an area of 4,500 square kilometers. It is surrounded by four lofty mountains and outstretching pastureland. Getting close to it, you will find the water is extremely blue and clean. In summer, the lakeside pasturelands are dotted with colorful wildflowers and herds of yaks and cattle. In autumn, golden rippling wheat fields match perfectly with the emerald lake. In winter the frozen Qinghai Lake shines brightly under the sun.
With an elevation of 3,205 meters, the area has cool and nice weather. Even in summer, the hottest time of the year, the average temperature is at around 23 Celsius degree, making it an ideal summer retreat.


3. Namtso Lake, Tibet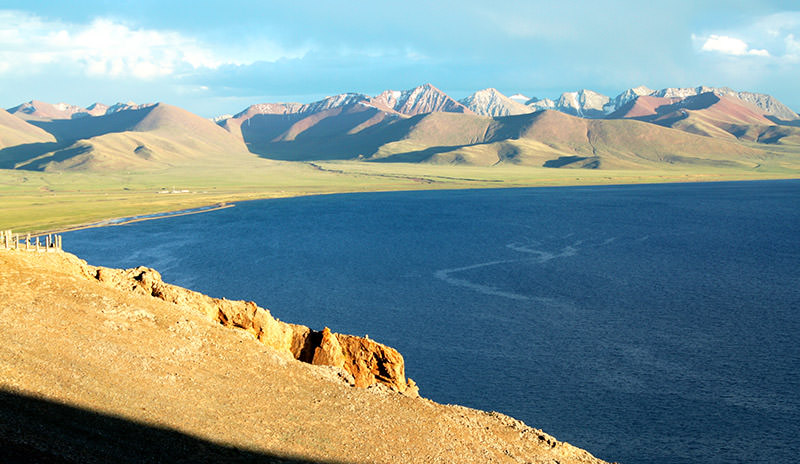 Standing by the lake, you will be enchanted by beautiful reflections and the magnificent views of nearby mountains.


Location: northwest of Lhasa in Nagqu Prefecture, Tibet Autonomous Region, West China
Best time to travel: May - September
The Namtso Lake is known as one of the three holy lakes in Tibet for its lofty altitude, stunning beauty, and spiritual significance. With an elevation of 4,718 meters, Lake Namtso is the highest salt lake in the world. The lake, 35 meters at its deepest point, stretches over 70 kilometers long and 30 kilometers wide. On its southern bank is the main peak of Nyenchen Tanglha Mountains, which is snow-capped and soaring into the sky.
Besides the beautiful scenery, Namtso Lake is also a famous sacred Buddhist site. Every Tibetan year of sheep, thousands of Buddhists come here to worship and walk clockwise along Namtso Lake in order to receive the blessing of the gods. The lake and the mountain are partners in protecting pilgrims coming to pray.


4. Kanas Lake, Xinjiang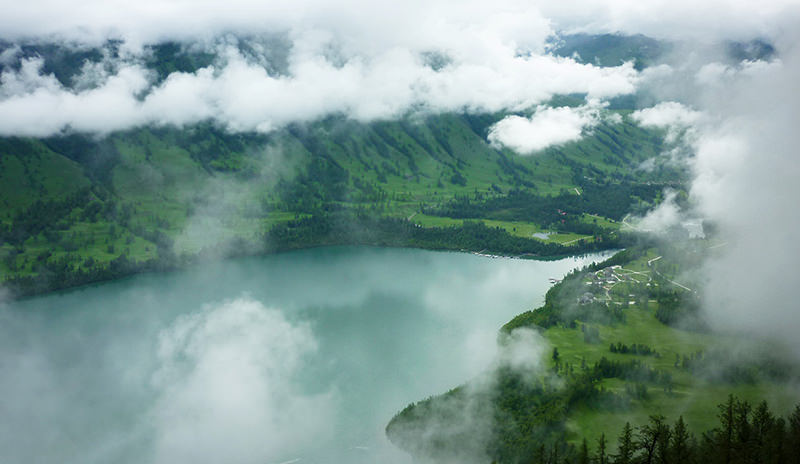 The mysterious Kanas Lake is shrouded by mists


Location: 150 km north of Bu'erjin Town in Xinjiang, Northwest China
Best time to visit: September and October
This highland valley lake is nestled in the deep forests and mountains of Altay in Xinjiang. Lying 1, 374 meters above sea level and 198 meters at its deepest point, it has a water area of 45 square kilometers. It is actually the wildest section of Kanas River, a tributary of Burqin River. The banks are lined with primal European coniferous and birch forests. The pristine water reflects the surroundings and changes colors with the weather; hence Kanas Lake is hailed as the "Palette of God".
Kanas Lake is home to nearly 1,000 plant species, 300 kinds of animals, and 100 different types of birds. The scenery is especially enchanting in autumn when the tree leaves turn into yellow and red colors.


5. Lugu Lake, Yunnan Tranquility of Lugu Lake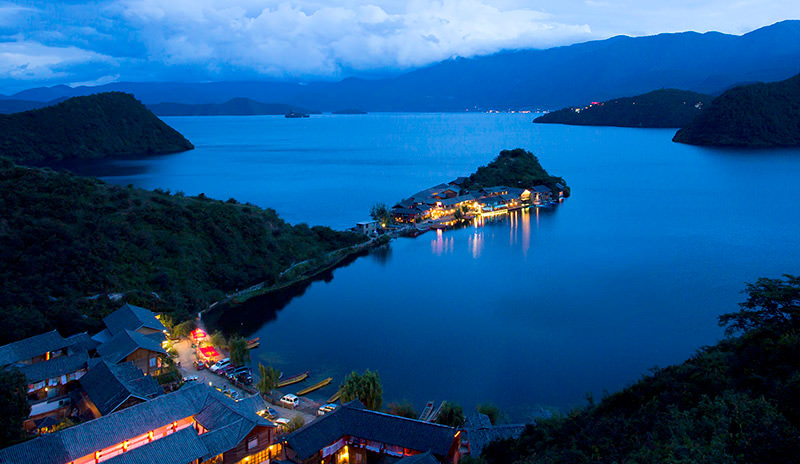 Lugu Lake


Location: 300 km (186 miles) from Lijiang, Yunnan, Southwest China
Best time to visit: March-June; October (July-September is the rainy season)
Lugu Lake in Yunnan has the name "the Pearl of the Plateau". It is mysterious with charming scenery and unique matriarchal culture. The lake covers an area of 50.8 square kilometers at an altitude of 2,688 meters. It is dotted with a few islets and surrounded by verdant mountains.
The shores of Lugu Lake are inhabited by Mosuo people, a branch of the Naxi tribe. The most interesting part of their culture is, that they still hold on to the ancient custom of walking marriage that lovers have no legal relationship and still live in maternal families. It might be the last quaint realm of Matriarchy in the world. The unique culture intensifies the mystery of Lugu Lake.


6. Erhai Lake, Yunnan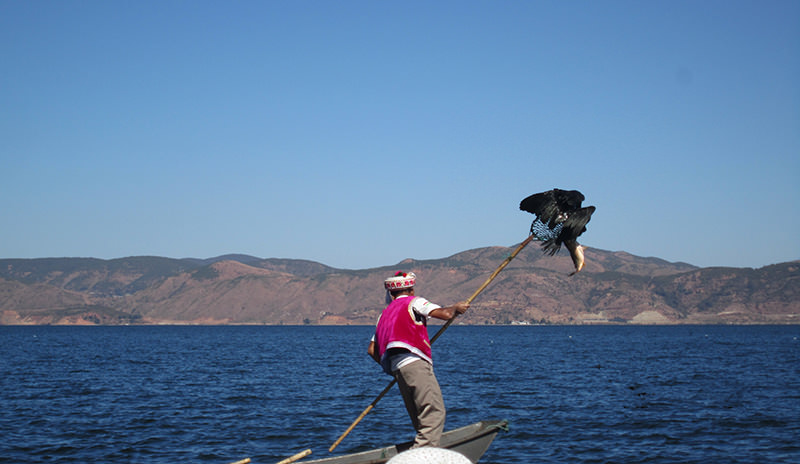 Erhai Lake is well known for its cormorant bird fishing


Location: Northwest of Dali City, Yunnan, Southwest China
Best time to visit: all the year around
Its name means "sea shaped like an ear" in Chinese, so it is ear-shaped and as large as a sea, virtually covering a water area of some 250 square kilometers. Lying quietly on the eastern side of Cangshan Mountain, the beautiful water body is like an exquisite jade. On its shoreline is some fishing villages, Bai people's villages, ancient temples, historic towns, and the ancient city of Dali. Floating in a boat on Erhai Lake on a mild day, you will feel as calm as the lake is. Take a stroll around it and you can watch the people live their daily lives in a traditional way.
7. Lake Yomdrok, Tibet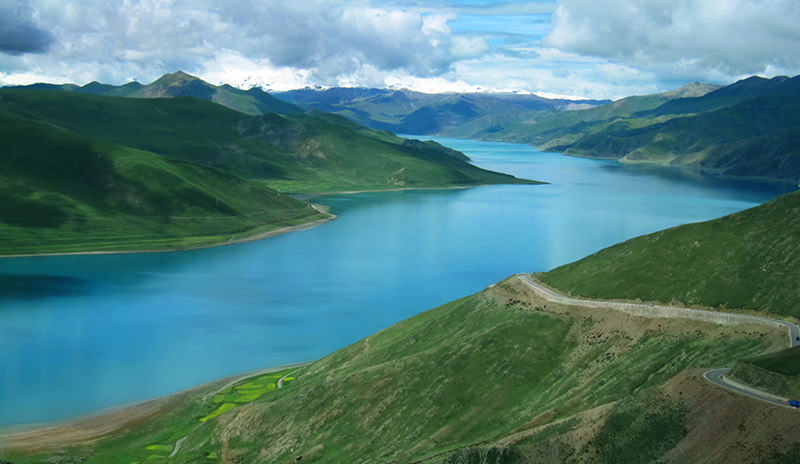 The deep blue water of Lake Yomdrok


Location: Langkazi County, Shannan Region, Tibet, West China
Best time to visit: May - September
Lake Yomdrok, which means the "turquoise lake", is one of the three holiest lakes in Tibet. Lying at a sea level of 4,441 meters, the lake is surrounded by snow-capped mountains, glaciers, islets, pastures, hot springs, wild animals, and temples. With a circumference of 400 kilometers, it is long and twisted, making it hard to see the whole lake at the same time from one point. The lake displays assorted colors of blue, which look fantastic under the sun at different times of the day. Viewed on the map, it seems like an eardrop amid mountains.


8. Tianshan Tianchi Lake (Heavenly Lake), Xinjiang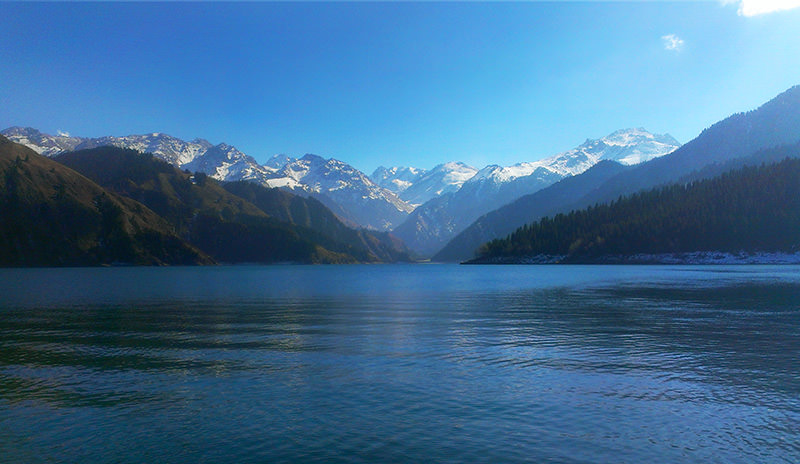 Tianchi Lake in Xinjiang


Location: Fukang City, 100 km east of Urumqi, Xinjiang Uyghur Autonomous Region
Best time to visit: May - October
Tianchi Lake in Xinjiang is a beautiful alpine lake that is set against the majestic, 5445-meter-high main peak of Bogda in the Tianshan mountain ranges. It is a morainic lake created some 2 million years ago as a result of glacier movement. With melted snow pouring into it, it enjoys unspoiled crystal water. The lake of 4.9 square kilometers abounds with wildlife and other natural resources. The combination of clear water, snow-capped mountains, and rich vegetation makes the whole view breathtaking.


If you are planning to travel to these lakes, click on the links in the article or contact us to tailor-make a tour that suits your need. If there are questions, let me know at .
What Our Clients Say
"Great Customized Service", "Trip of A Lifetime", "Exceed All Expectations"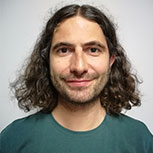 CONTACT A TRAVEL EXPERT
1-to-1 Service | Reply within 24hrs | Expert's Advice
STAY IN TOUCH WITH US
Subscribe to our newsletter so we can provide you with insider travel information, exclusive offers, and discounts.