Tianzifang, developed from a local residential area to a new art zone, and became a magnet for art galleries.
In the 1950s, Tianzifang was originally a typical lane factory area, including Shanghai Food Industry Machinery Plant and Shanghai Zhongsu Accessories Plant.
After the reconstruction of this area in 2000, Tianzifang, developed from local residential area to a new art zone, and became a magnet for art galleries. It's a place which you can get the feeling of creative arts, romantic cafe and old Shanghainese atmosphere.
Comparing with new modern buildings jungle, in Tianzifang you can find the special architecture of old Shanghai city. There are bars, cafes, craft shops, studio, galleries, and boutiques.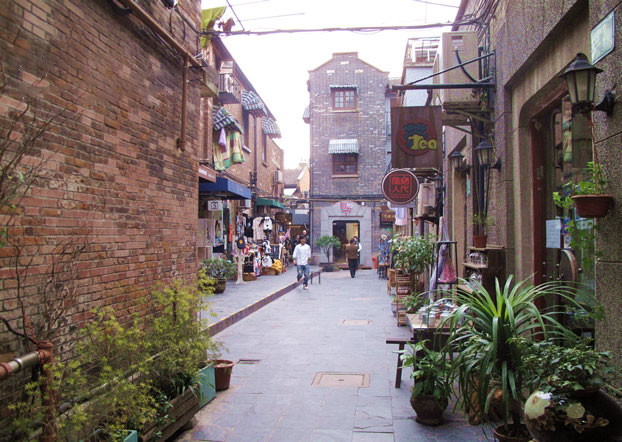 Tour Features
-What is special there?
A Close Look at Shanghai's "Creative Art Park".
By far, Tianzifang has attracted over 70 enterprises from 18 countries and regions, and formed industrial features centering on interior design, visual arts and industrial arts.
Get to Know About Real Shanghai Lifestyle
Ideal Place to Get Some REAL Artwork
There are many art studios and galleries. These studios feature many contemporary works of design, painting and photography. There is no charge to view the works and you can always purchase any of the beautiful pieces created by the local artists in Shanghai.
Location
Lane 210, Taikang Road
Transportation
- how to get there?
By bus: NO. 17?236?304
By subway: Take Line 1, and get off at Shanxi Rd Station; line 4, and get off at Luban Rd Station
Visiting Time
- How long should I stay there?
- When is the best time to visit there?
Best time to visit: in the afternoon and during the night time.
How long should I stay there?
Plan for at least half day.
Costs/ Entrance Tickets
Absolutely free
Review & Tips
- What do tour experts/visitors say about this place?
Walking along Tianzifang, take photos, shopping and have a drink
Tianzifang is the very place to see kinds of Shikumen and know about old Shanghai lifestyle.
Tianzifang is definitely a pleasant place to stroll in the early afternoon for brunch and some shopping. ( Quote from Trip Advisor )
Nice little shops and restaurants, good entertainment for an hour or two but expect to see a lot of tourists. ( Quote from Trip Advisor )
Tours with this attraction
If you are interested in taking a Shanghai tour with a visit to Tianzifang art street; if you need a private tour and an English speaking tour guide to show you around Shanghai; China Odyssey Tours is here and ready to help. Contact us
The following links lead you to sample Shanghai tours. Why not add this attraction to admire its charm?